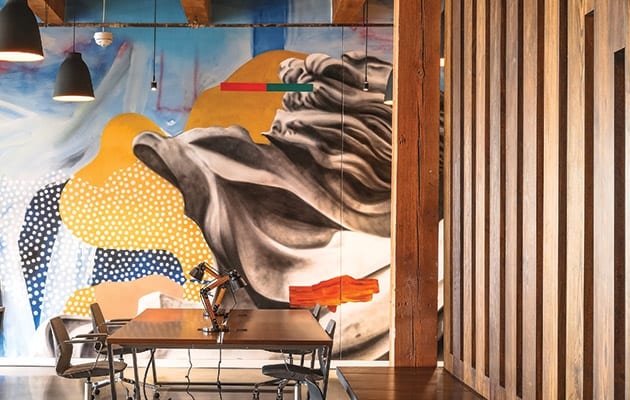 |||
For many workers in the technological and professional-service fields – major segments of urban theorist Richard Florida's "creative class" – an office located among cultural amenities is as close to paradise as a work environment can get. Setting up shop in a neighbourhood with art galleries, restaurants, a high Walk Score and historically resonant architecture, a coder, architect, attorney or entrepreneur might find the workday not too different from days off. Step out at lunchtime and grab a few moments of highbrow sensory stimulation as well as a sandwich. The ultimate extension of this idea – unprecedented in the US, but oddly logical – is an office in a museum.
Wooden columns and beams are on display
In the Warehouse District of New Orleans, a 3,700sq m co-working space has opened on the third and fourth floors of the Contemporary Arts Center (CAC) building, a serially renovated four-storey former warehouse donated to the organisation in 1999 by its then-landlord, arts patron Sydney Besthoff. The Shop at the CAC offers New Orleanians a working environment that meets contemporary standards for comfort and productivity while maintaining the old-world quirkiness that distinguishes their city. Open for just under a year, The Shop is already an award-winner.
To Steve Dumez, principal and director of design at Eskew+Dumez+Ripple (EDR), an active role in New Orleans's artistic world meshes naturally with his professional life. The late Allen Eskew, the firm's founding principal, served on the board of the CAC, and Dumez has followed him in that role. As both a steward of the CAC and an architect with an appreciation of the dialectic between preservation and modernisation, Dumez was in a position to transform the 1905-vintage building, whose upper floors had long gone underutilised, into a harmonious home for the CAC and the co-working facility."The programming needs of the CAC are satisfied on the first two [floors], so over 17 years there were probably at least that many attempts to find opportunity to get income from the upper floors and to lease those spaces," he explains.
CAC executive director Neil Barclay recalls a long vetting process – "hotels, charter schools, you name it" – before an appropriate and viable proposal, well matched to the Center's mission to support original art and ideas, appeared to fill the space. The Domain Companies, a developer based jointly in New York and New Orleans, had been exploring the co-working sector and found the upper half of the CAC's building an ideal site. In the New Orleans real estate market, Dumez notes, where co-working giant WeWork has declined to establish a presence and most competitors are relatively small-scale or "had not been developed specifically for co-working", The Shop fills an important niche.
The CAC's four-storey former warehouse building
The building occupies a typology that visitors from other cities, particularly New York, will find familiar: the industrial warehouse converted to cultural infrastructure. The edgy downtown arts community that arose in New York's SoHo in the 1960s and 70s found its cast-iron buildings well suited to galleries and studio/residence hybrids. The Warehouse District has attained a roughly comparable position in New Orleans' urban ecosystem.
The CAC, Dumez points out, was pivotal in the area's transformation from "pretty derelict" to its current resurgent state. After its opening in 1977, followed by the 1984 World's Fair, conversion of abandoned buildings to housing accelerated, and nearby Julia Street became a gallery and restaurant magnet. The National World War II Museum joined the neighbourhood in 2000, followed by the Ogden Museum of Southern Art in 2003. Unlike many urban arts zones, Dumez adds, the district had no real residential component: "It wasn't as though the Center pushed out any artists or residents." The area is within walking distance of the French Quarter and central business district, yet far from throngs of tourists.
The ambience mixes comfort with industrial chic
The CAC building is constructed of brick, concrete and heavy timber, with exposed-brick interiors, 4m ceilings in The Shop's two floors, large arch-top windows on the top floor, and a full-height atrium introduced during a 1990 renovation. "While the exterior is traditional," Dumez says, "the interior environment is a little edgier, a little different… Like a lot of things in New Orleans, we have a history we want to build on, but it can also be forward-looking, depending on how you handle the interior environment."
EDR added glazing in place of drywall to open up space around the atrium, increasing sightlines and light, and installed an internal monumental staircase to connect The Shop's floors and enhance the sense of community in social spaces, particularly the third floor's central commons area. Wooden columns and beams are visible throughout the space, including the gracefully curved atrium, adding an industrial muscularity. Wrapped in glass with stainless scaffolding, the atrium creates a dramatic entry sequence. "That atrium rises through all four floors," Dumez notes, "so there's an opportunity to have an identity even as you enter the building."
Restaurant-style booths offer acoustic privacy
Workspaces range from fully furnished private offices for eight or more people to single touchdown stations, available through individual memberships or short-term rentals. Diverse features include semiprivate restaurant-style booths beneath hexagonal enclosures, single rooms resembling telephone booths (with red-lit "Telephone" signs), casual furniture suggesting a boutique hotel rather than a commercial space – along with office furniture by Knoll and Darran and fixed seating by New Orleans-based Construct, the space includes chairs by 18 manufacturers and tables by nine – and a brutalist-style concrete slab, connecting the central stair and commons, that serves at various points as stairs, seating and a casual work/conversation area.
All office spaces are acoustically isolated; in the common spaces, Dumez recalls the design team devoting extra attention to sound control through furnishings, rugs and fabric-wrapped banquettes. The facility has attracted a mixture of creative, civic, entrepreneurial and corporate tenants, including branch single offices for attorneys and accountants who support the startups. The larger offices, mainly on the top floor, include Domain Companies itself.
The atrium rises through all four floors
Like increasing numbers of high-end co-working facilities in US cities, The Shop generates a hospitality-sector ambience. The look is part Old N'awlins and part industrial-chic Bay Area or north-western Brooklyn. Amenities with membership include high-speed internet from all spaces, a kitchen with bar, delivery and janitorial/maintenance services, use of seven conference rooms with up-to-date audiovisual gear, accommodations for pets (in private offices) and bicyclists (including showers), and a roof deck with a garden. Among the features EDR has added, Barclay identifies the roof, with a panoramic view of the city, as a particularly popular feature for member and staff gatherings.
Working at The Shop is more like joining a club than simply leasing space. The most intriguing perk is a conjoined CAC membership, part of the "wonderful symbiotic relationship" between the museum and co-working organisations, Dumez observes. "There's a cachet value of having it associated with the CAC; the type of people who are interested in leasing would see value in that. The CAC benefits by virtue of all of The Shop members, through their rent structure, becom[ing] members, and some of that money is funneled to the CAC as part of their rent payments."
Thanks to Shop renters and visitors, he reports, "the CAC is seeing probably a fivefold increase in foot traffic". Mounting about three major exhibitions a year in its 930sq m space, Barclay notes, the CAC gives Shop workers aesthetic inspiration outside the office, though not so frequent openings that downstairs social life becomes a distraction from upstairs work.
Transparency is key in the large glassed meeting rooms
Domain funded the renovation, aided by state and federal tax credits because of the building's historic nature. Upgrades included improvements to the envelope, mechanical systems, galleries (doubled in size, Barclay reports, chiefly on the first floor), and adjoining warehouses. The latter augment the galleries as performance spaces, consistent with the aim of supporting creativity in all media, emphasising work by New Orleans residents.
Those citizens, particularly the creative community, are well aware of the ways post-Katrina reconstruction changes the city's flavour. Few US cities have such a distinct history and culture, expressed architecturally as well as through music and cuisine. It now draws energy from digital technology and service-sector enterprises as well as tourism. Making sure the new New Orleans and the old New Orleans exist in harmony is a paramount civic priority, particularly after the storm affected the city's demographics.
Sunlit workspaces with office furniture by Knoll and Darran
Urban disruptions involving the creative-class economy, as Florida pointed out, can have their downsides, particularly when artists become an unwitting entering wedge for gentrification. The Warehouse District appears, at least for now, to have found the sweet spot: neighbourhood renaissance without yuppie homogenisation.
Employers and workplace designers too have considerable power to shape urban development. "It's not just shared work environments that are understanding that a diversity of places and types of work might happen in different environments," Dumez says. "That's happening throughout the industry when it comes to workplace design." The Shop/CAC partnership looks like a model worth keeping an eye on.
In an old warehouse in New Orleans' arts district, a co-working facility above the Contemporary Arts Center situates its workers amid cultural attractions