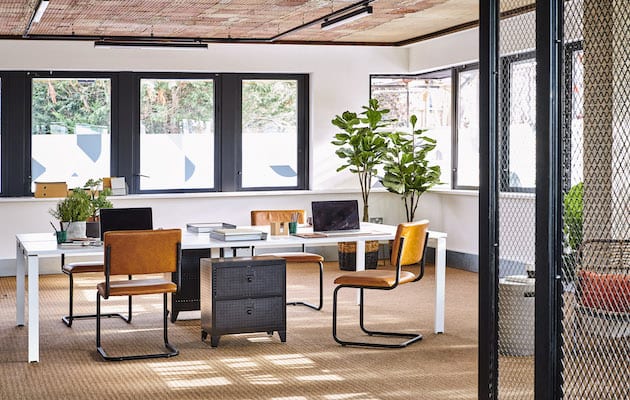 |||
OnOffice: Please describe your latest project Junction
Run For The Hills: We were tasked by property developer Dunmoore to breathe new life into an old office building in the heart of Uxbridge. Stripping it back to the raw essentials, removing lowered ceilings, awful floor tiles, and exposing some beautiful original features.
Whilst our interiors team were busy designing a knockout show suite for the development, the Run For The Hills graphics team created an identity to help Dunmoore market the building to a design-savvy audience.
OO: What are both your backgrounds?
RFTH: We're a husband and wife team, and Run For The Hills was founded with the coming together of both of our individual established studio practices.
When we merged we sought to create a multi‐faceted design house which exists in the space where brand and interiors meet. We not only specialise in interiors but also graphics, creative branding and original art.
Before setting up on our own, we both had careers as creative directors in a variety of different creative industries spanning publishing, broadcast journalism, graphic design, branding, motion graphics, illustration, film and TV, digital design, event design and advertising. So, we have 20+ years of experience to draw upon in our designs.
OO: What was the inspiration behind the 'Junction'?
RFTH: 'Junction', as a brand, brought to mind industry but we wanted to do something original – a 'softly' urban scheme, tempered with organic touches and lots of warm wood.
The final concept emerged during strip out when we uncovered some wonderful old terracotta ceiling tiles which we cleaned but left raw. They looked so amazing we decided to base the scheme around our findings.
We are delighted with the final aesthetic which we've dubbed 'Urban‐Terracotta‐Chic'.
OO: Please explain and describe the 'Junction Serif' font.
RFTH: We created a bespoke serif font for the logo, full of hard angles as if cut out of metal – with the main exterior logo signage becoming just that. The font is also used liberally across the brand. From brochures and marketing comms to in venue graphics, signage and wayfinding. Something bespoke and unique to the project.
OO: What did you aim to achieve with this project?
RFTH: For both sides of the business, our main aim was to create a standout development for the client and entice people into the show suite to find out more.
Ultimately, our job is to showcase the fabulous building that Junction will become, before it's happened. So, we're storytelling and teasing the shape of things to come.
OO: What did the client want to achieve?
RFTH: The client ultimately wanted to re‐invent and transform a tired and unloved building, turning it into a standout workspace hub which attracts high quality tenants and commands a strong return on investment.
This particular client, Dunmoore, has a genuine vision and belief that good design is at the heart of that mission. As part of that, we were also briefed to create a really slick and creative website to sell the development, not just to potential tenants but also the agents that would be promoting it.
OO: Why do you think branding is so important?
RFTH: Because property developers need to market the property before it has been refurbed or built. They want tenants to move in as soon as it's finished, it is the early marketing of the 'brand' that gets them interested. They are buying into the promise of the logo and the brand identity.
Once the development is nearing competition, we can plan photoshoots that make it easier to attract potential tenants, but often we don't have photos or CGIs so we have to think of creative ways to sell the building. Having a strong brand helps considerably.
OO: Please describe how you think the branding, building and interiors complement each other?
RFTH: The materials palette straddled both the branding and physical interiors, with the proposed finishes used in early tease‐marketing before the show suite was finished and photographed.
We used contrasting materials – setting metal and raw concrete against more organic finishes ‐ adding warmth to our industrial‐chic interior scheme. We were delighted to unearth vintage terracotta ceiling tiles behind the dropped ceiling, which we cleaned and scraped back but retaining and embracing the perfectly 'imperfect' raw edges.
And we used iPhone snaps of our discoveries in the pre‐marketing campaign and on the holding page of the website.
OO: What were the most rewarding/ challenging aspects of bringing the project to life?
RFTH: Mapping Uxbridge was a key highlight. We are known for our passion of map making, and we're particularly enamoured by the one we made for this project. Our lovingly crafted local area map has become (we think) the pièce de résistance of all our brand work for Junction.
The biggest challenge was the fact that Junction is a working office building with tenants rather than an empty canvas. So, one of the biggest challenges was stripping out the building without causing disruption for the existing tenants.
It's our third project with Dunmoore and we have a nice shorthand in terms of the way we work and second guess each other. The client also invests a lot of trust in us and are fully committed to being creative. Dunmoore are always open to doing something new and unexpected in the marketplace, so we love working with them.
OO: Describe Junction's identity in three words.
RFTH: Masculine in pink.
OO: Do you think that all‐encompassing undertakings such as this result in more well‐rounded projects?
RFTH: On the commercial front, our partnership has definitely allowed us to position ourselves as a fantastic holistic partner for workspace and hospitality clients, who need great interiors, but also, an equally powerful brand.
All of which we can provide, with one creative team, providing an all‐inclusive conceptual and implementation service ‐ from spatial planning, concepts, lighting design, joinery and in‐venue graphics and branding to full contractor specifications, documentation and project activation.
For clients looking to harmonise and simplify their creative agency roster and to streamline process, it definitely works. But a joined‐up team also ensures that the end design feels seamless across all channels, created by a single team rather than disparate agencies.
Creating our two‐teams‐in‐one niche has proved a great success, propelling us from credible‐but‐little‐known‐boutique to the go‐to agency for creative multi‐use workspace design.
Click here to read our interview with Lebanese interior designer Mireille Wehbe
London-based duo interior designer Anna Burles and graphics designer Christopher Trotman, co-founders of Run For the Hills, discuss their firm's overhaul of an old office building in Uxbridge