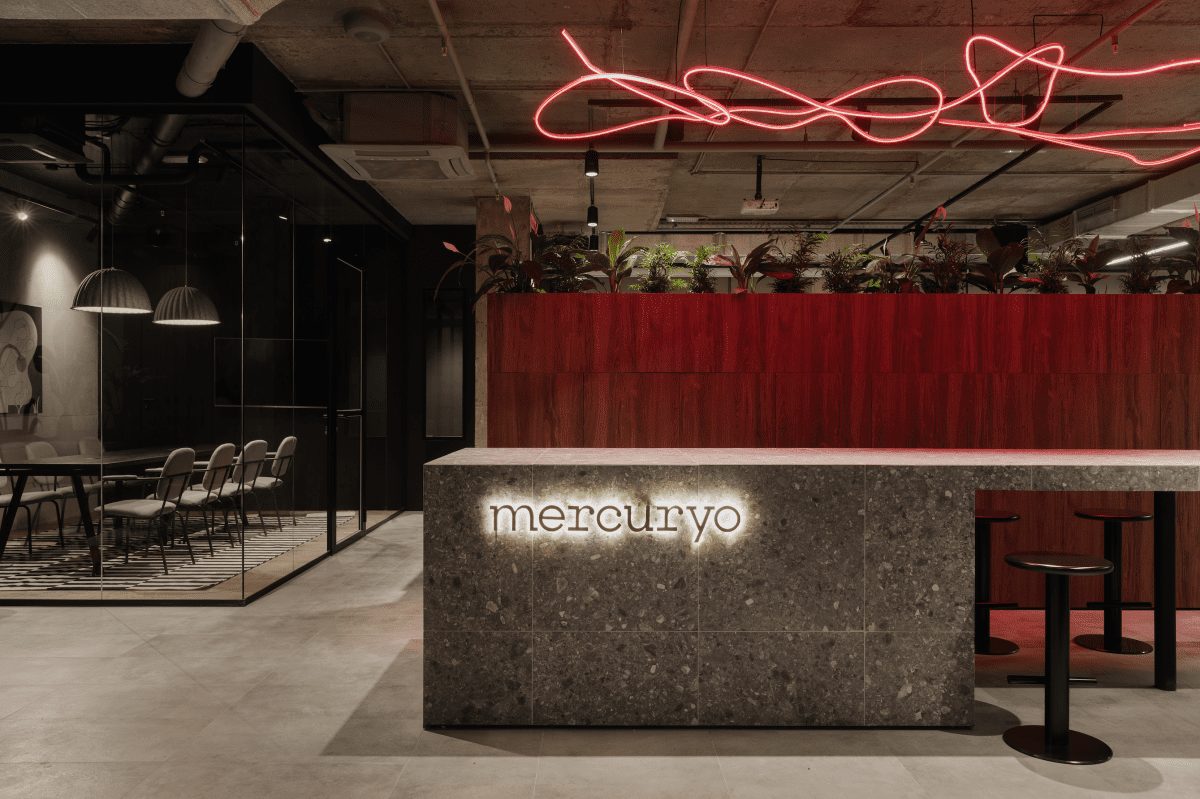 Situated in one of Moscow's most vibrant creative neighbourhoods, this workspace drives and inspires future work and living
Realised by architectural designer Kate Turbina, together with construction company Delately, Mercuryo's new hybrid office in Moscow, which is equipped with modern technology and furnished with the latest workspace decor, is designed to bring people together.
Located inside a high-tech business block in the heart of the Russian metropolis, Mercuryo's office is set in one of the city's most dynamic creative 'clusters', where multi-use spaces blend shopping, dining, co-working, and living to create a vibrant neighbourhood that attracts creatives from far and wide.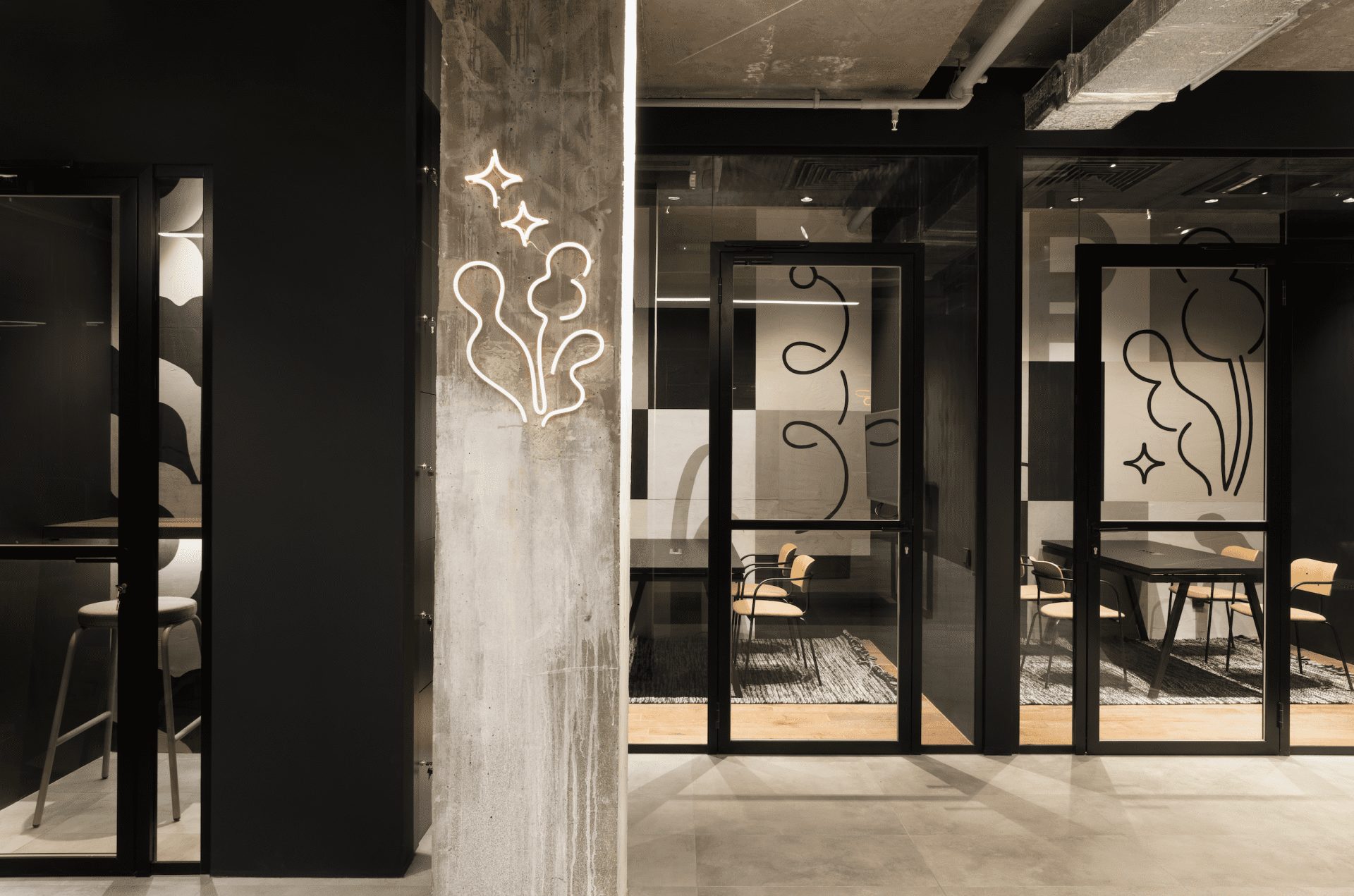 The sleek workspace features a range of work areas, staying true to the neighbourhood's hybrid ethos. A kitchen and bathroom can be found at the heart of the office, while the main hall and coworking area, are dotted with custom-made furniture and bespoke bar stools by ALot.
Various meeting rooms, a reception, amphitheatre, and work spaces designed for focused and collaborative work, bring a sense of empowerment and freedom to the team, allowing employees to choose where to work from – both crucial elements of efficient workspace design.
Creating a lively workspace that's designed to maximise efficiency of space and provide zones for different work modes, the multi-purpose, flexible office is designed for the future.
"Our goal was to create an office space where employees will be motivated to 'grow up'. We used hybrid space principles, so every employee can switch from 'remote mode' to office teamwork on demand", explains Turbina.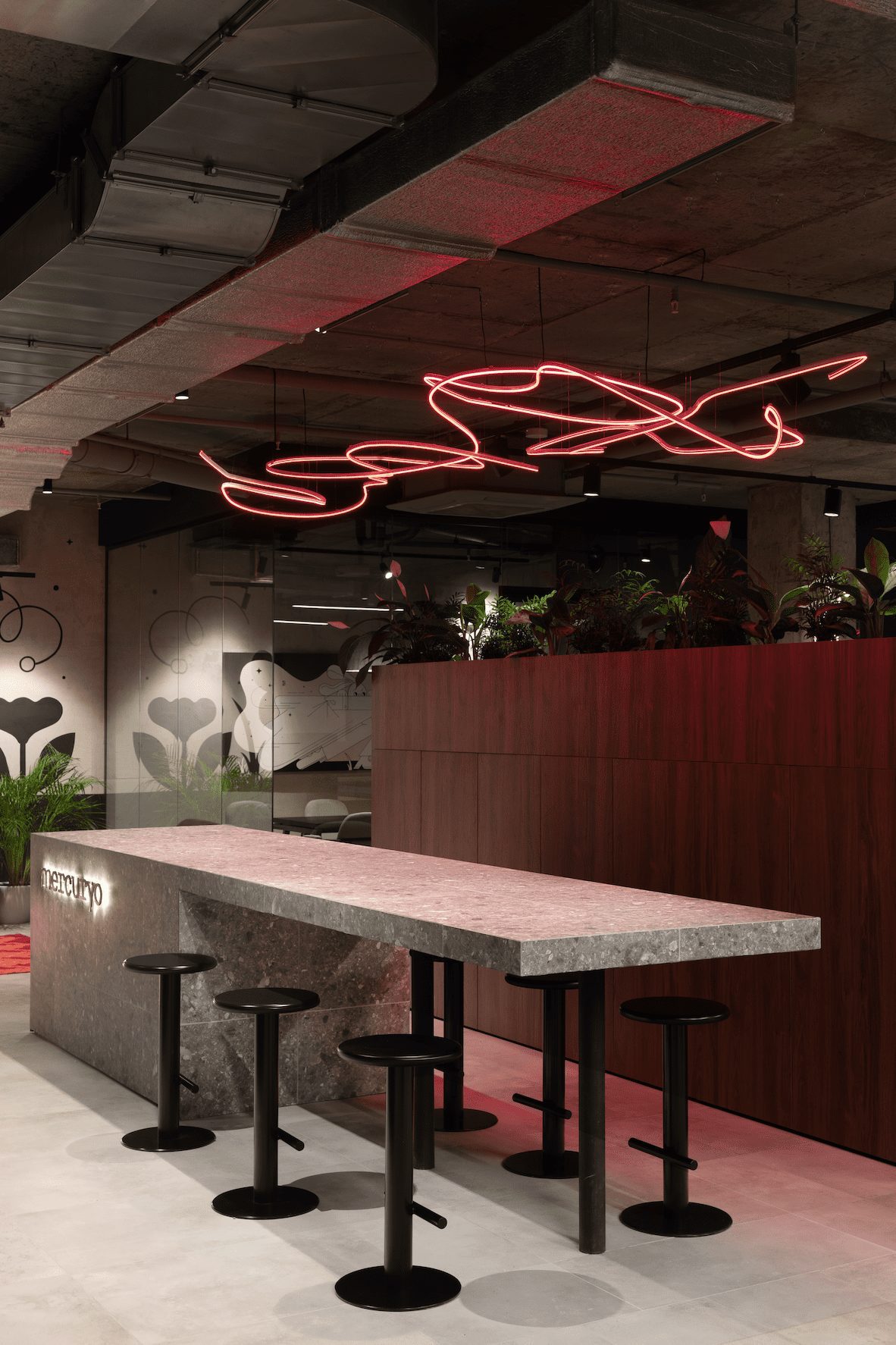 "As such, we have created Skype rooms for focused work and extended open spaces for team collaboration. The office is a great example of a flexible hub for employees to meet and collaborate."
The design takes inspiration from California's cliffhanging villas and extraordinary natural landscapes. Turbina brings nature into the office's interior by incorporating plants throughout the space to create a garden-inspired look.
Meanwhile, to create a warm feel, the young architect employed matte finishes and natural materials, such as concrete and natural wood, while a dark colour palette with pops of red in the bathroom, was inspired by Mercuryo's brand colours – black, red and white – evoking the feel of a high-end Californian residence.
Making the working environment more flexible, which allows employees to complete different work tasks based on places, the flexibility and variability Mercuryo's new space provides, helps support various styles of work to create a workplace that boosts employee productivity and happiness.
Images by Natalia Pokrovskaya