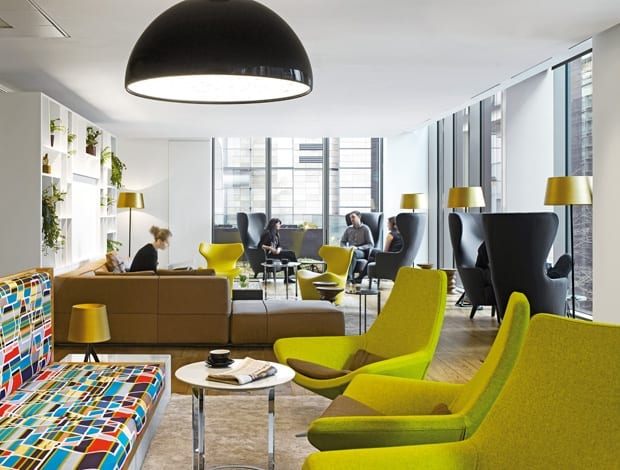 Lend Lease's hotel-like reception – all comfy seats and low lighting|Rows of plants line the atrium, with more greenery in storage areas|Reclaimed oak flooring counters the "newness" of nearby glass and steel||
In the sprawling corporate environs of the Regent's Place development near Great Portland Street sit the green – literally and figuratively – offices of property group Lend Lease. With the help of architect Woods Bagot, its award-winning interior – which apparently features eight plants for every worker – has achieved a measure of distinction among the strip-lit identikit offices surrounding it.
Gazing up from the building's ground-floor atrium to the company's three storeys, the visitor first notices the stiff green fingers of 4,000 sansevieria plants fringing every window. These plants signal the environment- and people-friendly credentials of this project, which has won a BREEAM Excellent rating for design and fit out as well as a LABC Building Excellence award for best sustainability design. Along with the black ceilings and striking Moroso armchairs viewable from the atrium, the plants create a characterful facade to Lend Lease that contrasts strongly with Gazprom's and Ricoh's anonymous offices above. "The higher up the building you go, the fewer smiles you see," observes Duncan Young, Lend Lease's sustainability manager.
"Let's start out here in this very stark atrium and walk through into Lend Lease to get a sense of the difference in feel between the two spaces," suggests Jonathan Clarke, Woods Bagot's director of interiors Europe. Crossing the threshold into the ground-floor reception is almost disconcertingly like entering a hotel lounge: it has low lighting, and comfy domestic-feeling sofas and coffee tables placed in intimate groups on carpet set into French oak floorboards. There is also a TV, one of many large flatscreens dotted around the office's 62 hi-tech meeting rooms, some of which are used for video-conferencing with Lend Lease's international offices. "Video-conferencing here is amazing because the technology is so good," says Young. "It is almost like the person is in the room with you, and it means that we don't have to fly all over the place for meetings." He goes on to enthusiastically explain the ethos behind the design: "For the past four years we have been conducting global and local employee engagement surveys, out of which we established key themes of openness and transparency, health and wellbeing. People are our greatest asset so we want to retain them." Lend Lease and Woods Bagot took the call for transparency literally, glazing meeting rooms and creating around 30 breakout spaces. Woods Bagot also installed an internal staircase so that people could "bump into each other and observe and learn from what they see, hear and talk about", says Young.
In November last year, Lend Lease bought construction company Bovis and amalgamated the two companies' various UK offices here at Regent's Place. So this design has been tasked with helping the two companies – each of which makes up about half of the 500-strong office – to meld their cultures.
"We needed to create a space that could support the habit-change we were looking for," says Young. Staff retention is a priority for Lend Lease, which asked Woods Bagot to deploy a design that would encourage people to stay. "People don't hang out at Jessops, but they do at the Apple Store, because of the way it looks and feels," explains Young.
The high-end materials used within include oak floorboards, milled down from 100-year-old timber reclaimed from old French train carriages. There are also Corten oxidised steel walls and sliding doors, all of which Clarke says "gives the office a truly robust feel". The oak staircase already resembles something of a dartboard, being the victim of hundreds of stiletto heels marching up and down it every day, but Clarke brushes it off, saying it was all part of the plan. "Places that are well-used look better – you want to see the heel marks and the wood splitting."
The first floor features a spacious "lending library", still rather bare but apparently soon to be populated by employees' favourite books. This space also features daring yellow upholstered Take a Line For a Walk chairs by Alfredo Häberli for Moroso. Again, low lighting and soft furnishings predominate, and you wonder whether there are any conventional desks, or indeed, any workers – the place feels strangely empty of its 500 staff. "We are pushing the idea of bringing lifestyle and work together, and so a soft interior feel means that you are less likely to mind still being at work at 9pm, which, let's face it, is the way the world is going," says Clarke.
With a library, kitchen areas and a large, bright, canteen with 100,000 pieces of sustainably sourced fruit bought in every year, along with the many and varied breakout spaces, there is no shortage of places to chill out or break free. And yet they seemed largely unpopulated, with the vast majority of staff working at (finally revealed) regimented rows of brightly lit desks. Storage surfaces are covered with similarly regimented rows of plants, which have the ostensible function of cleaning the air, but are also intended to prevent people from cluttering the surfaces. It is not unimaginable that this might be rather annoying to busy staff with papers and files to put down somewhere. But with all employees sitting at these desks, no matter their seniority, these work spaces were designed with equity in mind: "Lend Lease is keen on the idea of ownership, but rather than making it about 'owning' their work stations, staff get a sense of ownership more from the project as a whole," says Clarke. So, besides receiving unlimited free fruit, healthy snacks and bowls of cereal, employees are engaged in carefully monitoring the progress of an extensive and attractive habitable wall and rooftop meadow, accessible from the canteen. One of the major triumphs of the project, this expanse of wild flowers, raised above the clean grey lines of Regent's Place below, is a beautiful sight that makes you hope that you are looking at the future of mainstream office design.