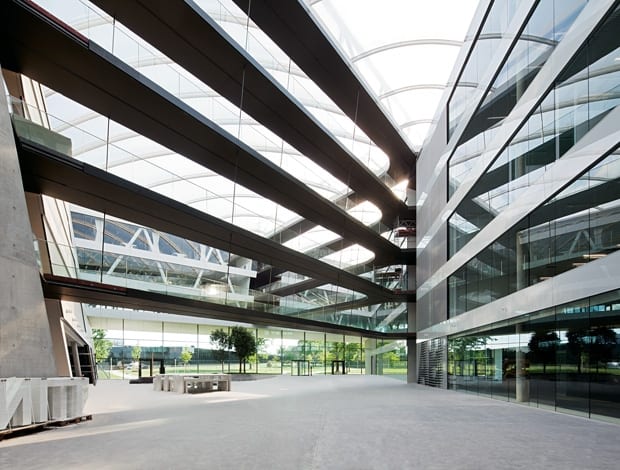 The walkways criss-crossing Adidas HQ give the building its name – Laces|Kinzo's custom-made furniture stores paperwork as well as samples|The building's gentle angles influenced the design of its furniture|Punched-metal uprights in the storage unites create subtle sight-lines|Go-faster furniture: Kinzo's elegantly dynamic angular seating||
Although now a global giant, sports brand Adidas is still based in the small German town where its founder Adolf "Adi" Dassler and his brother Rudolf Dassler – the father of rival sports brand Puma – were born more than 100 years ago.
Since the 1990s, the brand's headquarters have been situated in a decommissioned Second World War American military base, nestled in the Bavarian countryside. In this green and leafy landscape, Adidas has built a campus-like embassy, comprised of a warren of old military hangers alongside new builds such as the woodland-surrounded Stripes restaurant and the Adidas Brand Center, completed in 2005 by Vienna-based Querkraft Architekte.
Despite their interesting heritage, the container-based military buildings surrounding the new builds were only meant to be a temporary solution, and so in February 2007 Adidas launched an architectural competition to design a building to for its huge creative team, which comprises 1,700 marketing, design and product development staff.
Briefed to create a building considerably larger than any of those around it, the winning practice, Kadawittfeldarchitektur, was keen to create a structure that absorbed the leafy surroundings fluidly into its heart, giving employees the impression that they were still part of the green campus landscape. It was for this reason that Kadawittfeldarchitektur decided on a ring-shape – with a pinched middle, so its form somewhat resembles a bow tie – that created a lofty atrium space at the core of the building. Following on from this concept, the practice was forced to introduce zig-zag crossings, connecting different sides of the atrium on every floor, which soon gave rise to the building's highly appropriate name – Laces.
Although originally green in the project proposal, the "laces" that dissect the leafy tongue of the atrium are created from black 30cm-thick suspended walkways, some of them up to 50m long. Neat white staircases connect the laces vertically, allowing movement between floors without encroaching on the walkways' clear outlines.
Kadawittfeldarchitektur project partner Dirk Zweering explains how Adidas's unmistakable branding helped to shape the site: "We wanted the building to be abstract and have a certain simplicity to it, which we thought would fit Adidas very well. Just like the black and white stripe – very smooth and minimal," he says. "We didn't want to see any construction elements like screws so we planted all those little details out of sight."
The lighting, too, is disguised within the seemingly gravity-defying laces, consisting of motion-triggered LED strips that only glow 2-3m ahead of your stride. Dimmable lighting controlled by daylight, three-layer insulated glazing, 28 geothermal probes and the test centre's 1,700sq m planted roof contribute further
to the building's green credentials.
The building's sleek exterior is made from a facade of glazing and aluminium elements, with an integrated sun and glare shield between the panes. On entering the atrium, employees tread on a combination of turf and natural crystals of the Terrazzo floor – as opposed to the sports-arena-like epoxy resin of the floors above. From there staff can head to Innovation Valley, which houses materials laboratories, research areas, the brand archive, the Test Hall, and Athlete Services, a plethora of rooms for visiting VIPs where clothing and shoes can be adapted and fitted with the help of the latest biomechanical methods of analysis.
Because of the large and complex nature of the building, wayfinding was an integral consideration right from the start. Kadawittfeldarchitektur worked with Stuttgart-based practice Büro Uebele from a very early stage to integrate wayfinding graphics – comprised of energetic-looking dotted lettering – into the building's architecture.
The office spaces themselves, each named after historical products, border the atrium's 60m glass facade on all sides, creating a light, open and hopefully inspiring environment for Adidas's creative team.
As well as providing stimulation for creative brains, it was essential that the Laces office environment also met the team's specialised practical requirements. Berlin-based design company Kinzo (cover stars of onoffice 23), which came to Adidas's attention after creating bespoke furniture for German tabloid Bild, were enlisted to develop a whole line of new furniture to fit employees' specific needs.
"At Adidas, the staff not only work with files and paper, but all kinds of samples, footwear, apparel, and balls," explains Kinzo's founder Chris Middleton. "They have piles of samples in their office – and there's no furniture on the market that will accommodate the ordinary file with the possibility to store more unusually shaped samples."
For both Kinzo and Kadawittfeldarchitektur, Adidas's iconic style and brand assets, such as the black and white stripe, and its bright products, were a huge influence on the design of the building. Zweering says, "The space is full of textiles and products and they're so vibrant that no colour scheme would ever stand a chance to compete against them. The offices needed to be white and open, so that only with the products does it become vivid and lively."
The office's open topology and fluid orientation system provided Kinzo with a blank canvas to create its bespoke system. Comprised of more than 50 different elements, Teamplayer, as the furniture is dubbed, features a honeycomb of punched-out metal sheets, hooks and pegs that can support shelves, cupboards and clothes hangers. Lightweight screens, inspired by ice-hockey goals, can be moved to create private spaces, and breakout spaces are populated with bright red upholstered chairs by Vitra. "Teamplayer is very modular so each person can arrange it to do what they need," says Middleton. "We were also referring to furniture as a team sport because it looks very dynamic and sporty. The single pieces aren't as interesting as the combination of all the 'players' together."
The furniture's rhomboid shape and eight-degree angles also reflect the building's tilted facades, something that was important to Kinzo when designing the system. Middleton explains, "As you enter the building you have the experience of entering a film set. Everything fits together and you don't want a gap between furniture and architecture. The architecture is special, like a spaceship from a different world. Adidas is a modern company – we had to do something very fast and dynamic."