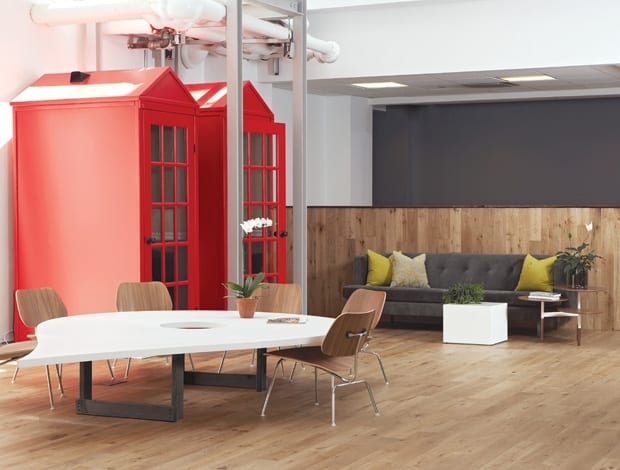 Phone booths solve the inevitable issue of privacy in open-plan offices|The blokeish Photogenic room, one of many themed spaces|The timber-clad bar; employees are, naturally, encouraged to be sociable|Open-plan office space includes domestic-looking breakout areas|The Socialite room. No you can't have a mojito during the strategy meeting|Terrarium company Twig supplied the greenery for the Herbivore room||
Audra Canfield has created a fun yet functional office that reflects Foursquare's ethos.
I like to think that I'm up on my social media. All over Facebook, you might say. Top dog of Twitter. But I have to confess that Foursquare's delights have always eluded me. Checking in? Mayors? Badges? What's that all about? Naturally, readers, to find out more, I crowdsourced the issue.
"It's about showing off more than anything else," posted one friend; "look at my fascinating life and all the fascinating places I visit". That same individual did then take the time to explain the real business benefit too: by users regularly 'checking in' at locations such as restaurants, shops and museums, these places then have a great way of seeing what kind of people are using them and can market to this audience accordingly: a discount here, a loyalty scheme there and so on. You can also experience a deep sense of FOMO (that's 'fear of missing out', granddad) while you're at it, as you can see where friends who are on Foursquare have checked in. And maybe weep a little as you realise you weren't invited.
The reason for delving a little deeper into the purpose of Foursquare is that its new offices in SoHo in New York are designed very much with the user experience in mind.
"The Foursquare team had decided that they wanted each conference room to have a different theme, based on its check-in badges," explains designer Audra Canfield.
She was commissioned by Derek Stewart, Foursquare's director of finance and operations, who set the tone of aligning the workplace design with the company ideology. A badge, corresponding to the type of check-in, hangs outside each of these rooms, from the Jet-setter room for airport check-ins, to the Vinyl room for record store check-ins, which unsurprisingly features a wall bedecked with 12-inches.
Some rooms have recognisable elements of a workplace setting, such as a conference table and task chairs, but in others you could be forgiven for thinking you're not in an office at all but someone's carefully crafted idea of vintage chic. The Bookworm room (for library check-ins), is a great example of the latter.
"It's actually my personal favourite," says Canfield. "We wanted to create a cosy corner office. One line of books is turned backwards revealing the texture of the pages, evoking the diminishing time of the book."
Wallpaper depicting recycled magazines keeps the wordsmith theme going while the mismatched chairs and a bench piled high with books of various brown tones creates the kind of place you can imagine a scene in the zeitgeisty comedy drama Girls being set. The same lived-in feel was also applied to the Photogenic room, representing the badge for visiting photobooths, with its reclaimed shelving, display of antique cameras against a backdrop of a blackboard painted wall, and another wall full of Instagram photos, taken by the people who work there.
"Being cool, contemporary and cubicle-free is just what its hip, laptop-toting creatives like"
The interior for the Socialite room, representing check-ins for nightclubs and bars, is as blingy as the Bookworm and Photogenic rooms are down at heel. "I could really go glam with it," says Canfield, and while faux-fur purple wallpaper was vetoed, flocked damask and foil wallcoverings, velvet lounge chairs, a white cowhide rug and crystal chandelier got the OK. I can't imagine getting much work done in there – I'd be wondering when a minion would be bringing me my next bottles of Cristal and Corvoisier, such is the VIP area vibe this part of the office gives out.
In stark contrast to the cubicle-stuffed nature of most conventional American offices, here the brief called for a relaxed atmosphere.
"Derek and I worked with Foursquare CEO and co-owner Dennis Crowley to create both a fun and functional office," says Canfield. "It was important to Dennis that the office be vivacious and hip, as most of the company's employees are in their twenties and thirties."
The Swarm room (on Foursquare, members get a Swarm badge when many people check-in to the same place at once) certainly embodies this sense of playfulness, with its geometric walls.
"I found this great wallpaper in a yellow and green with a white and grey overscaled pattern that referenced the beehive's architecture without being too literal," says Canfield. In keeping with the bee theme, there is also a honeycombed-patterned clock and pendant lights that resemble beehives.
Crowley's favourite conference room, Herbivore (denoting check-ins to vegetarian restaurants) features a series of terrariums. For the uninitiated, these miniature gardens are apparently set to become quite de rigeur for 2013 in terms of indoor greenery. Chuck out your yuccas, these little glass environments, yet another bit of revived Victoriana, are now the thing to have. The ones here have been custom designed by Brooklyn-based terrarium company Twig. Each one holds a selection of plants and a plastic herbivore animal, all arranged on floating reclaimed wood shelves against a lime green wall. Black Eames DSR chairs are a designer indulgence on an otherwise tight budget and are contrasted with the more workaday wood and iron table, industrial-style pendant light and plain green carpet tiles.
"One line of books is turned backwards revealing the texture of the pages, evoking the diminishing time of the book"
For a company whose entire remit is to get people to come together and meet up informally, it's no surprise to learn that there are the usual mix of games – including the ubiquitous table football and ping pong – plus several lounge areas. As well as her own interior design business, Canfield also co-owns accessories firm Designer Fluff. The company's blue and yellow cushions provide a splash of colour among the grey and white of the main office colour scheme.
The overall result is nice enough and by being cool, contemporary and cubicle-free is probably just what its hip young, laptop-toting creatives like. But like social media itself, I can't help but wonder about the longevity and productivity of this type of workplace environment. Maybe the status quo needs updating?