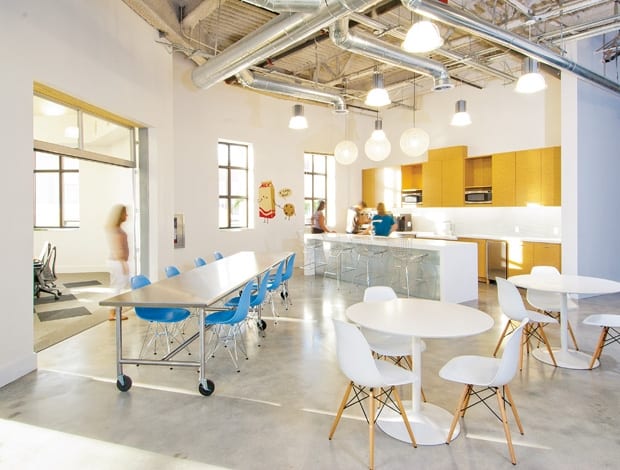 BGT Partners wanted a workplace that reflected its laid-back, sociable ethos|Rockin' out in the "jam room" (the musical kind, not the kind you put on toast)|Plywood and concrete answers a contradictory "rustic industrial" brief|A gong is sounded to celebrate new projects|Glass-cocooned meeting rooms signal the firm's culture of openness|Space to grow: currently housing 120 employees, the building can expand to fit 220|A giant whiteboard and squishy Fritz Hansen Swan chairs aid creative thinking|With its floor lamp and zebra-skin, the library takes a domestic approach||
On the face of it, the Florida HQ of cutting-edge ad agency BGT Partners, whose services include email and mobile marketing and social media campaigns, is in a duff location – a sort of limbo midway between Miami and Fort Lauderdale. A more usual habitat for an ad agency is "a downtown, urban setting", as Eric Holland, of Miami-based architects practice ADD Inc, who designed BGT's offices, points out. But there is a logic to its location. "It was a strategic decision to help recruit the most talented employees from both cities, and minimise their commuting times," he explains.
Holland adds that, to compensate for the location, BGT's offices, on the first floor of a new mixed-use building (with shops and restaurants on the ground floor), would need to make a major splash design-wise, not least because "BGT wanted a space that would help retain current employees – and attract new talent." He stresses that the firm wanted an office that was "especially unusual and cool".
The interior, which was completed in July 2011, needed to reflect key aspects of BGT's culture: that staff are encouraged to socialise and work very collaboratively; and that BGT doesn't see itself as a conformist corporation but as informal and laid back. Another consideration is that the company anticipates growing considerably so the design of the spacious, 2,600sq m office needed to be flexible. When it moved to its new office, BGT had 120 employees yet the space can potentially accommodate 220.
Fortunately, says Holland, ADD Inc met with no resistance from BGT when it proposed an ultra-contemporary design. Not that ADD Inc did so autocratically: in fact, it prides itself on collaborating extensively with its clients, and conducted a huge amount of research into BGT's needs. "I spent hours meeting all department heads to understand how their teams worked," he says.
Moreover, BGT's founder had studied architecture before going into advertising, which worked in ADD Inc's favour. "It helped us speak the same language and facilitated useful dialogues about the most important points of discussion," says Holland.
BGT was very clear about the aesthetic it was after, says Holland: "They wanted the feel of an old rustic, industrial loft." In theory, this was inauspicious. With "rustic" and "industrial loft" being contradictory notions, a gruesome mishmash of styles might have ensued. However, the interiors' style ended up skewed towards an urban aesthetic. The palette of materials used includes gleaming polished concrete floors and unapologetically informal, hoarding-sized plywood sheets used to clad walls and columns.
The interiors are less successful when they stray from this predominantly industrial palette though: a library with red chairs and a zebra-pattern rug – a stab at playful kitsch, perhaps, but a failed one if that's the case – looks like a sterile, aspirational domestic interior. The office layout was crucial to conveying BGT's ethos. To break up the monotony of the space's "very large, long" floor plate, ADD Inc vetoed dully linear corridors and sharp right angles. "The lack of right angles underscores the firm's creative spirit, its antipathy to corporate conformity," explains Holland.
What's more, the office has open-plan, shared workstations that help accord with BGT's culture of collaboration and informality. To prepare for the expected growth of BGT's staff, the workstations, arranged in long rows, are divided by small panels that can be moved slightly, making the work areas a bit smaller to allow for additional employees. And each station has its own small mobile storage unit (large ones are unnecessary since the office is virtually paperless). "Any technology and electrical equipment is built in for future staff, too. All they need do is plug in and go," says Holland. "We also left ample room between each row of workstations to give plenty of breathing space and ensure that, even when filled to capacity, the place won't feel like a call centre."
The office also has some comparatively discreet rooms, however. In another area are some private offices and meeting rooms but these are fronted with glass, both to let in light and foster the sense of transparency and openness that BGT strongly promotes. "The meeting rooms have floor-to-ceiling whiteboards for brainstorming," says Holland. "Because the rooms are glass-fronted, staff members can see what discussions are taking place there as they walk by." This porosity is also designed to allow visitors to witness the creative hubbub at BGT at closer quarters.This sense of transparency appears to apply vertically, too. Look up at the ceiling and you see its industrial innards – an intricate web of ductwork and cabling – meaning that the office's industrial-chic aesthetic is all-enveloping.
Given this abundance of industrial materials, the colours here are mostly neutral. According to Holland, there's another reason for the muted scheme: "The staff create a lot of imaging in the office, so these materials serve as a useful, neutral backdrop for it." But some hits of colour were used, including a blue that references BGT's logo. Cheesy? Not really, since a variety of tones of blue have been used and none exactly match that of the logo. Some carpet tiles (installed for acoustic reasons) feature large blue and yellow squares, which, says Holland, "mimic large-scale pixels and deliberately play on BGT's computer-orientated culture". At the end of the workstations are Charles and Ray Eames rocking chairs in paintbox-bright shades; it's hard to imagine a more laid-back-looking chair in an office context.
A large breakout area is even more conducive to relaxation. A kind of kidult kindergarten – or should that be a kidultgarten? – it's equipped with a piano, drum kit, Lego bricks and plenty of comfy seating for those who just want to chat. "BGT is extremely staff-conscious and creates many activities for the staff from musical jam sessions to what it calls 'ice-cream socials'," says Holland. BGT's ultimate aim with this interior appears to be to create the illusion that the staff aren't actually at work. "All work and no play makes Jack a dull boy" could almost be its mission statement – save that it would surely consider that term unpleasantly corporate.