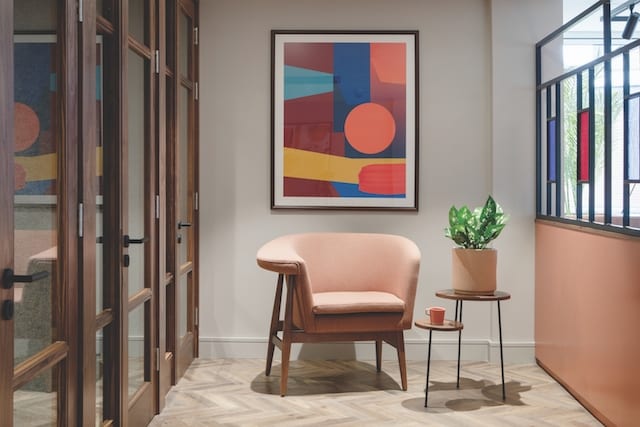 |||
There's a buzz about Dublin these days. Business is good again after the lean post-recession years as international companies are eyeing up the Irish capital as an alternative to Brexit-ridden London – Facebook, Google and LinkedIn all having chosen Dublin as their EU headquarters.
But where are all these newcomers going to work? International workspace providers such as WeWork have moved into Dublin to capitalise on this new surge, but for a quality local choice there's Glandore, a family business that's been providing flexible office spaces for 18 years.
But being the homegrown contender will only get you so far in such a competitive marketplace. "Our members have high expectations, as we tend to raise the bar every year," says Rebecca Kelly, director of Glandore, which is now running six office and co-working sites in Dublin, as well as spaces in Belfast and Cork.
OnOffice got to see this for ourselves when we flew to Dublin to visit two Glandore workspaces located around the corner from one another in the sought-after Georgian Mile.
At first glance the two couldn't be more different – 24 Fitzwilliam Place is a five-storey Georgian terrace, and Fitzwilliam Court is a single floor within a 1960s office building.
Traditional and mid-century mix at 24 Fitzwilliam Place. Photo: Ruth Maria Murphy
But thanks to a skilful and attentive refurbishment, the two properties are now tied together by a strong vein of mid-century modern, joining together these wildly different starting points to create a modern yet timeless look through a common design language.
For both properties the flexibility and technology needs of the modern business is cared for in a stylish yet traditional environment, but there's an attention to detail and craftsmanship that goes above and beyond.
There's the handpicked Connemara marble, the bespoke pieces from John O'Connell Furniture, the thick velvet Kvadrat fabrics, the Anglepoise and Britelux lights, the paintings commissioned from Art Loves especially for their spot… Each room has been designed to have its own story.
Jean Delaney, senior interior architect at 21 Spaces, the interior architectural and design consultancy that led the design on the Glandore properties, says it was a real labour of love: "The Georgian townhouse was in complete disrepair – an empty shell.
The challenge was to bring the building up to Glandore's needs from a technological perspective, while also being sympathetic to the building and doing what was right from a restoration perspective."
From the outside, number 24 looks like all the other Georgian townhouses on the terrace, but the door is open – a glass door sits just inside the reception so that the heavy front door can be left open for a more welcoming atmosphere.
Inside the lobby the traditional brass of the front door knockers carries on with mid-century features, such as a brass mailbox and a space age brass chandelier suspended from the Georgian ceiling rose.
A local moulding company was hired to restore the intricate ceiling cornices and roses, some of which had been destroyed by a previous tenant. A lot of this work was mandated from a preservation perspective, but Delaney says they would have done it regardless.
Classic brass elements are given a mid-century twist. Photo: Ruth Maria Murphy
Similarly, the designers were careful to choose features that would stand the test of time, and to disregard trends when making design choices: "Our key driver was to let the Georgian building shine," says Delaney.
Lunchtime is just starting as we step into the communal space of number 24, with some people eating and others still working. The vibe is cool-startup-meets-private-members-club, the bold retro art looking fresh next to the deep Georgian windows.
But a closer look reveals that all the modern elements – the art, the lights, the call booth – are placed with a light touch, as freestanding as is possible within the traditional building.
This means they can be easily removed and still leave the foundation of the original building pristine. This achievement was a significant challenge: "We had to find clever ways of integrating cables, data and electrical points into the scheme without affecting any of the walls," says Delaney, pointing to a panel behind a seat that was installed in order to hide the light cord sitting between it and the wall.
It actually wasn't the 1960s property that inspired the choice of mid-century modern. The decision to draw on this style was a design choice that started with the Georgian property, says Delaney. While the two buildings look very different at their core, the idea was for both to have a joint atmosphere in recognition of their common function, but at the same time be two distinct and unique workspaces.
Fitzwilliam Court is Glandore's newest Dublin property, having opened to members in April 2018. The fabric of this space couldn't be more different from number 24 – this is a 1960s office building with low ceilings, creating a starting point for the designers that was far removed from its sister building. The result is a more contemporary outcome, and the space is surprisingly playful.
While the main floor covering at Fitzwilliam Court is elegantly pattern-laid wood, the reception is a bold splash of era-appropriate fun: a large-aggregate terrazzo floor that's custom-made in Belfast to fit with the reds and greys of the space.
Fitzwilliam Court's 1960s features are enhanced in the design. Photo: Ruth Maria Murphy
Stepping inside the co-working space, the wires and air-conditioning ducts of the low ceiling have been left exposed to avoid losing height, and painted maroon to tie it all together.
Communal tables are surrounded by smaller breakout tables, with phone booths at the back – this time built into the walls. Elsewhere on the floor are dedicated offices and meeting rooms, making this a space that fits all needs.
"It's a bespoke offering," says Kelly, as we walk around. The walnut wood ties nicely with the brass details, which in turn contrast with black light fixtures and rich, bold colours – peach orange, teal blue, mossy green.
While the mid-century design is just as pronounced here, it feels softer because of the base structure of the building and consequently, it becomes less of a contrast. Also, the result very much looks the part of a "cool" workspace.
"We cater to startups, to entrepreneurs, to people in the beginnings of their careers. But we also have big multinationals coming in as well, so it's a broad spectrum," says Kelly. Glandore hosted Facebook when it first came to Ireland eight years ago, with other tenants including Twitter and Dropbox, as well as more traditional corporations such as law firms. "We've been in business 18 years, so we're focused on providing quality in everything we do."
Kelly thinks being an "Irish safe pair of hands" is a positive attribute for the business. We've wandered along to 33 Fitzwilliam Square, which is where Kelly's father Michael first established the business in 2001.
The back room is newly refurbished – again by 21 Spaces – with dark wallpaper and black furniture creating a sharp, pleasant contrast to the intricate stained glass panels. The dark colours of the small space creates an undeniably cosy charm, making it the perfect place to sit down to chat.
As Kelly's two sisters are also directors, this is a true family business. "We are all very active, and we are passionate," she says. Asked about the influx of international competitors to the industry, Kelly says that one of the early challenges for Glandore was to educate people on the merits of flexibility – that is no longer necessary as people tend to already get that bit now.
"You have lots of different options, and they deliver differently in terms of quality of space," she says. 'The market has increased with an influx of new operators, but not all are the same and equal.
"It's all about knowing what you do and to do it well. And for us, it's about making sure we put in quality."
21 Spaces' mid-century styling creates an elegant visual link between Glandore's disparate Dublin workspaces