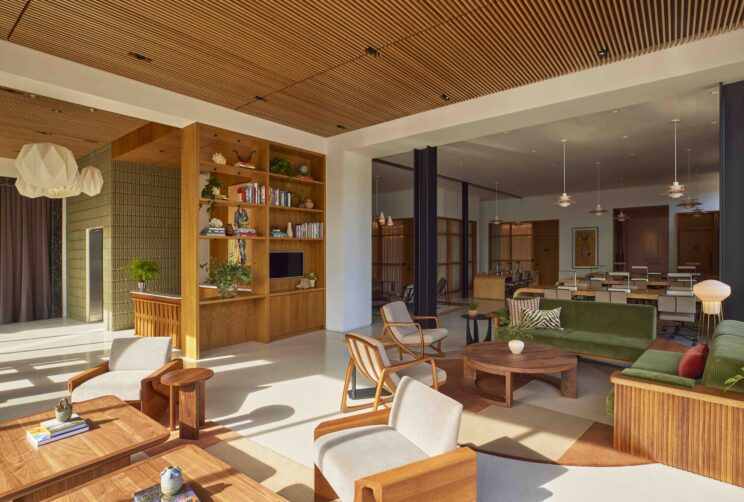 Just a couple of blocks from the Pacific Ocean, the private members' club has opened a venue that builds on the area's cultural past
In the exhilarating 1970s and 80s, 73 Market Street in Venice Beach regularly drew in a coterie of bright Los Angeles filmmakers, artists and writers. Owned by Tony Bill, the actor, director and Academy Award-winning producer of 1973 film The Sting, the two-storey corner brick building from the 1920s seamlessly morphed from a production facility into a stimulating cultural salon.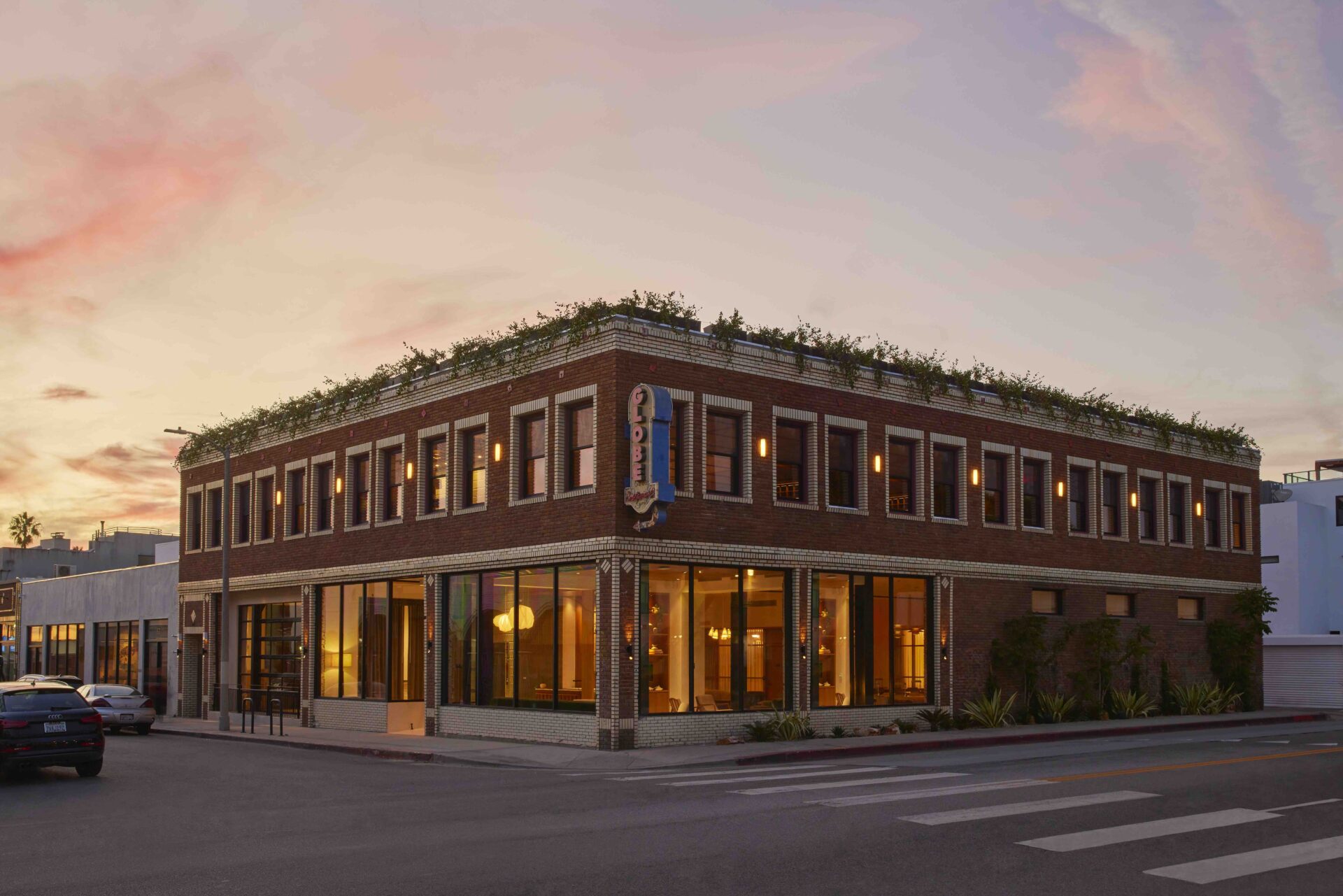 "It's the ultimate inspiration listening to Tony talk about that time. All the memories of old Hollywood – you wish those stories could live forever," muses Anwar Mekhayech, co-founder of DesignAgency, the Toronto practice that has helped restore that bygone air of revelry by transforming the historic structure (most recently home to technology company Snap Inc) into NeueHouse Venice Beach.
Venice Beach marks the third LA outpost of NeueHouse, the members-only hub where creatives harmoniously straddle working and socialising. It joins the downtown location, for which DesignAgency revamped the late 19th-century Bradbury Building, and the Hollywood flagship (the firm not only designed the rooftop restaurant and cafe but runs its local office from there). Even the original, NeueHouse Madison Square in New York, flaunts the imprint of DesignAgency on its hospitality-driven penthouse level, Eleven.
Unlike its more urban siblings, the 2,135sq m NeueHouse Venice Beach – a sprawling fusion of the 73 Market Street edifice and adjacent 63 – pulls from its distinctive setting in the shadow of the storied Venice Boardwalk, two blocks from the Pacific Ocean. Although it exudes the overarching NeueHouse spirit, reminiscent at once of a luxury hotel and a dynamic event venue, DesignAgency was keen to pay homage to the Venice neighbourhood from the outset.
"What I love about Venice are the beautiful homes – some new, some old – and all the characters. So many interesting people are living in the area. How do we embrace a little bit of that counterculture, a little bit of that hippy aesthetic, a little bit of that beach vibe," Mekhayech recalls discussing early in the project.
Fuelled by nostalgia and the modernist architecture movement that evolved in Southern California, DesignAgency landed on the notion of endless summer, manifested in a series of open, inviting spaces buoyed by a breezy, earthy palette. Expanses of wood and brick that mirror the façade are complemented by the likes of rounded forms, soft green tiles, and diaphanous lighting, while organic patterns adorn furniture.
One of Mekhayech's favourite elements is the "grand marble staircase that kind of swoops you upstairs" and features a swathe of cascading greenery, he notes. DesignAgency reclad it and redesigned the handrail, yet it seems original, as if it's always been a part of the action. Another highlight is the "old-world glass box meeting room", as he describes it, that stars David Hockney's 2014 4 Blue Stools painting – part of a comprehensive artwork collection, assembled by Caroline Brennan of New York design studio Silent Volume and Pamela Auchincloss of the all-women curator collective Eleven+, that mingles pieces from both established and emerging talents.
Just as the garage-style door in front directly engages with the buzz on the street, the second-floor rooftop restaurant Reunion, the first-ever culinary concept developed and operated by NeueHouse, forges welcome connections between indoors and outdoors, including the massive skylight above the horseshoe-shaped bar and palm leaf-laden patio. Throughout the property, ample vegetation, woven into verdant vignettes by local nursery Rolling Greens, further grounds guests in nature.
"There is a nice vibrancy to the colours, a lot of texture and warmth, and great natural light. There are so many windows that wrap around and tons of plants everywhere. It just makes you feel good," Mekhayech points out.
Beyond biophilia, wellness is promoted through a convenient back entrance that encourages members to slip away to Venice Beach Skatepark or hit the waves for a spell and then, in a rejuvenated state, discreetly return for a shower before a few more productive hours on the laptop. DesignAgency even took chilly surf days into consideration by tucking a fireplace into a corner. "It's cosy," adds Mekhayech. "It's meant to be like a home."
Once members are swept into the clubhouse, they have access to all points and organically flow through the rooms as they desire. Some will work in the gallery; some will record in the podcast studio; others will place surfboards into storage or unwind with cocktails before partaking in NeueHouse's signature slate of robust programming spanning talks, performances, screenings and exhibitions. "That's the added value of being part of a members' club," says Mekhayech. "You're meeting people."
Images by Yoshihiro Makino
As featured in OnOffice 162, Spring 2023. Read a digital version of the issue for free.