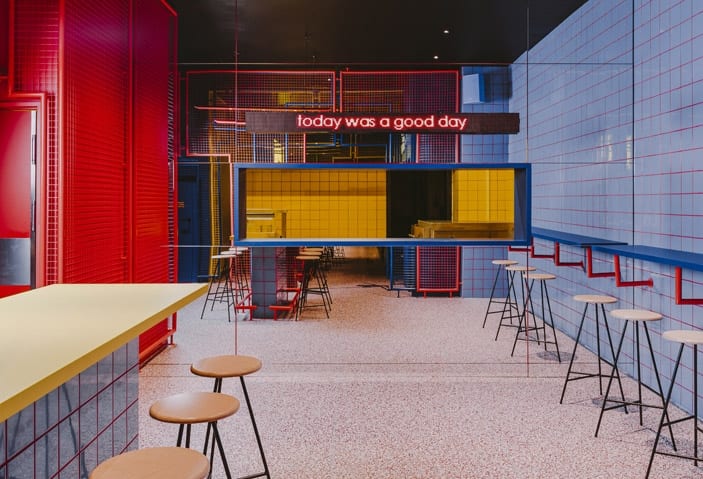 |||
Polish architecture and design practice Buck.Studio has completed work on Biggy, a 68-capacity bar in central Wrocław that aims to evoke the aesthetics of 1990s American hip-hop
Designed with a combination of minimalist fittings and bold primary colouration, Biggy is characterised by grid patterns in red, blue and yellow. The walls use a red grid with a blue background, a scheme which continues into the bathrooms for a complete consistency throughout the project.
A softly hued pink, speckled Tarkett floor counterposes the vivid block colours elsewhere. Buck.Studio used mesh screens to partition the long, narrow space into a series of separate sections, allow for the bar to feel like a succession of loose rooms rather than a single chamber. The designers describe these screens, which share the grid pattern of the walls, as the "the spatial leitmotiv organising the interior."
Biggy's casual purpose is emphasised by its bar seating and small, two-person tables, arranged so that larger groups can spread across them. Neon signs displaying humorous messages and a retro arcade game machine enhance this sense of levity.
Established by architects Dominika Buck and Paweł Buck in 2010, Wrocław-based Buck.Studio designs interiors and furniture. The recipient of several awards — most recently a German Design Award in 2019 for Campo, an Argentine steakhouse — its other recent projects include the urban health spa Zyjnia in Wrocław and the acclaimed Polish fine dining restaurant Opalsy Tom in Warsaw.
Images by Basia Kuligowska, Przemysław Nieciecki