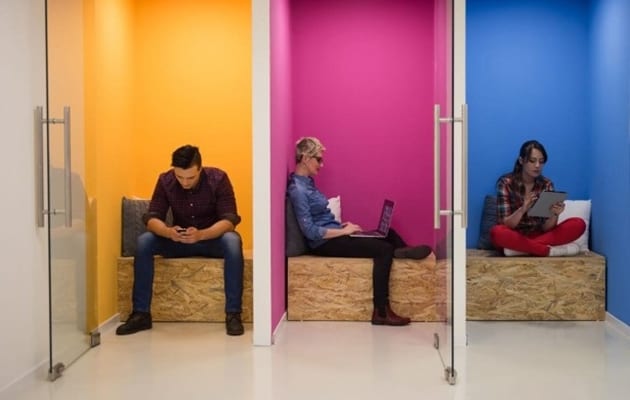 |||
Are you satisfied with your workspace? If the answer is no, you're not alone. 68% of Britain's workforce feels that their offices are the reason that they're not attracting the best talent, according to a recent survey from Crown Workspace.
Newer, sleeker, and more technologically efficient offices are all factors in attracting the best and brightest people. However, these offices aren't always accessible to business owners. 51% of business owners surveyed thought that designer offices were too expensive, while 24% said that they did not suit the ethos of their brand.
Thankfully, there are ways to strike a balance between an ultra-modern office and an outdated workspace. What can you do to increase your retention levels without having to turn your office into Google's headquarters? Bear these considerations in mind when you're refitting your office or redefining your workspace:
Insight equals results. Your office space must work for your business, so use your employees and an expert consultant to get a real understanding of what is and isn't working. Finding out how to make the most of the space can make a real difference in the way the business operates in the future.
Flexibility is key. Everyone has unique needs, desires, and motivations. Introverts and extroverts must work in harmony, and the space must reflect this. Knowing how your employees operate and interact is essential to creating an environment that suits everyone. Speak to your employees before you redecorate the office, and ask them about what improvements they would like to see. Some employees may value privacy, so your new design could incorporate more quiet spaces to take calls. While other employees may want a reduction in noise or an increase in natural light. Gaining opinion before you redesign is critical in making sure your new space benefits as many people as possible.
Technology rules. Technology has redefined what it means to work in the modern world. Wireless networking, remote storage and mobile technology should influence your layout, equipment and furniture decisions. Questioning the traditional office setup is exactly what you should be doing.
Trust and respect. Flexible workspaces should increase your employees' productivity and wellbeing. Management must believe that their employees will work better based on trust and respect, and employees should feel empowered to do so.
Find your style. Stylish interiors appeal to some workers, but they're not right for every business. Decide whether to focus on clean lines and simplicity, or create something a bit more unconventional. Whatever you do, be sure to develop a plan and research all your options. This is a great opportunity to enhance your business' brand.
While workspaces of conglomerates like Google and Facebook appear to be leading the way in workplace design and the wellbeing of employees, they aren't for everyone and every business. Focus on creating the right working environment for your staff and the ethos of your company. Create a bespoke solution that will meet their everyday needs while preparing the office for the future.
Simon Gammell is the director at Crown Workspace

What can you do to increase your retention levels without having to turn your office into Google's headquarters? Simon Gammell, director at Crown Workspace, shares some insights into the key questions everyone must answer before ripping up the carpet and knocking down the cubicles.