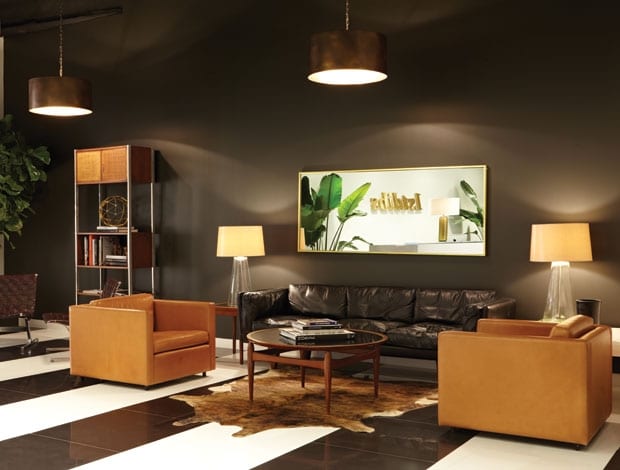 "It's mixed in a way that feels very residential and eclectic"|Photography by the likes of Mark Shaw and Lillian Bassman has been lent by dealers to enhance the space|Staff shifted to open-plan working when they moved offices; desks are supplemented by collaborative space|Featured designers include Paul McCobb, Warren Platner and George Nelson|The bar area, moody in dark timber with black painted walls|The oversize chess set has been a feature of 1stdibs' office since the early days|The aesthetics lean heavily on the mid-century style that the website is known for|Natural materials such as wool, leather and timber generate a sense of warmth|1stdibs was the first tenant in the new building, designed by Maki & Associates|||
Online antique and vintage marketplace 1stdibs' new Manhattan office space is a glamorous marriage of home and office
It would be a challenging prospect for any creative to design an interior fit out for a company that describes itself as "the world's leading online marketplace for the most beautiful things on earth."
So, when the company in question, 1stdibs, recently relocated its New York office from Manhattan's Flatiron district to a space on the third floor of a Fumihiko Maki-designed building in Astor Place, they decided to take on the interior design themselves, and to collaborate with architects The Mufson Partnership on the office design.
"From the beginning, we wanted 1stdibs' headquarters to be a living embodiment of the website, and we felt strongly that the office should be designed by the people who use it every day," says Adam Karp, 1stdibs' chief marketing officer.
"People tend to be more creative in a non-traditional environment"
"We brought in furniture, fine art and decorative objects that were purchased on 1stdibs and filled the bookcases with design monographs. It's mixed in a way that feels very residential and eclectic."
Ignore the meeting rooms and banks of desks, and the new office space could feasibly be the extravagant and luxurious antique-filled home of one of 1stdibs' taste-making dealer clients.
There are the newly acquired mid-century tables by Eero Saarinen, Warren Platner and Edward Wormley, bookcases by George Nelson and chairs by Paul McCobb; and there are pieces – like the oversize 1960s chess table based on the designs of American modernist Milo Baughman – that have been with the company since its early days.
"The new office is a perfect reflection of the 1stdibs culture," says Larry Mufson, principal at The Mufson Partnership. "It's evident as soon as you walk in. But it was challenging to deal with people far more creative than I'm used to.
"They kind of ooze design and wanted as much of it as they could get. We had to work with them to do that within the budget, and create an environment that would support the level of creativity and intelligence of a young group of powerhouse creatives and technicians so that they would want to come into work each day."
To do this, The Mufson Partnership utilised the existing attributes of the space, including high ceilings and ample natural light, to produce a canvas against which 1stdibs could flaunt their company culture. The use of a glass wall system helped to bring light into the interior, at the same time supporting the simplicity of the overall design.
The office move was necessary to accommodate a quickly growing team – there are now 145 employees at the new HQ including engineers, programmers, dealer relations, marketing, PR and the executive team. As many staff (particularly programmers) work long hours, the office has been designed to feel like a home away from home.
This domesticity is reflected in the mostly natural finishes such as marble and timber, plenty of greenery throughout, and in myriad subtle touches. Full-length curtains on the windows adjacent to the workstations soften the space and table lamps adorn each desk, making it feel more like a home office than a traditional workplace. Then there are the enviable office amenities.
There's a dark metal-clad bar area worthy of Don Draper, a full kitchen (where a catered lunch is held weekly for employees), an area for yoga classes and a rotating gallery exhibition on the office walls, which features original photographs by Lillian Bassman, William Wegman, Greg Lotus, Mark Shaw and Sebastião Salgado. "It's a place where they can relax, be comfortable, and work wherever they want," says Karp.
One of the most significant departures from the previous office space has been the implementation of an open floorplan. This, alongside the seven conference rooms, various breakout areas and conversation nooks, works to encourage staff interaction and a sense of community throughout. Each space has its own identity, created through the use of furnishings and decoration, which can be easily reconfigured should the need, or want, arise in the future.
The exception to the open-plan layout is CEO David Rosenblatt's office, which is the only private office in the workplace. Even here, though, glass walls and an open-door policy ensure that it still remains connected – both visually and socially – to the rest of the office.
"Overall, it's a very well considered plan that leverages spatial design to encourage cross-team collaboration," says Karp. "People tend to be more creative when they're in a non-traditional environment, and the different areas are another way to foster partnership and teamwork."
Each team has a designated area – the engineers' area features a Star Wars chess set – and within that employees have their own desks. They are free, however, to work wherever they want, and intimate groupings of furniture and lounge areas have been placed throughout the office to encourage creative collaboration between the different departments.
"It has a relaxed feel that can inspire brainstorming and creativity," says Karp. "It was all about finding the right mix of antique and vintage items and 21st-century technology to create an office that is both beautiful and functional."
The monochrome colour palette with gold accents is another way in which the 1stdibs website has been referenced in the design, and is perhaps most dramatically realised in the custom-designed black-and-white-striped Italian marble floor in the entranceway, framed by two gold table lamps on reception and a gold logo. A relaxed waiting area to the right of reception makes guests feel immediately at home and hints at what's to come, with animal hide rugs, lounge chairs and a glass coffee table.
"The new HQ is a comfortable, welcoming environment that brings 1stdibs to life. Our vision for the company is to be the world's leading luxury marketplace for rare and desirable objects. We're thrilled to extend that standard of luxury to our headquarters," says Karp. "And employees love it."
It's no surprise. With a workplace that feels more like a swanky Manhattan apartment – complete with an in-house bar – than a corporate office, who wouldn't love to come to work here?