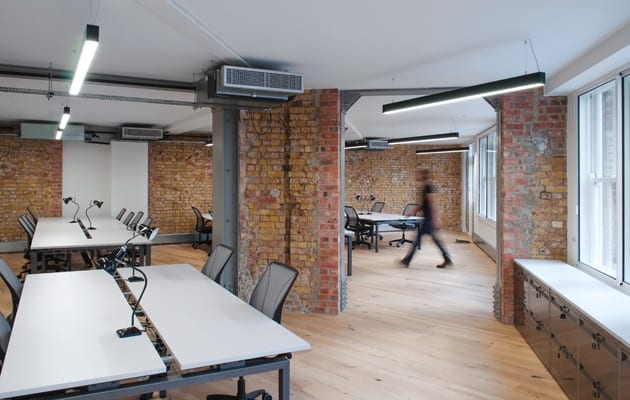 |||
All businesses, no matter how large or small, face pressure to maximise efficiency. The space in which employees operate has an impact on many things including productivity and staff happiness.
As such, it's important for office managers to take the time to create an office that sparks creativity, flourishes with efficiency and keeps employees happy. Company growth happens but even if an office is small, there are changes that can be made to make workers more comfortable.
It can be tempting to entirely relocate a business but with this act opening up a whole new can of worms and with commercial rents continuing to rise, the better option can be to put time into optimising the space that they already own.
If space isn't being used to its potential, why not? And what should be done about it?
It's easy to fall into routines and stick with an office design and features that have been unchanged for years, but is it holding your business back? This post will give tips on how to create an environment that makes employees feel more motivated and productive throughout, whilst making the most of limited office space:
Maximise light and open space
Natural light is a well-known mood booster. Seeing as office workers spend most of their time indoors, it's no surprise that an office that is airy and well-lit from natural light performs better. Removing items from windowsills and any other light blockages brightens the room and gives the feeling of extra space.
This Madison Avenue office by Rockwell Group is flooded by natural light from large windows
If your office only has a limited amount of natural light through the day, there are ways to maximise what is present. The best way is to rearrange desks so that more are positioned close to windows.
Avoid heavy furniture
In the decades before, a desk would be used to store all manner of files and important documents. As such, they were heavy duty, housing a host of compartments for storage.
Heavy looking office furniture now looks dated and is not as flexible as some modern pieces
Some companies have a fascination with these types of desks when in most cases they aren't necessary in the modern day.
Flexible spaces in the Bank of Canada's new HQ by Perkins+Will
The classic large dark mahogany desk may appear trendy but when it comes to optimising a space, they are troublesome. Where possible, heavy, traditional desks should be switched with furniture that is lighter in terms of colour and weight.
Multipurpose spaces
Multipurpose spaces can accommodate everything from catch ups with clients to group meetings. In an open plan office, a meeting pod can give privacy without needing another room and can double up as a semi-permanent working space or meeting room. Multipurpose spaces allow offices to do more with less space.
Hot-desking
Hot-desking is when personal desks are removed to save space. Instead of using a traditional desk that workers sit at each day, large communal desks and other spaces are used. These are assigned each day on a first come first served basis. From folding tables and laptop tables, there is quite literally a space-saving option to suit any space for hot-desking workers.
The Ministry members' club offers plenty of hotdesks
Hot-desking encourages creativity between workers that wouldn't normally find themselves together and can lead to better team morale and productivity.
Declutter
Much like you have a spring clean at home, do you make time to do this at work?
Decluttering workspaces is as important as cleaning your home can be
Having a clutter-filled office not only slows down the process of finding the things you need but it also slows you down mentally as well. Encourage employees to be ruthless with what is kept in the office, and that goes for everything – having a space that is clear and organised makes productivity much easier.
Rethink the corridor
A good design makes use of every space in the office. From corridors to staircases, in a flexible office, every space should encourage workers to hold impromptu meetings and hot-desk.
Corridors in this Polish office by Mode:Lina corridors double as meeting areas
Forward-thinking companies are using previously neglected spaces for productivity-boosting activities such as phone booths for making calls away from the hustle and bustle of the main office area.
Sit-stand desks
If space is limited, sit-stand desks are invaluable for productive working.
Humanscale's sit-stand desks have been a huge success over the years
Not only do they aid health benefits by increasing standing, but they can be extremely useful for meetings within an office space; standing together at one computer screen can be far more comfortable than huddling around the screen on chairs.
Quiet zones
Open-plan offices are fast becoming the norm, and rightly so.
This work hub by Boss Design offers intimacy for employees seeking a little peace and quiet
But with the collaboration and creativity that this type of design brings, silence is a rarity. Some people prefer to work in quiet, isolated areas, especially on tasks where concentration is needed. By creating a designated quiet zone, when necessary workers can go to work there with no distractions.
Skanska has 120 hanging plants, 396 individual plants, 20 pot plants on wheels and a green wall
Bring nature inside
An office devoid of pictures, accessories and any elements of a 'human touch' is a spoil for productivity and creativity. An easy fix is to add a few plants and indoor trees around the office. Humans are hardwired to be drawn to nature: recent studies have found that plants in the office can boost productivity by as much as 15 per cent.
New technology means that filing can be down on the cloud saving space and clutter
Store files offsite/online
Imagine an office wallpapered with to-do lists and post-it notes, and piled high with unordered files. Not to mention making space look stressful and cramped, this environment isn't the best for boosting productivity.
By sharing to-do lists in a central place such as a spreadsheet or on a whiteboard and storing files on a cloud-based system, the office will be less congested and everyone will know what they need to do and be able to prioritise worklists.
Mark Brown is an expert in office furniture and design and has spent over a decade offering organisations advice on setting up office spaces to enhance productivity and owner of Lismark Office Products.

How can we make sure the space in which employees operate has an impact on many things including productivity and staff happiness? Mark Brown, office furniture specialist, has ten top tips for optimisation