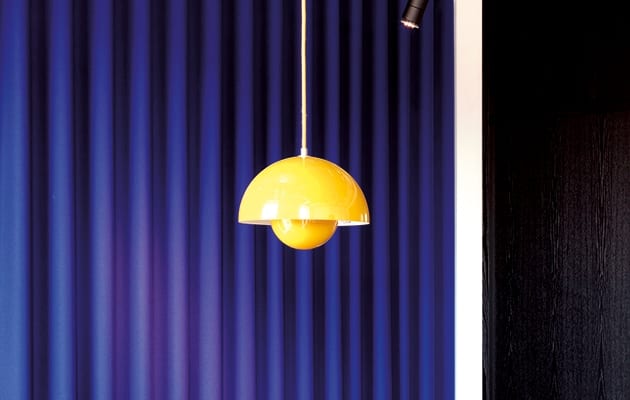 |||
While the name Tintagel House may conjure up heritage and tradition, nothing about this building's original incarnation so much as hinted at that. Built in 1960, the once-anonymous 12-storey block on Vauxhall's Albert Embankment housed the Metropolitan Police headquarters for half a century, as well as its first – wait for it – room-sized computer.
Windowless on the lower two levels, the latest launch from flexible workspace provider The Office Group (TOG) once turned its back to the Thames. But now a new garden embraces the view of the river, as do the views of Battersea Power Station and the Palace of Westminster from the tenth-floor bar and the roof garden. New glazing has punched light into those lower levels, with original Crittall windows restored, repaired and letting in fresh air on the upper floors, thanks to architect Stanton Williams' reworking of the structure. Interior design and office layouts by Universal Design Studio offer flexible workspace and a casual modernity.
Read more: Stanton Williams opens up the Royal Opera House and makes it a better workplace
The reception area with animated board opens to an airy atrium
The whole project has been carried out with environmental concerns in mind. Although all parties have taken a holistic view, noting that reuse and recycling as a means to reduce vehicle emissions and the energy used in the production of new materials are as important as new technology.
That said, TOG's renovation of Tintagel House has plenty of bells and whistles, as well as a set of solar panels. Situated on the south bank of the Thames, the building has been transformed since its acquisition in 2015. With a BREEAM Excellent rating, bio-diverse living roof and energy-saving plumbing and electrics, it has been reimagined for 21st century environmental demands.
"The main challenge in the retrofit of the existing building was how to reduce energy usage," says Doriano Chiarparin, an associate at Stanton Williams. "The level of thermal insulation of the existing fabric of the building was not as high as current Building Regulations dictate for a new build. Therefore, the combined effect of upgrading the building services installation with a low-energy makeover, while adopting the current higher standards in the new build and converted spaces at ground and top level, achieves substantial energy reduction improvements, while avoiding the heavy environmental impacts of the initial construction process."
The planted roof terrace has views from Westminster to the City
A new heritage emerges inside and out, with elements of local history picked out in tiling work that recalls the Vauxhall potteries and the immaculately restored parquet flooring on many levels. Most of this had long been hidden beneath Met-issue carpets, thus protecting it from pacing size nines.
No such protection was afforded to the doors that mark the end of office space and the start of the stairwell, but TOG has kept these pocked, chipped and scratched 1960s wood and safety-glass doors, which are like a portal to a period police procedural drama.
"When we saw the doors and that stain, we knew we had to keep them," says TOG co-founder Charlie Green. "We have that parquet floor throughout most of the building. Some were in such disrepair we couldn't keep it. But we just didn't expect it to be there, beneath the carpet."
High-spec materials and clean lines create a relaxed atmosphere
Where the parquet couldn't be saved, TOG and Universal Design Studio have gone with acoustic-friendly cork, which is a boon in the wider and busier communal areas. Both Green and TOG's other co-founder, Olly Olsen are heavily involved in the design and feel of all TOG buildings, with Green guiding aesthetics and Olsen overseeing functionality, never discarding what can be repurposed.
"Adaptive reuse of an existing building is a very sustainable design approach that benefits from the embodied energy of the existing construction materials," says Paul Gulati, associate director at Universal Design Studio.
"By adding to and enhancing this we have provided a longer second life for the structure. We also provided a very simple design approach to the majority of offices to allow flexibility to increase or decrease the size of the offices to meet demands, by adding or removing cross walls and avoiding the need for major refurbishments in the near future. We also made use of the existing openable windows to provide cross-ventilation and the lights are low energy LEDs which are activated by PIR [passive infrared sensors] to reduce wastage."
Openable windows and cork floors provide sustainable functionality
TOG has become well known for disrupting the way that renting office space works, and Tintagel House is a testimony to that. Established businesses have already taken up glass-walled offices, while young entrepreneurs reside in communal areas or hotdesking zones. Those looking for an escape from the kitchen table or local Costa can buy a drop-in membership for 32 hours a month in any of the TOG buildings, while a hotdesk is just £375 per month.
"We could have gone with a cheap refurbishment and got it out to the market fast at lower rents, but we wanted to create a destination," says Green. "We originally had plans to build out by the riverside, mirroring the addition at the front of the building. But instead, we have this garden by the river, rather than more office space."
The 8,825sq m offices should still be able to cater for over 1,200 occupants, with catering being an operative word. A coffee shop on the ground floor will be open to the public, with kitchens on each floor and a destination full bar with terrace on the tenth. Also on the tenth floor – previously given over to plant and services – is an apartment which TOG users can rent for short periods – ideal for visiting investors.
The tenth-floor apartment can be rented for visitors
Elsewhere, a broom cupboard door hides a secret escape for CEOs, complete with comfy sofa and single malts. Those who believe that lounging is for losers can instead improve their personal best thanks to the huge LED timers in the stairwell, which allow you to record your time running up to the tenth floor.
Outdoor exercise is also encouraged, with the in-house gym spreading through French doors to the riverside. The TOG thinking is that wellness is as important to a building's green credentials as its carbon footprint. Although it also realises that those credentials may be as important to tenants' end-users as for those signing up for a membership or lease.
The 1960 facade was upgraded with new tiling and brickwork
"We have to comply with the BREEAM ratings for planning," says Green. "But we are trying to have a level of environmental commitment that people can see for themselves and use for themselves and their business. They can say their building has a real commitment to the environment, with green roofs and solar panels."
TOG's commitment to rethinking office space saw many floors fully occupied even before the building's June launch date, with dramatic foyers and even a woodworking studio marking the space out as something different. The riverside location in newly desirable Vauxhall will certainly be as much of a draw as the environment-friendly design – meaning that it can't be too long before the innovative group is searching for yet more premises to make its unique mark on.
In a building that was once an HQ for London's Met Police, The Office Group's latest co-working space makes the most of its city-centre location