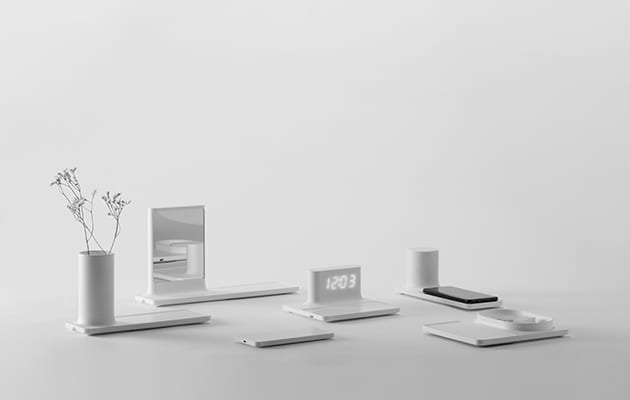 |||
Technology is an integral partof the modern-day workplace. With new software constantly emerging to tackle the everyday problems of the office, investing in the latest gadgets and cutting-edge products brings many advantages to the workflow – be it employee efficiency, or unlimited storage and a streamlined means of sharing.
Yet, despite these benefits, the way we viewtechnology has evolved. Although welcomedas a key player in our customary routines, our perception of it has shifted towards one that's slightly more apprehensive. Tainted by the rise of AI and the general influx of almost-too-smart automation flooding our existence, technology today needs to be discreet to counteract this anxiety. No longer does the modern worker want cables hanging loose or over-mounted plugs; people don't want tobe reminded how often they're surrounded by machines, and are instead opting for products or materials that mimic something more natural, gravitating towards hidden and integrated technologies.
Pesi's On The Surface collection makes use of flat charging surfaces
The idea of integrating technology into a product or material is something that brands and designers have adopted only fairly recently – a fine example of this can be seen in the new On The Surface collection by South Korean design studio Pesi.
Crafted as part of Samsung's Creative Square competition, which tasked young design companies with creating new mobile environments, the collection comprises a range of furniture and homeware products, each incorporating wireless charging technology to liberate smartphone users from those pesky wires and cables. The detachable wireless charging module is hidden at the bottom of the product – its alignment allowing the item to remain completely versatile, even when it's not being used as a charger – the collection includes a container, clock, speaker, mirror, and tray.
"We think the wireless charging system is a natural technology, because of the method and the way it's used. It does not require anything else except for a mobile device being placed on it, just like you would put it on a table – meaning it was very easy to integrate the wireless charging system," explains Byounghwi Jeon, co-founder of Pesi.
DVO's Milo system features a backlit bar to brighten dark areas
"Usually when a new technology is introduced, the way it looks, how it is used and the way it interacts within daily life is quite unfamiliar at first. We wanted to make sure that the environment was more comfortable, with a warm atmosphere that doesn't feel like the user is surrounded with electronic devices."
Its sleek and minimalist aesthetic, combined with a highly functional and easy-to-use approach, makes this collection unintimidating even for the technophobes who usually shy away from anything too garish. Jeon adds: "We designed On The Surface to be more harmonious with a warm and comfortable environment." What's more, is each product can be used in a multitude of settings, which includes the workplace or at home – "We wanted the collection to fit in various situations," he says.
Another place in which hidden technology is taking centre stage, ironically, steers more in the direction of science: researchers at Carnegie Mellon University in the US have just developed a new electrically conductive material that can repair itself. Carmel Majidi, associate professor of mechanical engineering at Carnegie Mellon University, and his team created the project in order to raise new opportunities for soft robotics and wearable technology; the self-healing aspect also keeps machines safe from mechanical failures, as it can repair itself from damage.
MIT's Programmable Droplets can interact with everyday objects
"We've developed a material for soft and stretchable circuits that can automatically create new electrical connections to bypass damaged areas when it is torn, punctured or if pieces are removed," says Majidi. "We can use this material to make soft machines, bio-inspired robots and wearable electronics that won't suddenly fail when damaged. We envision its use in stretchable textiles and inflatable structures – like temporary shelters or airships – that are integrated with damage-resistant electrical wiring and sensors."
The team suggests further possible hypothetical scenarios for the material, which includes first-responder robots that can rescue humans during an emergency without sustaining damage, an inflatable structure that can withstand environmental extremes on Mars, and even a health-monitoring device on an athlete during rigorous training. You could also see this material being used in interiors, even in the office, for its durability on surfaces and textiles.
Carnegie Mellon University's conductive self-healing material
The Massachusetts Institute of Technology (MIT), known for its research and fusion between science and technology, has recently designed a Programmable Droplets system – a project that can programme water droplets in an environment for both information manipulation and human interaction. Basically, the droplets can connect with our living environment. "We integrated our droplets system into various everyday objects, to function as information display, to help make art, enable play and display messages," says Udayan Umapathi, a researcher at the MIT Media Lab. Just imagine walking into an office and observing a display screen, perhaps a branded image,a motivational piece of signage, or a piece of art, and realising that what you're actually viewing is a wonderful display of programmable water droplets. Sounds likethe hidden depths of the far-future, doesn't it?
In terms of mechanics and design, the system utilises the technique of "electrowetting on dielectric" (EWOD), which enables a set of primitive operations, such as precise translating, morphing, merging and splitting multiple droplets simultaneously.Umapathi continues to explain how, through the lens of the future,it will serve as a tool for artists and designers tocreate narratives and interactive installations. "Our ultimate goal is to illustrate how droplets in our living environment through our system can become interactive and re-establish the relationship we have had with this natural and inspiring material."
Pesi's On The Surface clock incorporates a hidden charger
Taking a very different approach, DVO's latest product, the Milo sideboard system, utilises hidden technologies in order to increase levels of well-being in the office. Asa system of sideboards with stands and wall units, Milo is formed of a backlit bar that makes strong reference to the horizon. It can be hooked directly to the wall and replicate the sun in those darkened places that needit the most: the product is ideal for those basement offices or desks that seem miles away from the nearest window.
Not only is this product designed to invigorate the senses but it's also completely customisable. The elements have a squareor rectangular shape and come in various colourways with optional doors, and theycan be hung in numerous positions.
The future of technology is ambiguous, and it continues to evolve at an unprecedented speed. At least for now, employee anxiety levels can be decreased as designers focus on hidden technologies that calm the senses, rather than clutter.
Subscribe to OnOffice here to be the first to read our special features
As technology becomes ever more intertwined with our working lives, it is going undercover, hiding within everyday office objects