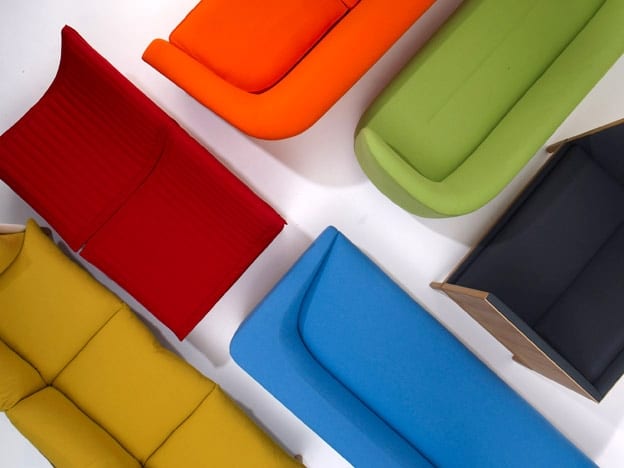 ||
SCP's latest sofa collection 'Sofa in Sight' brightened up a grey day during London Design Festival.
The six very different sofas were designed by a roster of big-name designers, including Terence Woodgate and Konstantin Grcic. They were given an open brief, the only stipulation being that their designs had to be capable of being made by craftsmen using traditional techniques at SCP's Norfolk factory in specialist fabrics.
This year, the design retailer celebrates its 30th anniversary, which it is marking with the Sofa in Sight collection, as well as SCP Editions. The stools, shelving and table have been created using unconventional or specialist manufacturing techniques. They were designed by Sarah Kay, Alex Hellum, Reiko Kaneko, Peter Marigold, Michael Marriott, Andrea Stemmer, Donna Wilson and SCP-founder Sheridan Coakley's son Oscar Coakley.
The Sofa in Sight Collection
Pasha by Konstantin Grcic
Originally designed for SCP in the 1990s, the sofa never made it beyond the prototype stage. This design revisits the original idea, which was to create a deep sofa with a deep recline. This version is made up of two sections, a fully upholstered elasticated webbed base, which in profile has a geometric curved line reminiscent of an extended ski-jump.
Tepee by Lucy Kurrein
Inspired by a hammock using strong industrial fabrics, the design works with the "natural behaviour" of the fabric, rather than against it, foregoing the strong lines and firmness most other sofas do.
Linear by Terence Woodgate
Woodgate begun by modelling the piece in clay, using only his hands and carving tools. The continuous flowing form encompasses the various parts in one piece.
Solstice by Matthew Hilton
The sofa was developed from the idea that it would sit directly on the floor at the back.
Continuous by Faudet-Harrison
Inspired by 1920s upholstery, Faudet-Harrison wanted to create a very simple sofa with continuous curves and a straight line sewn down the middle of the piece.
Rochester by Michael Anastassiades
Anastassiades' first design for SCP. Read more about the design.