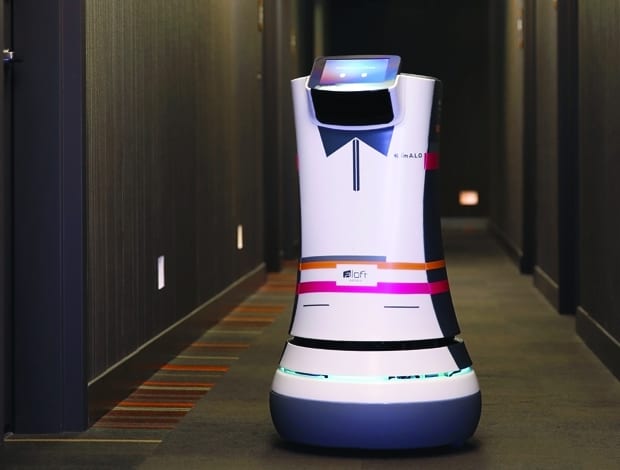 The autonomous robot uses image and motion sensors to navigate obstacles|Botlr is used to deliver toiletries and the morning newspaper to guests' rooms|A human concierge places ordered items in Botlr's storage compartment|The robot can even navigate the lift by sending a wireless signal to open the doors||
Meet the Botlr, the world's first robotic hotel butler. It sounds like the premise for a film – 'Wall-E meets Dunston Checks In', the IMDb blurb might read – but in fact, it's the latest tactic used by hotel chains to integrate technology into guest experience.
Aloft Hotels, part of the Starwood group, has added A.L.O. the Botlr to its workforce at the Cupertino branch in Silicon Valley, next to Apple's corporate campus – strategically placed for tech appreciators. Standing at nearly a metre high and sporting a bellhop-style uniform, the robot
transports items such as toiletries or the morning newspaper to guests' rooms. A human concierge places the ordered items in the Botlr's storage compartment and punches in the room number before it wheels off, cleverly navigating obstacles using image and motion sensors, and even using the lift by wirelessly signalling the door to open. When it arrives, it automatically phones the guest, and when they open the door, the robot unlocks the compartment to deliver their item, asking for a review rather than a tip. It also makes friendly R2-D2-style beeps, to give it character.
Developed by Savioke, a Californian start-up focused on creating autonomous robots for the services industry, Botlr is the most recent high-tech device used by Aloft. The brand has already implemented smart check-in, which allows guests to open the door to their room using a smartphone app; in-room Apple TV; and something it calls Cool Concierge – a lobby touch screen where guests can order a taxi, print boarding passes or find local information.