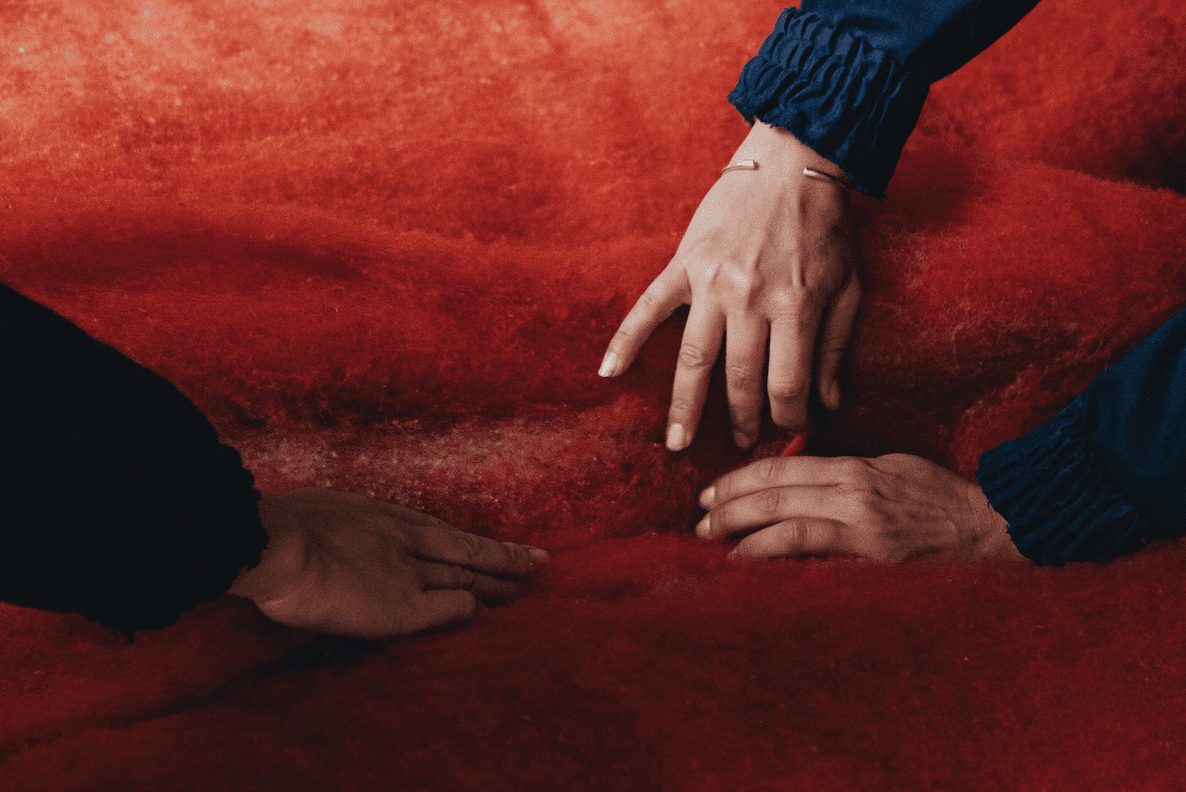 How has the design world reacted to society being turned upside down and our sense of touch denuded? In this feature, Grant Gibson explores how designers have reacted to 'touch deprivation' and how, as we've understood more about the virus, we have started to re-establish the importance of tactility
The renowned ceramist Edmund de Waal doesn't make pots to handle. They are exhibited in vitrines at galleries like the Gagosian, or sometimes partially hidden from view such as his Signs & Wonders installation at the V&A, where 425 glazed porcelain vessels were placed high up in the museum's dome. However, as he told the 'At a Distance' podcast last year, that changed after the outbreak of Covid-19 and the ensuing lockdown.
"What I wanted to make in this pandemic were pots to touch; to make something basic that really talked to the hands and to that experience of holding something and touching something," he confessed. "Because, of course, that is the great fracture that we're living through – not being able to touch the people, and the things, we love. And that touch has become dangerous."
And he's right of course. When the virus was first discovered much attention was paid to its possible transmission from surfaces. In the UK, we were implored to wash our hands – and avoid touching our faces – before we were asked to wear a mask. And alongside touch, our relationship with space – and who we could share it with – changed almost overnight. Families and loved ones were separated and prevented from going to funerals, friends could only be seen over platforms such as Zoom.
This, in turn, has led to what Tiffany Field, Professor in the departments of Pediatrics, Psychology, and Psychiatry at the University of Miami School of Medicine and Director of the Touch Research Institute, has described as 'touch deprivation'. Skin, she has explained, is essentially an external nervous system that requires stimulation. Without it we are more likely to suffer from stress, anxiety, depression, fatigue, sleep disturbance and post-traumatic stress symptoms.
There are those who believe that we've been ignoring the majority of our senses for too long. Susan Magsamen, Executive Director of the International Arts + Mind Lab, a centre for applied neuroaesthetics at Johns Hopkins University in Baltimore, believes that society has become "so transactional and we move through spaces without actually feeling them. We're very task orientated for the most part." It's a notion that echoes the theme of Juhani Pallasmaa, in his famous book, The Eyes of the Skin.
In his introduction, the Finnish architect explained that he felt compelled to write because he had "become increasingly concerned about the bias towards vision, and the suppression of other senses, in the way architecture was conceived, taught and critiqued," before pointing out sagely: "Our contact with the world takes place at the boundary line of the self through specialist parts of our enveloping membrane." Or skin, in other words.
Although first published in 1996, Pallasmaa foresaw the issues with our relationship with social media and with meeting other people almost exclusively through a computer screen. "There is no doubt that our technological culture has ordered and separated the senses even more distinctly," he wrote.
"Vision and hearing are now the privileged sociable senses, whereas the other three are considered as archaic sensory remnants with a merely private function." Keen to emphasise his point he subsequently added: "The dominance of the eye and the suppression of the other senses tends to push us into detachment, isolation and exteriority." Feelings many of us have experienced over the past 18 months.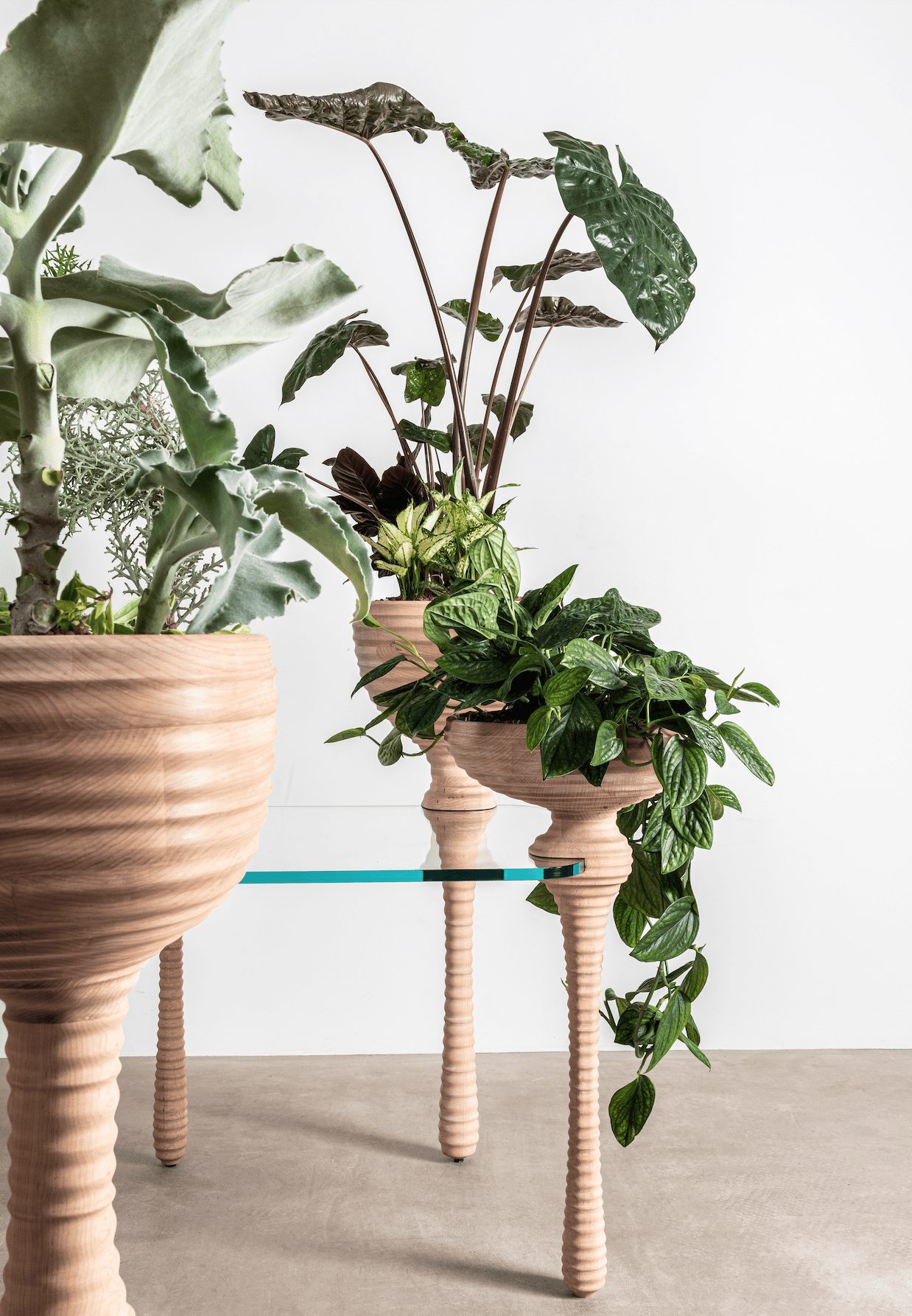 So how have the art and design worlds reacted to society being turned upside down and our sense of touch denuded? Some looked to technology. Last year, for instance, Aliki Siganou graduated from the Royal College of Art's Design Products course with a set of wearables – a pair of gloves and a vest connected via bluetooth – that used embedded vibrators and heating pads to mimic the sensation of touch. When paired with another set they allowed people to experience a hug from a distance, using a variety of hand gestures as controls (which had the effect of making the wearer resemble a Jedi Master).
Materials expert and author of Why Materials Matter, Seetal Solanki, is more circumspect about the effect the pandemic will have on our interiors. "Touch is inevitable," she explains. "I really don't think we're going to move into spaces that are 'touchless'. I don't think we'd be able to understand that world. It wouldn't feel safe and comforting."
Moving forward, we are more likely to see a rise in natural, sustainable materials that perform more than one function or, as she puts it: "Familiar materials being represented in an unfamiliar way… There are ways that we can start to consider the full potential of a material in an interior space."
It's something that was happening well before the virus struck but, like many things, may be accelerated by it. At Margent Farm in the Cambridgeshire countryside, for instance, owner Steve Barron commissioned Practice Architecture to design a house from the crop growing in his adjacent fields. The Flat House is constructed with prefabricated panels infilled with hemp (left unfinished inside) as well as using experimental hemp-based cladding on the exterior.
The result is a rich materiality that conveys palpable warmth and fibrous tangibility, while reflecting the local bio region. "There are lots of ways of interpreting a single material that can offer many outcomes," confirms Solanki. "Fuel, textiles, solid surfaces – all these things can be generated from algae easily, for example, and all materials are versatile." Hemp, meanwhile, is being used for clothes, food, medicine, paper and as a plastic substitute in car interiors. It's remarkable stuff.
This celebration of material origins and locality is also captured in Martino Gamper's Tutti Frutti, a collaboration with the material research lab Atelier Luma in Arles. Gamper worked together with local craftspeople for 5 months to design the new canteen Le Réfectoire in the Parc des Ateliers with materials developed from local resources and know-how. Processes involved weaving, felting, tufting and embroidery to create a richly sensorial and restorative environment that both resonated profoundly when it opened in the pandemic summer of 2020, and offers a direction for the future.
Another timely opening in 2020 that explored a very different sort of future was the Weird Sensation Feels Good exhibition at ArkDes in Stockholm. This was the first museum show about ASMR, or Autonomous Sensory Meridian Response. It turned out to be a particularly appropriate moment to showcase this new online culture that inhabits the intersection of the virtual and physical worlds by using particular audio-visual cues to elicit pleasurable bodily sensations and relaxation.
The exhibition, designed by ĒTER architects, manifested the experience of this phenomenon by creating a display of slick, caressing hands that offer headphones to the audience as they lie down on soft, squirming cushions to experience the ASMR tingles. As we've understood more about the virus, like de Waal, we have started to re-establish the importance of touch. As part of the AHEC-sponsored project 'Connected', Thomas Heatherwick set about creating a product that appealed to all senses.
The studio thought around the brief and, rather than design a desk as they had been asked to do, instead created a series of contoured legs made from maple and finished at the top with planters. The effect is incredibly tactile – all of a sudden the workstation resembled a mini Kew Gardens, with legs you felt compelled to stroke. The truth of the matter is that the virus has emphasised the important things in life, the stuff we need to preserve or regain. What is certain, as vaccine programmes are rolled out and restrictions ease, is that the ability to touch has never been so important.
Images from top: Max Felix; Elsa Soläng, Installation in Weird Sensation Feels Good exhibition at ArkDes, Stockholm; David Cleveland, The strokeable legs of Stem by Thomas Heatherwick (1); Adrian De Weerdt; David Cleveland – The strokeable legs of Stem by Thomas Heatherwick (2)
This article originally appeared on ReThink, a platform by Kvadrat which explores the future of textiles and interiors