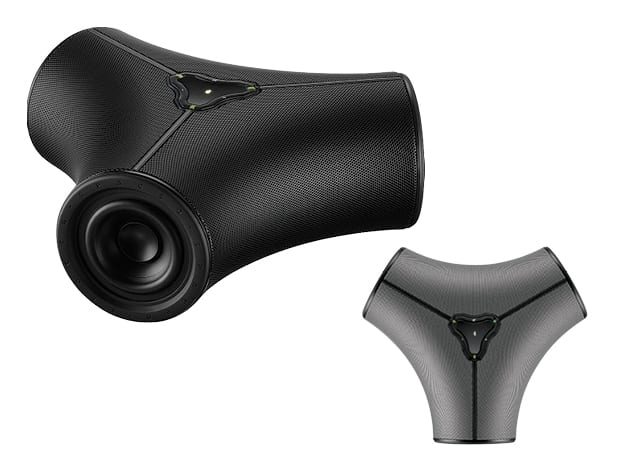 |||
Judging by its marketing-speak, this new bluetooth speaker is aimed at the younger generation. Can a Radio 2 fan love it, too?
Connect a device using Bluetooth or NFC (near-field communication) technology
Bass radiators sit between the speakers: the equal spacing helps improve sound and reduce vibration
Neodymium two-inch full-range speakers blare out in three directions
A lithium-ion internal battery pack gives between four and 14 hours' playback
There's something about the Spaced360, a new wireless speaker designed by Design Studio Nuovo, that makes me feel ever-so-slightly middle aged. This has less to do with its Bluetooth technology (which I must have been writing about for 20 years now); nor is it about with the aesthetic of the product itself, which, made of perforated black steel (there's also a grey version), is masculine and a bit corporate, reminiscent of those starfish-shaped speaker phones used for conference calls.
No, what makes me feel that I'm not part of the target demographic are some of the ancillary goings-on around the product itself. There's the fluorescent orange rubber casing, one of seven colours available, which contrasts with the austerity of the speaker but is a step too far for me. Then there's the language used in the booklet, which reads like it was written by a Kiss FM DJ. We are told that the Spaced360 is "a new sonic dimension of mind-blowing, heart-skipping, skin-tingling music. A little of old-school magic. A whole lot of tech-craft innovation. The time is now. The space is here. Enter the sound." Crikey!
I'm sure this wasn't the manufacturer's intention but the speaker seemed to crystallise the sense that I've imperceptibly drifted away from the zeitgeist. This seems to me to be quite a recent phenomenon. Back at the genesis of pop culture anyone over the age of 25 was instantly made aware they didn't belong. Parents were appalled by Blackboard Jungle and Bill Haley's anthem Rock Around the Clock in 1955.
They switched off the TV in disgust when Elvis swivelled his pelvis a year later and they muttered that The Beatles needed a good haircut when they released Love Me Do in 1962. Music retained the ability to define the generations from the punk explosion of 1976, through to the second summer of love in 1989, after which the government felt compelled to bring in the 1994 Criminal Justice Act to try and to stamp out illegal raves.
Since then a generation has meandered towards middle age rather than being forcibly evicted from youth culture. I can testify that my hand has begun to drift across the buttons of the car stereo towards Radio 4; I take part in Ken Bruce's mid-morning PopMaster quiz on Radio 2, hollering out the answers before the contestant; and I actively seek out quiet pubs. And I read with increased incredulity manuals that tell me: "You and your friends have a thing for music. Your Spaced360 has a thing for Bluetooth devices. Togetherness = 360 degree sound space where everyone can bask in the sonic sweet spot."
However, putting my quasi-cultural musings aside for the moment, the question is, is it any cop? And the short answer is, yes, I think it is. The sound is good and blares out in three separate directions (for those of you who are into this kind of thing, by using three high-powered equally spaced two-inch neo speakers and three mass-loaded bass radiators, the resulting forces are balanced, bass response is improved, and cabinet vibration is greatly reduced). It's compact – measuring 22x19cmx8.8cm – and easy to carry around. The Bluetooth connected easily enough and the circular charging pad that fits snugly into the bottom of the speaker is a neat touch too.
The obvious comparison to make for the design-conscious consumer is with Jawbone's Big Jambox designed by Yves Behar, which I reviewed in onoffice 67 and liked so much I subsequently bought one. Both sound great, though I prefer Behar's more self-effacing box, with its big buttons and its aural sense of drama – when the power's first turned on it sounds like a dormant spaceship coming to life. At £250, Spaced360 is a little more expensive, which may well tip the balance for some shoppers come Christmas. Price aside, however, this is a good piece of work.