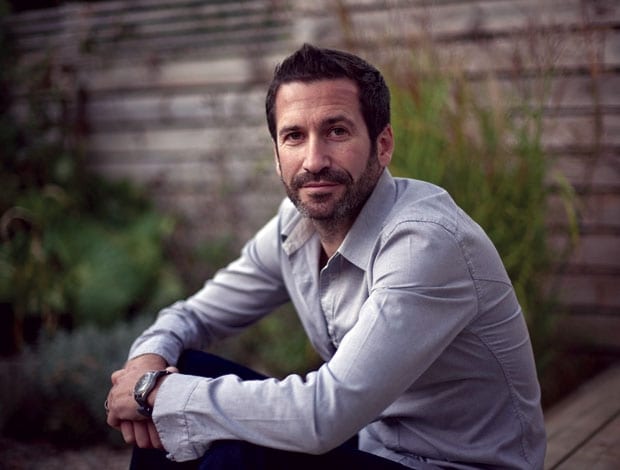 ||
onoffice caught up with sustainable design consultant Oliver Heath to talk about the link between productivity and the natural office
"It's an opportunity for leaders in the office and also FMs and those in HR to think about spaces within the workplace and recognise that they can work together to make things better."
Strong words indeed from Oliver Heath when onoffice met him during Clerkenwell Design Week. He is speaking in his capacity as biophilic design ambassador for Interface, but he is also the founder of his own design practice and has made media appearances on British and Norwegian TV.
Friends of the Earth's HQ with flooring by Interface
The flooring manufacturer has recently released a report entitled Human Spaces: The Global Impact of Biophilic Design in the Workplace and Heath is an impassioned exponent on this topic. "It's more than pretty patterns – there is a real human benefit to this, not just in terms of lowering the carbon footprint."
He talks of putting plants in the office as well as giving staff greater access to natural light by putting desks closer to windows and moving meeting rooms to more central parts of the floorplate as simple steps that those without brand-new workspaces can easily implement. By contrast, the report highlights that nearly half of all respondents have no access to natural light at all and almost two thirds have no living plants in their workspace. These two factors also topped the 'most wanted' elements in office space globally.
The manufacturer's Human Nature range, which is intended to mimic surfaces found in the natural environment
"Textures that mimic nature can also have psychological benefits," he says, adding that large-scale, digital images of nature can also do the trick. "Timber floors and adding some standing elements can also make you feel energised." Practising what he preaches, these last two elements are part of the interior design of his Brighton-based studio, to which he cycles to work.
Colour can make a difference too. Heath says that green, blues and reds can invigorate a workplace, but there are some interesting international differences here. While the UK believes that white, greys and greens increase productivity, in China brown is considered to boost brain power and in Canada, stone-coloured hues are preferred.
Employers can reap the rewards of incorporating biophilic design into the office, according to the report's author Professor Sir Cary Cooper. He found that, among the 7,600 office workers in 16 countries surveyed, those who work in environments with natural elements report a 15% higher level of wellbeing, with the same figure feeling more creative and a 6% uplift in productivity.
"I hope in five years' time we have a more human-centred approach to office design," Heath concludes in similarly evangelical fashion.