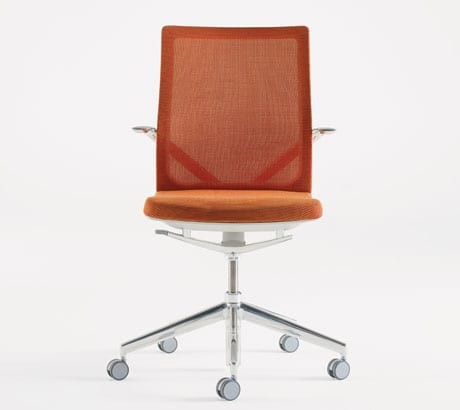 ||
Milliken
Carpet brand Milliken showed its new Naturally Drawn collection, which was inspired by watercolour painting, pencil sketching and ink drawing. The design uses the aesthetic of these artistic mediums to allow a subtle gradation of colour across a floor, blending from one tone to another. It's made possible by Milliken's digital patterning technology, which allows patterns to be layered and blended. The range features four designs, is made from 50% post-consumer content and is designed and manufactured in the UK.
Herman Miller
Several new pieces from Herman Miller reaffirmed its Living Office ethos, including the Metaform Portfolio partition wall. Designed by Berlin-based Studio 7.5 to support the idea of user-defined workspace, the units are independent and weigh less than 9kg each, so can be easily arranged in various configurations to demarcate areas of different shapes and sizes. The staggered shape creates a series of shelves and can be customised with add-on accessories including shelves, work surfaces
and a media rig.
Davis
Jonathan Prestwich once again proved his design pedigree with a clever new chair for Davis. Linq is a reactive task chair intended for "plug and play" collaborative workspace areas, with a flexible seat and back shell that follows the body's natural movement. The movement is adaptive to each individual, meaning it needs no adjustment and can be used instantly by anyone. It also has a tailored knit backrest that supports all sorts of body shape. Prestwich says the design was prompted by the change in the way we work today.
Allermuir
Two new pieces by Chicago-based designers QDesign were launched at the Allermuir showroom including Vee. The design was inspired by first class seating on aeroplanes, and named after its rounded V-shaped outer wall, which encloses a small seat. It is intended to be a semi-private individual workspace, with accompanying table and pull-out footstool, or a meeting space when two are placed side by side facing each other.
Haworth
Patricia Urquiola's range for Haworth was certainly the most talked-about news at last year's fair and the collaboration between the two has continued. Along with extensions to the Openest range that focus on individual and small group work, Urquiola also designed the Poppy chair. With its signature Urquiola soft curves, the chair is comfortable with a residential feel – aimed at in-between spaces such as touchdown desks, waiting areas, conference rooms and home offices.
Each year in June, Chicago becomes a hub for the world's commercial interiors industry at NeoCon; this year was no different,with a flurry of new launches from all the leading brands. Here we select our pick from across the pond