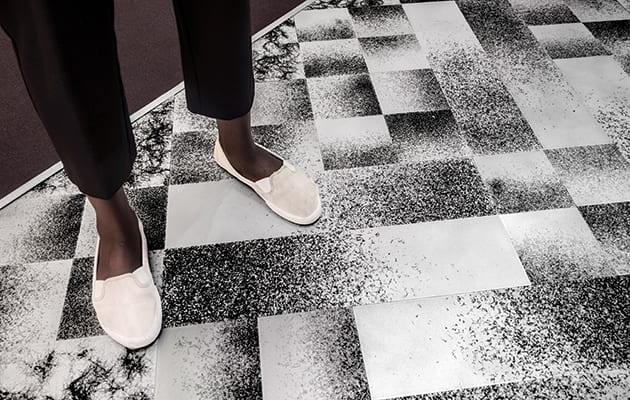 |||
A hairdresser's offcuts aren't the first place you'd think to look when it comes to creating beautiful design pieces, but you get the impression Dutch designer Martijn Rigters isn't the sort of designer that plunders "normal" too often.
Rigters, who recently moved from London to Vienna, has been making a name for himself as one of the most exciting talents around when it comes to experimental work that totally reconfigures what we understand of materials and processes, and much of that is thanks to his project The Colour of Hair, on show recently at Dutch Stuff during the London Design Fair.
Created in collaboration with fellow Royal College of Art Design Products grad Fabio Hendry, The Colour of Hair explores the possible applications of alternative, sustainable materials – in this case, you guessed it, hair. At the beginning of the research project in 2016, it dawned on Rigters and Hendry that hairdressers in London were an untapped goldmine of potential resources. "They had kilos of waste materials that they were just burning or throwing away," says Rigters.
"So we started chatting with hairdressers who were up for collaborating, as they had so much waste. Some were really easy to win over, others were more reluctant, but after we showed them samples of what we were making, they were more eager to give us their waste."
Having established relationships with a number of hairdressers local to the RCA who would provide them with offcuts, they worked on creating a process that would transform the fibres, removing any slightly unsavoury connotations people might have with old bits of hair. That process is inspired by the ceramic technique of Raku, through which the pair found that the high concentration of keratin in hair allows it to be used to print on to a variety of metals.
When the metal is heated, the applied hair particles carbonise to leave a durable imprint on its surface. Different sorts of hair create different kinds of finishes: "Shorter hair is more like a sprinkle effect for stencilling or a screenprint sort of idea," Rigters explains. "With longer hairs we press them into sheets and use it for a marbling effect, so each length can be used for different decorative patterns." Pretty much any offcuts are of use, but "bleached and coloured gives off a bad smell", apparently.
These patterns are applied to a range of furniture pieces and sculptural objects, as well as on surface tiles made of either aluminium or brass substrates that are finished with a clear nano-coating for durability. Hair, then, takes on an "unconventional afterlife", as Rigters puts it, through its potential for pattern in a way that's "so abstract, that people often don't even know it's hair".
Rigters and Hendry are working on expanding the range of materials used in this process, exploring the possibilities of wool and cashmere, even chicken feathers, insects and fish scales – as well as the potential of printing on ceramics for a new range of applications.
Much of Rigters' practice works in a similar way to The Colour of Hair, taking traditional techniques – in this case, Raku – and exploring their possibilities for highly futuristic outcomes.
"A lot of it is modifying stuff that's out there and combining existing things to give them a new context and purpose," says Rigters.
"Designers are always looking for new ways of using waste materials and the thing about Raku is that it's very crafty, so it never took off as an industrial process. Our aim is to transfer that process into something suitable for larger-scale production," he says.
"There's so much potential for new outcomes if you put certain processes alongside new materials, crafts or contexts."
Even within the sphere of experimentation and in the spirit of sustainability, I suggest to Rigters that there must be a certain amount of end-user squeamishness when working with materials like hair, or his plans to use fish scales and chicken feathers (the plan is to source the waste from commercial harbours and farms).
"It takes time for people to change their notions around certain materials and get used to them," says Rigters. "We're almost doing PR for materials."
One highlight of Dutch Stuff at this year's London Design Fair was Martijn Rigters and Fabio Hendry's exploration of human hair