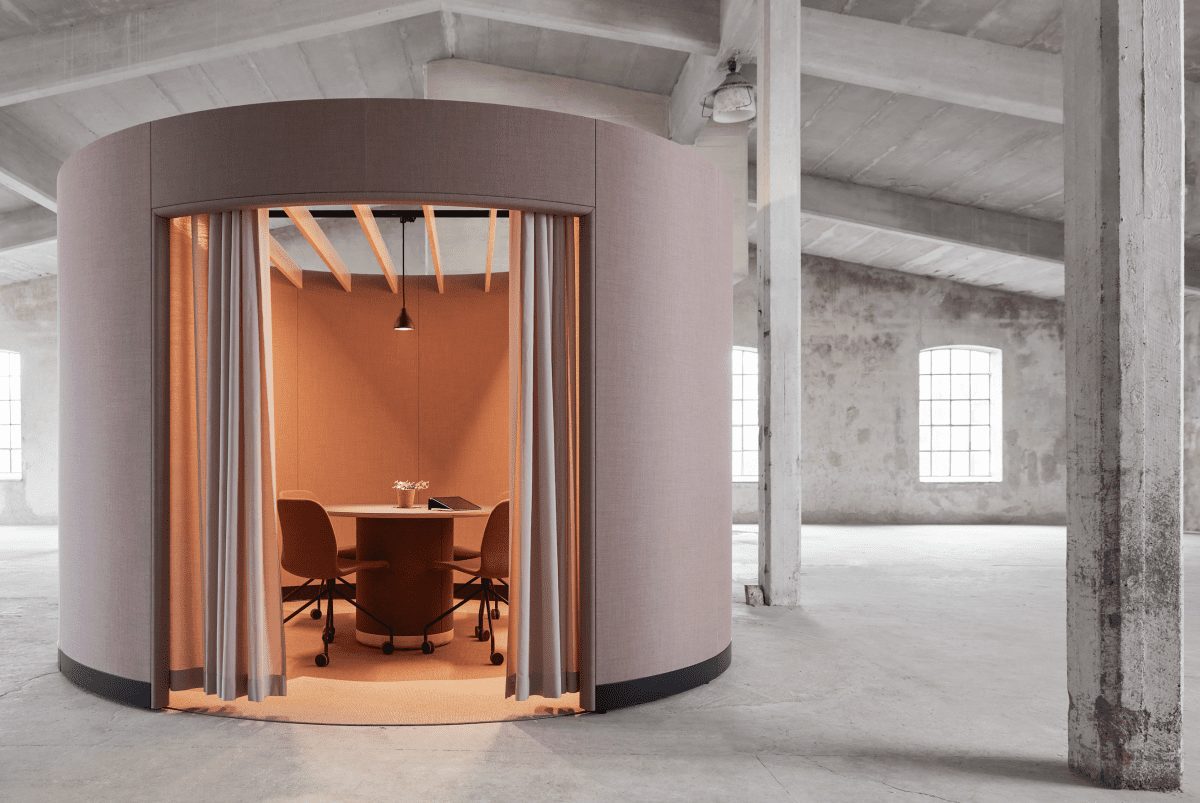 The Malmö-based design studio found its inspiration for BuildUp Pods & Pavilions in nature
BuildUp Pods & Pavilions is a new collection of acoustic meeting rooms inspired by the forest. Realised by Malmö-based design studio Kauppi & Kauppi for Glimakra of Sweden, the concept is characterised by openness, accessibility and functionality.
Positioning itself between architecture and furniture, the pods reimagine large-scale meeting rooms and workplace pods to bring a greater level of privacy to open-plan offices. The acoustic enclosed walk-in pods inspire a better way to work, either alone or together.
"We have carried the forest with us as an inspiration during the entire process", says Kauppi & Kauppi of what inspired the pods. "The vision has been to design welcoming, comfortable meeting rooms, that are neither closed nor exclude. Rooms that offer focus but not necessarily total quietness."
The first launch includes three meeting pods of different sizes, as well as a fully open pavilion. Available as either a round pod for 4-6 people meetings (10m2), a medium-sized oval pod for group meetings of 8-10 people (17m2) or a large oval pod for conference meetings of 12-14 people (20m2), the semi-circular open pavilion is well-suited for informal touch down meetings or small gatherings.
With the fabric-covered wall elements boasting good sound absorption both inside and outside, the walls reduce reverberation time rather than creating completely silent settings.
As such, the atmosphere inside the pod is restful and muted, while comfortable sound levels from the surroundings outside are maintained. Furthermore, all wall segments have a metal plinth for cable and technology routing, as well as placements of easily accessible electrical outlets.
While daylight, and lighting from the surrounding space, is filtered into the pods through the wooden roof rafters, the pod rooms are further equipped with glare-free LED lighting.
Alternatively, complementary lighting above tables can be easily installed, either suspended from the ceiling rafts or through the gaps between the rafts from the external ceiling. If the building has a sprinkler system, it will function over the pods and pavilions, since the pod roofs are all open beams.
All units have a completely self-supporting construction, which means that no floor, wall or ceiling attachments are necessary (adjustable feet are included to compensate for uneven floors). Furthermore, and thanks to its flexibility, pods and pavilions can be built in just two hours, or easily moved to a new location if desired, allowing spaces to be easily reconfigured.
"The pods feature a friendly and cosy design, functioning as architectural furniture. Several technical solutions and features have been integrated into the design to make the rooms functional and creative", shares Kauppi & Kauppi. "Our ambition was to design a spatial experience to long for."
Images courtesy of Kauppi & Kauppi and Glimakra of Sweden