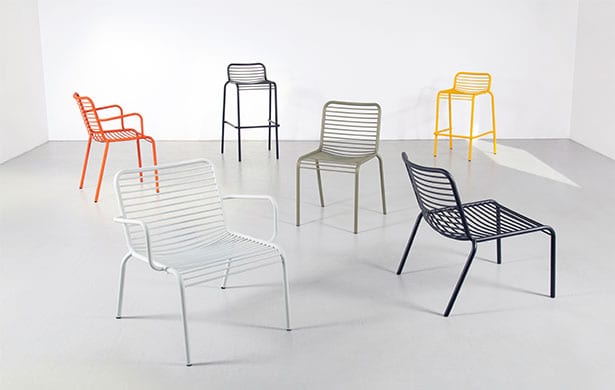 |||
Origin deliver the Contour collection, steel furniture for outdoor life.
PROMOTIONAL FEATURE
A new collection of British-designed furniture from Origin marries contemporary yet timeless aesthetics with multi-use practicality. We take a closer look at the curved design and inspiration behind it.
A triumph of British design
Drawing inspiration from mid-century metal chairs that have stood the test of time and thus become iconic, Giles Pearson has designed the Contour range for Origin. This stackable, versatile range marries comfort with good looks, giving them application in a wide range of situations, from cafes to break-out spaces. Pearson, the design director for Origin, says that his aim in designing Contour was to "create a range of outdoor steel chairs that were simpler and more comfortable than those available."
Both aims have been achieved – Contour is surprisingly comfortable but has a design whose simplicity is deceptive. A lot of work, expertise and development went into the range – two years' worth.
Design by feedback
Constructed of a bold tubular frame and slender wire seat, Contour is a lesson in the work and approach it takes to get a seat right. In recent years there have been great leaps forward in tube-bending machinery, ideally suited to shaping the complex double-curvature between the seat and backrest.

This is as true of the dining arm chair as it is of the high stool – the tweaks a result of constant feedback to ensure that the entire range is as comfortable as it is stylish. The end result is an industrial aesthetic with a softer design.
Seating for indoor and outdoor
In workplaces and public spaces, the aesthetics of a piece of furniture are important, but when it comes to chairs, it's also vital that someone can sit in a seat for a period of time. Practicality is vital too, and all of the Contour range provides it as all pieces are stackable and have a powder coated zinc phosphate primer and a top coat. This ensures that the chairs are ideal for both indoor and outdoor use, and can work in a café, restaurant garden, out on a terrace or inside an office.

The versatility extends to the range of designs – with a lounge chair and dining chairs,with and without arms – and available colours, including vivid oranges, green and yellow, as well as classic white and black-grey options.
Those buying Contour can also take reassurance from the fact that the range wasn't only designed in Britain, it's manufactured in the UK too. This helps Origin to build a close working relationship with manufacturers and also means that customers can get rapid delivery of their furniture – it isn't being shipped from across the world. To find out more about Contour and the rest of Origin's range, visit their website.
Origin deliver the Contour collection, steel furniture for outdoor life