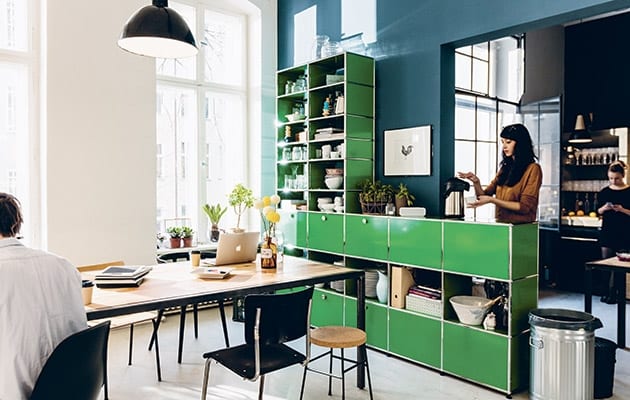 |||
There is joy in simplicity. For over 50 years Swiss modular furniture maker USM has worked hard at achieving it in its products and conveying it through ingenious design – as Fritz Haller, one of USM's seminal designers, was fond of saying: "Simplicity is not just a word."
USM's modern factory sits in the green Swiss hills outside Bern
Indeed, there is something almost mythical about a modular system so simple that it can be configured as anything from a shelving unit, to a desk, to a closet, to an entire pavilion. But, as the designer implies, simplicity is the payoff in a process that involves creativity, ingenuity and attention to detail.
Robot arms move in sync as part of a process in which 1km of steel tubes are cut in an hour
The cornerstone of USM design is a humble ball joint. The chrome-plated steel bearing has six holes into which steel rods can be screwed. Colourful coated steel or glass plates are then fitted into the frame, and that's it. At its most basic it can be a shelving unit, at its most sophisticated it is limitless. Over the years accessories like sliding doors, drawers, light fittings and electrical sockets have been added to the menu, but the ball joint, metal rods and colourful panels – and the infinite combination of these three movable parts – are the key components in USM's flagship Haller system.
Any leftover steel tube cut-offs are recycled for use in future products
The rolling hills outside Bern, Switzerland, are almost an incongruous location for such a hi-tech operation, but USM's Münsingen HQ is the beating heart of the company, and a reflection of its philosophy. Most of the pieces are manufactured or finished on site, in an efficient, low-waste process. A lot of the company's R&D goes into making its products better, to increase product life cycles, or to make the facilities more efficient. It's partly a drive for productivity, but as a design company USM is not in the business of launching new products with every change of the leaves; innovation should always serve a purpose or respond to market demands. "What we're interested in is longevity," says managing director Thomas Dienes. "We're not interested in short-term solutions. We're looking at the long-term, and by long term it's minimum 10, 20 or 30 years. All of the pieces are reconfigurable."
A machine punches holes in the steel and forms it into connectors
The USM production line is an intricate ballet of moving robotics, in sync to an infinitesimal degree – like everything to do with USM, it looks effortless but is the result of engineering wizardry and a lot of thought. One set of machines cuts the steel to length, one punches another steel panel to create the inner screw mechanism, yet another machine slots all of it together. The original Haller system might be low-tech furniture but it's made in a highly automated process.
Once formed, the machine spits out connectors into a container at high speed
In the 1980s, the production line would have consisted of people measuring and cutting the steel – today machines measure and cut over 1km of metal tubing per hour. As the steel moves along the factory floor, being measured, cut, punched into shape and finally sprayed with colour, watchful engineers calibrate and recalibrate the machines.
Several products have recently obtained Cradle-to-Cradle certification, and because the product is largely made out of steel and designed carefully, there is little waste; any offcuts are reused to make new parts later.
Ball joints with six holes in them pass along a conveyor belt
"We try to simply fight as much as ever possible," says Dienes. "For example we've switched 95% of the chrome we use to chrome III, which is much less toxic. We've been working on this for a number of years now."
The evolution in the USM production line has also meant an upskilling for its workforce. It's a precision process, which culminates with sold pieces being assembled ready for delivery. This last piece is done by hand, according to the specifications of LN, the integrated software that unifies and controls all aspects of production. Everything is checked, everything is careful.
Another machine joins the connector to the ball joint
USM's journey to its simple and effective modular system was peculiarly convoluted. Founded in 1885 as a metalwork and locksmith business, it eventually moved into steel engineering. It was not until 1961 that Paul Schaerer, the third generation to helm the family business, enlisted architect Haller to help update the company.
Schaerer, an engineer, and Haller first set about rebuilding USM's factory using bespoke modular steel beams. The system was designed for maximum flexibility, and could be easily adaptable to different buildings and needs – the factory pavilion would be a prototype for USM building products.
A USM worker carefully slides the drawers into place
Haller was then tasked with creating a furniture system for the offices based on the steel frames he had developed for the building. The rest, as they say, is history.
The company trades heavily on the idea of enduring quality and tradition, but is keen to emphasise that it is still a cutting-edge product. Research and development is an important part of the USM process, but it is thoughtful, and careful.
A USM worker carefully slides the drawers into place
The Haller system is very much the hallmark of USM, but new products have been added to the catalogue over the years. Most notable was the introduction of the Haller E line, which adds light points to the steel rods. "It took seven years to develop and launch," says Dienes. For Dienes and his team, innovation "should be about making small changes to the product, to research how it can be better, or different, or what else it could be".
The finished product is found in workplaces and homes worldwide
USM is not a company in a hurry; it is keen to emphasise that products last forever. Its biggest asset, says Dienes, is its long life cycle – a Haller system ordered in the 1980s can be updated, or reconfigured into a new form today with very little trouble. All of the pieces would still fit, and new ones would just slot in. But it's an evolving company too; it's long produced a range of height-adjustable desks including an electric model, and it has the Internet of Things in its sights. But really, it's USM's hardworking simplicity that sets it apart.
Fritz Haller's philosophy of simplicity lives on in the USM furniture system that carries his name. Yet production in the company's Swiss HQ is a complex and meticulous process