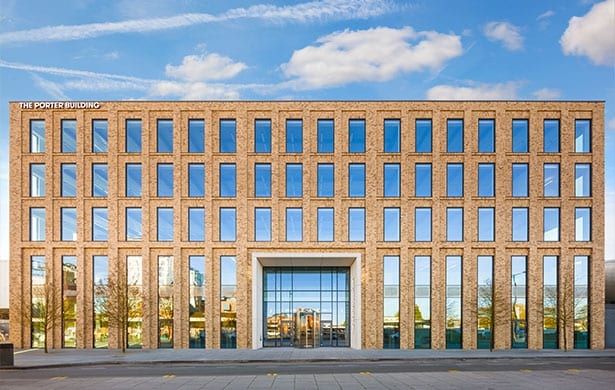 |||
The April issue of OnOffice saw The Porter Building lead the way as the UK's first accredited WELL building Standard core and shell certified office. The new 11,150sq m development, sat directly opposite Slough train station, embodies the ideal blend of wellbeing and forward-thinking workplace solutions.
As health becomes a necessary investment in all parts of construction, Kristen Coco, vice president of communications at the International WELL Building Institute, shares the ways to create a happier workplace, and the new set of standards currently taking the reigns on office design.
The Porter Building: photo by Andy Stagg
Run us through what's required to achieve the WELL Core and Shell Certification, and how did The Porter Building reflect this?
Building owners and investors can play a pivotal role in advancing the health of the people by designing and operating buildings with wellness at the forefront. By ensuring that key elements, such as the building structure, window locations and glazing, building proportions, the heating, cooling and ventilation systems and water quality are designed for health, this can have a significant impact on the tenants, visitors and staff.
Earning WELL Core & Shell Certification verifies the performance of a building, and communicates a strong commitment to partnering with the tenants in creating a healthy environment for the employees. WELL Core and Shell Certification also provides a strong basis of design and performance that makes it easier for tenants to further pursue WELL Certification for their fit outs. By building upon the attributes of a WELL Certified base building, tenants can then add wellness-focused elements like nourishment programs, fitness policies and healthy materials, among many other strategies.
The Porter Building was recognised for WELL Core & Shell Certification at the Gold level based on the number of health-promoting strategies achieved across all seven WELL concepts: Air, Water, Nourishment, Light, Fitness, Comfort and Mind. The Landid and Brockton team have demonstrated outstanding leadership by focusing on the well-being of the people inside the building every day, through natural light, healthy air, access to clean drinking water, an abundance of plants, a layout that encourages physical activity and a variety of comfort measures, including temperature and acoustic considerations.
The Porter Building: photo by Andy Stagg
Why are these standards yet to become the norm in the UK? Do you think other buildings will shortly follow suit?
Since the launch of the WELL Building Standard (WELL) in 2014, we have experienced rapid global adoption with more than 720 projects engaged with WELL, encompassing almost 140 million square feet of real estate. WELL is now being adopted in 32 countries worldwide, with the UK helping to lead the charge across Europe. In fact, the first space to be WELL Certified in Europe is located in London and there are currently 26 total UK registered and certified projects.
Building owners, developers and operators, as well as corporate tenants, are taking notice of the impact healthier indoor environments can have on people. At the same time, public awareness of the ways that buildings can affect our health motivates people to call for healthier features in their homes and offices. We believe that as this groundswell of knowledge about the health impacts of our indoor spaces continues to grow, and as the industry becomes better equipped with healthy design and building techniques, we will continue to see comprehensive, evidence-based programs like WELL take hold across the globe.
The Porter Building: photo by Andy Stagg
Where do you see workplace design heading in the future? Are there any notable trends to look out for?
The improved health and wellness of the workforce is front and center of every conversation now. Though many are aware of the importance of workplace elements incorporating physical activity and nutrition, fewer understand the impacts that features such as acoustics, lighting, ergonomics, and indoor air quality can have on human health and wellness.
Looking ahead, the explosive growth in technology solutions, especially in the area of real time data capture of indoor environmental elements, is accelerating our ability to rapidly improve the quality of our indoor spaces, and keep them performing at optimum levels. Already we're seeing advances in everything from improved air filtration systems, movable green walls, circadian lighting and dynamic glass. Biophilia is moving from a good idea to a core design principle. Also, product manufacturers are stepping up with new base materials that are focused on getting contaminants out of their supply chains with the goal of contributing to peoples' health. We hope that these solutions will provide a tailwind to further propel conversations already underway in the UK, including on the topics of air quality, productivity and mentally healthy workplaces.
Kristen Coco, vice president of communications at the International WELL Building Institute, tells OnOffice how to design a healthy building with employee wellbeing in at the core.