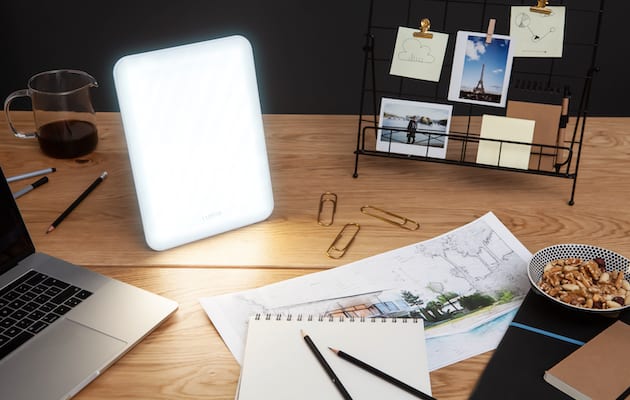 |||
The changing of the seasons can really affect our mood, with thousands of people suffering from Seasonal Affective Disorder (SAD). Arriving at the office before the sun rises and leaving at dusk can put us in a funk.
During the summer months, we have the bright light of the sun to help our bodies produce serotonin – the happiness hormone – which helps our body manage melatonin, our sleep regulator. But the lack of sunlight in the colder months can affect not only our mood, but our energy levels too.
SAD can affect people in a variety of ways, often manifesting in low mood as well as a lack of energy. Othe symptoms listed by the NHS include tearfulness, low self-esteem, stress and a loss of interest in normal activities, and severity can differ between people. Advice on treatment often includes getting as much daylight as possible, regular exercise and sometimes the use of a specially designed SAD light.
Lumie, a Cambridge-based light therapy company, hopes to help reduce the affects of SAD with its light: Vitamin L. The University of Surrey's Dr. Victoria Revell, a circadian rhythm expert who endorses the light, says: "The compact and slimline design of the Lumie Vitamin L makes it easy to take it between home and work and allows you to reap the multiple benefits of light wherever you are and whatever you are doing."
See below for a simple routine to help start the winter mornings on the right foot.
The 'Water, Light, Movement' morning routine
How we wake up can really set the tone for the day. Ditch the snooze button and try this morning routine instead.
Water – Keep a glass or bottle by your bed and sip some water immediately upon waking up.
Light – Open your curtains and bask in that all-important light.
Movement – Whether it's jumping jacks, sit ups, shadow-boxing, or stretching – now is the perfect time to get a quick endorphin release.
Workspace personal trainer, and OnOffice online columnist, Dan Brathwaite explains how light therapy can fight SAD at work