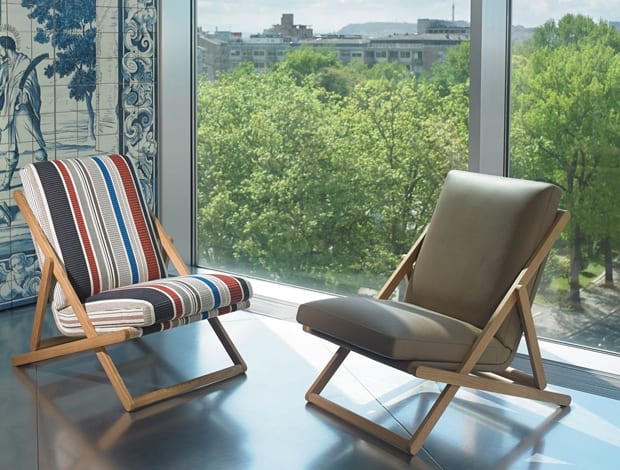 Designed for the "Millennial generation"||
With its deckchair styling and homely feel, British firm Orangebox's Moss chair is emblematic of the erosion of boundaries between work and free time. Why pretend office life is a beach when it's not?
In a nondescript office, a balding employee receives a text on his smartphone. He looks outside to see his best friend outside the nearby pub, holding up two pints of lager and enjoying the perfect sunshine. A chalkboard advertises that live football will start at 5pm. The office worker looks at his watch; the time is 4.55pm.
He pings the back of his task chair flat and slides beneath a row of desks at speed. At the same time he constructs and throws a paper dart. He flawlessly executes a forward roll and rips off his grey suit, revealing the casual gear he's wearing below, just as the dart hits the lift button. His stern-looking boss sits in his cellular office, back-turned, none the wiser.
He walks coolly towards the exit, marching to freedom, only to walk straight into the building's plate glass door. Laid out on the floor, he looks back to see a triumvirate of bosses towering over him. "It's good, but it's not quite Carling," shouts his mate outside the pub.
Like most good adverts, it's memorable because it extrapolates a situation that's rooted firmly in reality and transforms it in the blink of an eye into the extraordinary, in this case a scene that might have been lifted directly from the Bourne movies.
How a company deals with major sporting events – most obviously the World Cup – is a headache for any HR department (although most of England's matches take place in the evening this time around). And it's a scenario that sprung to mind as I was shown around Orangebox's showroom during Clerkenwell Design Week. Because what's striking is quite how homely its new furniture looks.
For its new collection Network Landscapes, for instance, timber – rather than steel or aluminium – predominates, with upholstery in a variety of quirky Kvadrat fabrics. According to the blurb I was handed at the end of my visit, the new pieces have been designed for the "Millennial generation" who apparently believe that "the collaborative is as important as the personal and the casual valued above formality".
This showroom layout also demonstrated the new(ish) workplace hierarchy: a handful of task chairs were tucked around the corner from the entrance lifts and instead visitors were encouraged to sip coffee in upholstered high-backed chairs with clipped wings providing a sense of privacy without completely cutting off the rest of the surrounding environment.
The piece that arguably best encapsulates this is Moss, a deckchair-style seat that has been designed to persuade you that office life is, in fact, a beach.
This type of furniture makes me feel conflicted. On one hand I admire the way the collection has been designed and curated. Orangebox is a genuinely innovative, brave British manufacturer, of which there are far too few; its creative director Gerard Taylor has a fascinating history and for reasons I've never quite understood has tended to fly under the radar of the contemporary design press. That said, I can't help thinking that products like this are a mirage created to give employees the impression they aren't working when they most definitely are. It's telling that the chairs come in two versions: Moss is slightly more laid back than the other, called Yolo, but neither give users the option to adjust it themselves. It may look relaxed, but the seating position has been meticulously managed.
This is furniture designed to further erode the boundaries between work and leisure time – ensuring that, in future, the balding employee will no longer have the problem of how to leave the building to watch the big match. From now on a screening in his office will simply be knitted into his never-ending working day.
This isn't in itself Orangebox's problem of course. It is merely responding – effectively and stylishly I should add – to the demands of a market where contracts are flexible and job security is low. But it's a trend that
ultimately has consequences for people's lives.
How can I be so sure? I'm writing this from the kitchen table of my holiday home as the rest of the family are watching Britain's Got Talent, and I can feel the resentment seeping through the living room door.