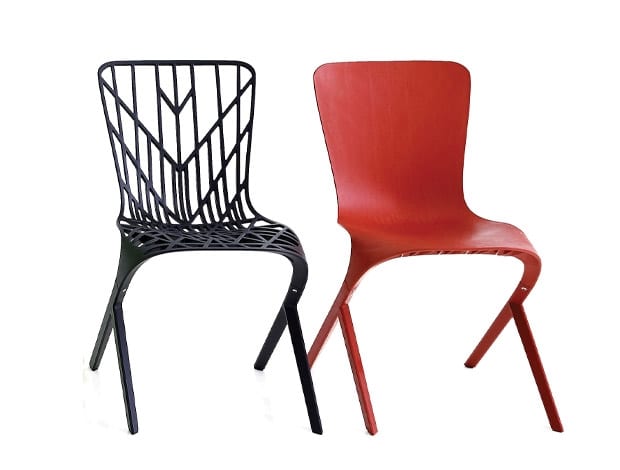 ||
Knoll has sprinkled a little designer stardust on its latest range, David Adjaye's Washington Collection. Its Skeleton and Skin chairs are sleek and playful, but the price might put them out of reach of all but those who just want a big name round their dining table
Scanning through the list of designers on Knoll's website is instructive. The company, which celebrated its 75th anniversary in 2013, clearly understood and loved early modernism.
In the 1950s, it picked up the licence to manufacture Mies van der Rohe's Barcelona collection, for instance. Subsequently it flirted with pop, most notably with Saarinen's Tulip range. And it even batted its eyelashes at the iconic architecture that dominated the media around the turn of this century – in the late 1980s and early 1990s it worked with Frank Gehry on a range of seating woven from thin strips of timber.
Then things seem to go a little quiet. Which isn't to say it hasn't produced some worthy products – I reviewed the company's Generation office chair in this slot a couple of years ago and thought it was excellent – however, recapturing that sense of being on the zeitgeist, of working with the most interesting architects and designers of the day, has proven elusive. The generation of Brits that came to prominence in the mid-1980s and through the 1990s are notable by their absence (ignoring a recent commission for Barber Osgerby), as is the conceptual work of the Dutch.
Last year being such an important one, you get the sense the company decided to do something about it, commissioning OMA to come up with its Tools For Life installation at Milan and subsequently launching a new range of furniture from David Adjaye. The Washington Collection (so-called because the architect is currently working on the Smithsonian Museum of African American History and Culture) consists of a pair of cantilevered chairs, a coffee table, a club chair and ottoman and a side table.
For the sake of this column we'll concentrate on the two contrasting but obviously related chairs. Washington Skeleton is constructed from die-cast aluminium, while Washington Skin has been made from injection-moulded, glass reinforced nylon. Both chairs, which are suitable for outdoor use, are made in three parts that are then connected using mortise and tenon joinery and stainless steel fasteners.
According to Adjaye, the thinking was to create something "both playful and beautiful – appearing light yet also expressing monumentality". It's an ambition most successfully expressed in Skeleton, its latticed pattern contrasting nicely with a sense of heft. The one finished with copper (unlike the aluminium one, it can't be used outside) is particularly beautiful if rather more expensive at £1,668 compared to £672 for versions in black, grey or green. The fact that it's reasonably comfortable (in a solid, inflexible kind of way) is an added bonus.
I have to confess that when I first came across Skin, Skeleton's nylon cousin, last November, I found it deeply irritating. Sure it was beautifully sleek, if not entirely seamless, in profile; I liked that the lattice pattern had been continued through its shell as well as the fact that it's available in seven colours; and it had a lovely flex to its back. However, it seemed to me that the designer and manufacturer had been so busy worrying about the product's sculptural qualities that they had forgotten a vital practicality.
This is a lightweight chair that doesn't stack, which at the time I thought was frankly bizarre. While I still think it's odd now, perhaps on reflection I missed the point. At a cost of £576 (nearly £500 more than a Magis Air Chair, for instance) the vast majority of us will not be buying six of these to keep in the garden over the summer before tucking them away in a corner of the garage at the onset of autumn.
Neither are they likely to be used for conferences, however upmarket. Instead, I suspect it's for those discerning clients who want to combine the lustre behind Knoll's brand with a dash of the stardust that Adjaye possesses. (This is a man who gets invited to dinner with the Obamas, remember.) Does it reconnect Knoll with the cutting edge of contemporary design? I'm not so sure. But it definitely represents a start.