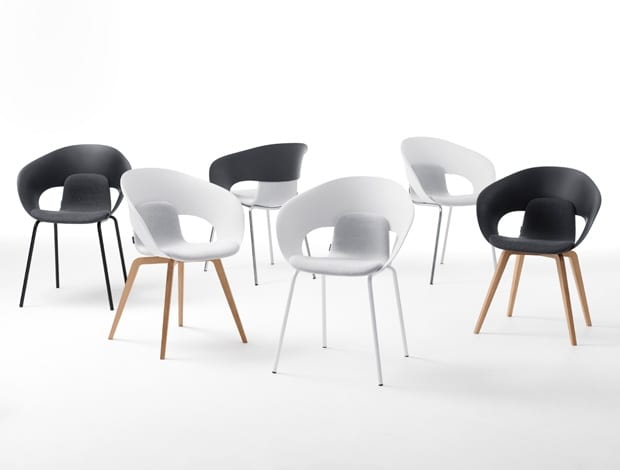 Thomas Pedersen's Deli Chairs for Skandiform|"The upholstery works rather well with the injection-moulded shell"|The legs of this design come in solid oak, white or black lacquer and stack up to six high||
In Grant's eyes, a mere lounge chair cannot compete with radical, resourceful design that galvanises social change. But nor is the Deli chair a pointless addition to a crowded market: in fact, if you spend a lot of time in meetings, your lumbar region will thank you for it
I have to confess I was vaguely dreading my afternoon visit to the Kinnarps showroom. This wasn't so much to do with the Swedish company's furniture as the fact that I spent the morning at the V&A trotting around Disobedient Objects, one of the best design exhibitions I've seen in the 20 years I've been at this lark.
While the majority of magazines and shows take a top-down approach to the field, one that's often over-reliant on star names – nip into the Design Museum at the moment, for instance, you'll discover shows on architect Louis Kahn and industrial designer Daniel Weil – this genuinely brave installation takes its cues from the street and the manner in which resourceful protestors use design, art, craft and architecture to both unite, inspire and fight for social change.
Highlights included homemade gas masks, first created in the protests in Istanbul last year, which used cut-up plastic bottles, surgical face masks, foam and rubber bands to protect those taking part in a sit-in against the redevelopment of Gezi Park from the government's liberal use of tear gas; and Phone Story, a free game app that cleverly explains exactly how the electronic devices we've all become addicted to are manufactured, from the children forced to mine coltan in the Congo to the disposal of electronic waste in Pakistan. Apparently it was banned from Apple's App Store four days after release. It's genuinely important, life enhancing stuff that breaks new (and what will prove to be, I'm certain, fertile) ground.
By comparison, an afternoon spent looking at yet another stacking chair – albeit it one that won a Red Dot award earlier this year – didn't appear too enticing. So it's a compliment to Thomas Pedersen's design for Skandiform (which was purchased by parent company Kinnarps in 2004) that the rest of this column isn't devoted to a rant on how we're surrounded by too much stuff.
Aesthetically the chair, called Deli, is a curiosity, looking a little like someone has taken a typical mid-price hotel bar stool seat and glued it on to the back of Ron Arad's Tom Vac chair. But actually the upholstery (made from fire-retardant polyether foam) works rather well with the injection-moulded shell, giving the lumbar region a pleasant amount of support when you lean forward and providing a little bit of flex in the back. Meanwhile, a gentle curve gives you somewhere to rest your arms. Incidentally the seat and back are attached to a wooden base, which is subsequently covered by the plastic shell to hide all the fixings.
The chair, which can stack up to six high, comes in a number of finishes, with a choice of solid oak, chrome or black and white steel legs and various fabrics. The main shell is either black or white. Another neat touch (available with the metal legs) is the integrated linking mechanism that folds out from the base of the seat.
Priced between £320-£420, this isn't a chair that's going to be specified for school halls around the nation – the manufacturer sees it going into restaurants and being used in meetings, providing competition for the likes of Vitra's DSW. The press blurb mentions that Charles and Ray Eames are among Pedersen's role models and scanning the designer's website much of his output has a retro, mid-century vibe.
Deli isn't going to change society from the ground up and, yes, it's another addition to an already crowded market. But it could make that long meeting a little more tolerable and that's no bad thing. This is a well considered piece of work that deserves its Red Dot and should find an audience.