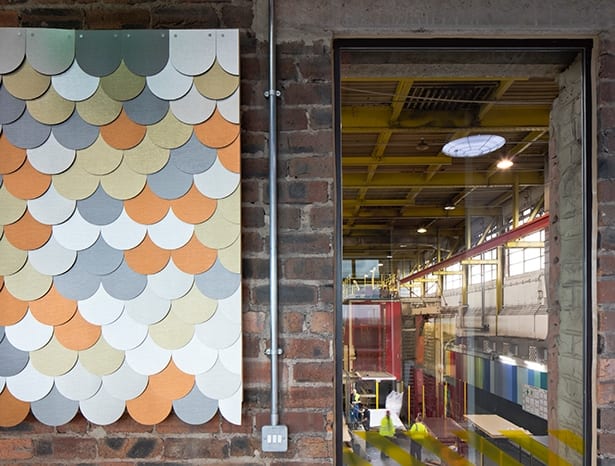 |||
As part of its strategy to grow the business and remain competitive, Formica Group is investing £40million into staff and facilities in its strongest market, the UK, over the next three years.
The investment sees the creation of Formica Group's new European headquarters, which has moved from the office of a business park, a few miles from its main Newcastle industrial site. Formica Group felt the physical separation between its office and manufacturing plant was disconnecting the business and decided to streamline internal communications.
Design process
Having considered new and existing builds, Formica Group opted to refurbish its previous office building on the main site. Built in 1947 with Art-Deco features and high ceilings, the office presented great potential as a 21st century workspace.
End users were key in the design development. To ensure the office enhanced productivity and worked for employees, there were engagement sessions, visits to furniture showrooms and industrial buildings and a sample room where people could test out new furniture. In addition, workshops covered physical, environmental, cultural and financial wellbeing issues.
To maximise employee productivity and combine an inspiring and efficient working environment with a space that embodies Formica Group's brand, a holistic design approach was used.
Design scheme
The space has been designed to flow. Clear sight-lines, promote transparency and collaborative working. Natural daylight and ventilation, glazed meeting rooms, bespoke tea-prep and breakout areas help create a productive workspace.
The refurb has also been sensitive to the building's heritage. Original features such as riveted steel beams, columns and brick walls have been exposed to create an industrial backdrop, with artworks showcasing Formica Group's range and history.
The interior design scheme celebrates the Formica brand. Rather than logo saturation, 'Formica Red' is used on structural steel beams. Art provides a focal point and all works have been fabricated using the internal Fabrication Support Unit. This is future proofed with frequent refreshes planned showcasing new products.
Now, the connection between industrial and commercial teams is enhanced with the production line visible through new, full height, glazed screens. Internal email use has dropped as people now speak in person.
Innovative features
Art, doors, furniture, display, cubicles, wall panels and tea preps all use Formica products. Visitors can now be taken on a physical, tactical journey through the range, rather than rely on brochures and samples. The HQ functions as Formica Group's product ambassador and contains the following the end-user consideration and sustainability features:
• Acoustic sensitivity – felt has been used to provide sound-cushioning in bespoke signage panels, wall features and ceiling baffles
• Environmental control – windows can be opened and all workspaces have full natural light
• Fit for purpose – meeting room tables are fitted out with fingerprint proof Formica Infiniti (which can be repaired in situ)
• Ergonomic furniture
• Workflow management – teams sited for efficiencies with breakout areas to encourage talking
• Full disabled access
• LED lighting
• presence detection used on lighting
• A+/A++ air conditioning used in meeting rooms and small offices
• Central time-control of heating system
• Waterless urinals
• Point of use hot water heaters limiting distribution losses
• Timers on external lights limiting use
This is advertisement feature
Formica Group felt the physical separation between its office and manufacturing plant was disconnecting the business and decided to streamline internal communications