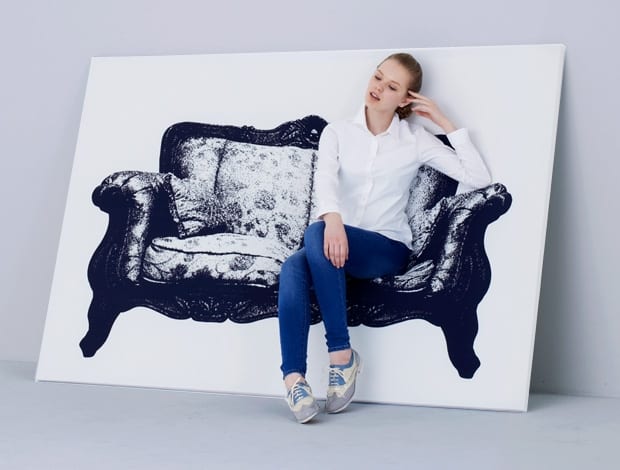 Canvas by Yoy for Innermost|Bounce by ECAL graduate Véronique Baer|Mika Barr's Poli chair|The Body by Finnish RCA graduate Kirsi Enkovaara||
A small niche of seating designs have taken inspiration from the nebulous form of the beanbag, breaking out from the strict lines of a traditional chair structure to create malleable, amorphous shapes
POLI
Mika Barr's Folding A-Part fabric is silkscreen-printed on the back with a heat-reactive polymer, instead of dye, in a triangular pattern. When the polymer cools and hardens, the fabric can then be folded to create three-dimensional shapes. For the Poli Lounge Chair, a collaborative project between Barr and Israeli design studio Producks, the fabric is also used as a mould into which liquid foam is poured. This defines the shape of the seat cushion and simultaneously holds the fabric in place.
BOUNCE
The Bounce seating collection by ECAL graduate Véronique Baer moulds around the sitter's body. Made from upholstered foam, the three pieces – Anton (pictured), a thimble shape, Christine, a dome, and Olaf, a cylindrical stool – spring back into shape after the user has stood up. The collection is upholstered in quilted Triangle fabric designed by Bertjan Pot for new Dutch brand Febrik.
CANVAS
Watching people trying to navigate the Canvas seat is almost as fun as trying it out. Designed by Tokyo-based studio Yoy for Innermost, it is seemingly a painting of a chair, sofa or stool on a flat canvas, leaning against the wall. Actually, it is elastane fabric (printed with the texture of a canvas) stretched over a wooden frame, with a hidden seat underneath, allowing the user to sit within the picture.
THE BODY
The Body by Finnish RCA graduate Kirsi Enkovaara is a flexible 6m-long canvas that can be folded, rolled and twisted into various configurations. The mat is filled with rice, making it stay rigid in each position but also providing comfortable cushioning. Enkovaara says the design reflects the tactility of human touch, and "encourages a person to find their choice of sitting by discarding learned cultural norms". A video accompanying her graduate exhibition depicts a conceptual dance with the mat, displaying all the strange sitting positions the design allows.