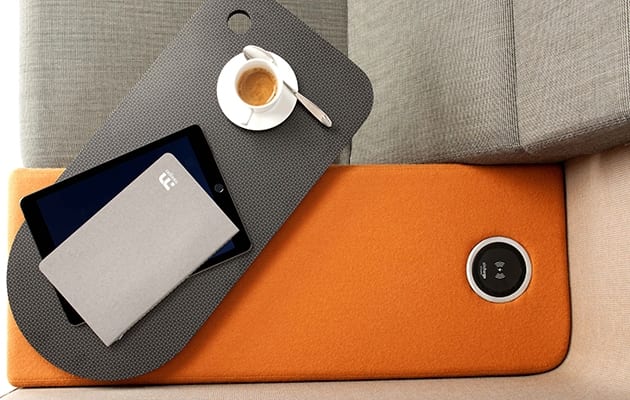 Aircharge Executive wireless charger in action|||
No one could have predicted quite how the iPhone would come to dominate our lives in the decade or so since its launch. Famously it didn't even win the Design Museum's Designs of the Year award in 2008 – that honour instead going to the One Laptop Per Child project by Yves Béhar. Since then the smartphone has become an essential tool to navigate contemporary life, as well as a status symbol and a fashion item – for some an object to be updated almost on an annual cycle.
In a curious way I've come to vaguely resent mine, irritated by the expectation of constant connectivity. That said, I've never found it within myself either to dispense with it entirely or to purchase one of the old-fashioned "dumb" mobiles – used to make calls and little else – that have re-emerged recently from the likes of Nokia and Punkt. My compromise is to leave it as long as possible to upgrade. I like to tell myself that it's because I'm worried about the environmental consequences of constantly changing phones but the truth is I'm intrinsically lazy.
Convenient and efficient
One of the problems with hanging on obstinately to an ageing device is that you can find technology running away from you. Which is what I discovered in my first encounter with Aircharge. I was at 100% Design in 2015 and going through the ritual design festival rigmarole of trying to find a way of charging my phone when I noticed its installation.
The notion was you could hunker down, have a meeting and simply leave your phone on a given point of the tabletop, where it would charge without cables. It seemed the perfect solution, until I discovered it wouldn't work with my old iPhone. The experience left me irritated both by the feeling of major brands pushing you inexorably into buying a new product and my own technological reticence.
Still not for everyone
Bearing this in mind, I have to confess to mixed emotions when I approached the company's Clerkenwell (naturally) showroom to test its Executive wireless charger. After all, I still haven't upgraded, would the exercise be a waste of everybody's time? Well no, is the short answer.
Founded in 2013, Aircharge is the world's leading supplier of wireless charging in public venues, working with brands such as McDonald's, Costa Coffee and Virgin. It boasts 5,000 charging locations around the world, with that gure expected to grow exponentially, and has developed an app that allows users to locate their nearest charging point anywhere in the world.
Points can be tted into any surface 18-50mm thick – the showroom includes a rather natty Corian table where spots have been integrated, with the only visual clue the company's small logo. As a by-product Aircharge has created a line of chargers aimed at the domestic – or lifestyle – market.
Careful placing for best results
The technology works with any of the Qi-enabled smartphones on the market, including the iPhone X, 8 and 8 Plus. Handily for people like me, the company has also created a sleeve that ts easily over your antique phone, allowing it to be charged like a newer device.
The charger I currently have in my possession is the size of the palm of your hand, finished in polished chrome and ebony veneer, and weighs a satisfying 230g. And it works a treat. A few reviews on the internet have groused about the small size of the charging spot – it's true you have to be a little careful where you place the phone – but this is an incredibly minor niggle.
Neatly designed
What is worth pointing out is that this isn't the cheapest cableless charger on the market, costing £85.99, but the company is keen to stress the quality of the materials and the fact that all its components are certified by the Wireless Power Consortium. Certainly it was unaffected when I sprayed it with a household cleaning product and poured water over it. One thing I would balk at, however, is the cost of the (slightly chunky but effective) case for my phone. At £40 you might as well just be done with it and upgrade.
That said, there is absolutely no doubt that Aircharge has an array of neatly designed products that serve a profound need – expect it to go from strength to strength.
The company that provides wireless charging facilities to McDonald's and Costa also offers a chrome and ebony charger for the home market that hits the spot