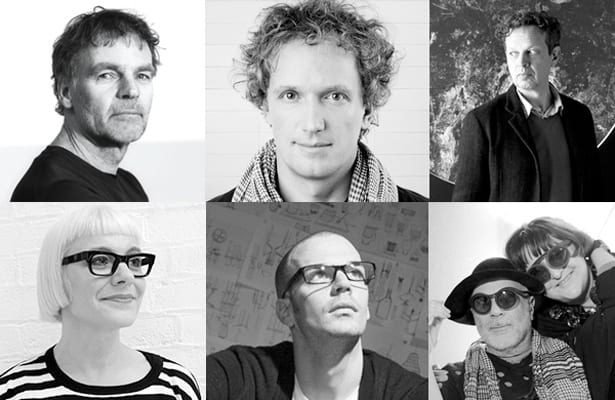 ||
Morag Myerscough
In conversation with Patrick Burgoyne
Sunday 20 September, 14.00-17.30
Victoria & Albert Museum (V&A) , Kensington
Since setting up Studio Myerscough in 1993, Morag Myerscough has brightened up hospital wards, schools and countless public spaces with her projects. Myerscough's recent work includes the Temple of Agape installation on London's Southbank (with Luke Morgan) and work for Barts Health NHS Trust with organisation Vital Arts. Myerscough is currently working on the exhibition design for the new Design Museum, which will open in west London next year.
Ronan and Erwan Bouroullec
In conversation with Christopher Turner
23 September, 16.00-17.30
V&A, Kensington
This year, French designers Erwan and Ronan Bouroullec will talk about innovative concepts for modern living designed for Samsung at Somerset House, their methodology and 20-year career designing for Vitra, Magis, Kvadrat, Flos and Cappellini, among others.
Yves Béhar
24 September, 15.00
100% Design, Olympia
Founder and principal designer of fuseproject, Yves Béhar, speaks about his work, its relationship to colour and the senses, and how these areas connect with the human and technological natures of his designs.
Va Bene: Patrizia Moroso in discussion with Ron Arad
24 September, 16:30-17:30
Tent, Old Truman Brewery, Shoreditch
At their first meeting, Ron Arad offered to design an entire collection exclusively for Patrizia Moroso. After a moment's thought, Moroso simply replied va bene. The pair will discuss the origins of their partnership – from that first collection in 1991 to its latest in 2015.
Celebrating Robin Day
25 September 2015 10:00–12:30
Victoria & Albert Museum (V&A), Kensington
SEMINAR: Explore the career of Robin Day, one of the most significant designers of the 20th century. Renowned for his injection-moulded Polypropylene Chair and for his pared-down Festival of Britain aesthetic, Day's seven-decade career encompassed graphics, exhibition, and interior design as well as furniture.
Winy Maas on colour within architecture
25 September, 11:15
100% Design, Olympia
Many architects shy away from using colour in the urban realm, yet MVRDV has a long history of embracing colour, particularly with the recent Markthal in Rotterdam.
Design Futures come in Layers
Benjamin Hubert
25 September, 14.00
Designjunction, Southampton Row
Product designer Benjamin Hubert relaunched his studio earlier in the month under the name Layer, which will produce more "human-focused" projects and design both physical and digital products. He will discuss the studio's new direction and its implications for design at large.
Rohan SilvaThe sensory office – Is the office becoming more like the home?
100% Design, Olympia
25 September, 15.00
Picking up on the emerging trend for offices becoming more like homes, design consultant Jane Withers, who is currently advising on Vitra's strategy for Home, speaks alongside founder of Second Home, Rohan Silva, and head of lifestyle and Interiors at WGSN, Lisa White. Chaired by onoffice's Helen Parton.
Tom Dixon
In conversation with Max Fraser
25 September, 16.00-17.30pm
V&A, Kensington
Tom Dixon will discuss the importance of the changing landscape of industrial manufacture to design. In the past, Dixon proposed alternative policies of manufacture, distribution and consumption of design. He has experimented with forms of 'flash' or pop-up factories that make a spectacle of the industrial process of laser cutting, stamping and etching.
Working Beautifully: Workplace design to make you happy
O + A, Uhuru
26 September, 12.00
Designjunction, Southampton Row
Workplace designers are reaching beyond technology and natural light to test a revolutionary thought: that where you work can make you happy. Primo Orpilla from San Francisco's Studio O+A joins Brooklyn's Uhuru to discuss spaces that release endorphins.