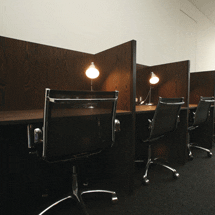 Private Members Work Club
When you hear the names Nick Mason, Mike Rutherford or Genesis, you think drummers, bands and rock 'n' roll. Turns out you might as well add revolutionary workplace solutions to that list.
One Alfred Place, London's first "home for the mobile worker", opened its doors in February and has some serious rock veterans on board as investors. Brainchild of Rob Shreeve, former MD at Virgin Publishing – which probably explains the strong rock music links – this private members club aims specifically at those mobile workers who are fed up with meeting in overcrowded hotel lobbies or loud pubs at stations where you need to fight for a quiet corner.
"There may be a few private clubs in London, like Shoreditch House or Soho House. But essentially if it's a dedicated workplace you're after, to work effectively in between meetings, there's nowhere to go," says Shreeve.
The idea is geared especially towards people who move out of London to get away from the hustle and bustle, but still find themselves commuting back for frequent meetings and lunches – and want to maximise their working time by having immediate access to workstations. "It simply gives a professional context, while still encouraging creativity," says Shreeve.
The numbers are in favour of this new concept. From 1.5 million mobile workers in 1997 to 4.5 million in ten years, the trend towards more flexible working methods is spreading quickly. With a London workstation costing on average £10,000 a year and the threat of a recession on the horizon, companies as well as the self-employed will be looking for ways to save on overheads. And most professionals only spend 70 per cent of their time at their desks – the rest is often spent out in meetings, predominantly in the capital, which sees nearly ten million business travellers per year.
"Speaking to people – from writers, freelancers, film producers to property developers – there was clearly a gap in the market for a new working concept that combines the facilities of a dedicated office with the luxuries of a private members club," says Shreeve.
One Alfred Place is located near Goodge Street in Bloomsbury, within ten minutes from major transport hubs such as Waterloo and Euston. The polished yet swish interior was designed by architects Michaelis Boyd – famous for their work at The Electric, Babington House and Moro – together with interior designer Diana Sieff, whose client list sounds like a who's who of the rich and famous. The lobby is home to Chesterfield sofas and Edwardian armchairs from George Smith as well as gorgeous B&B Italia leather sofas. Eye-catching artworks adorn the walls, generously lent to the club by chairman Robert Devereux, former chairman of the Soho House Group and Virgin Communications. "Well, he didn't have any walls left to hang them in his private properties so he wanted to share the artworks with our members," says Shreeve. Now I'm not an art buff, but I ended up touring the space like a gallery to soak in the diversity of the work, which includes pieces by Andy Warhol, Sean Scully, Terry Frost and Barbara Hepworth.
In terms of working facilities there are the standard predictable elements like wireless technology, meeting rooms and private phone booths, but also more decadent features such as a Club PA for each member, full office support and private lockers. For those members that travel internationally there are showers and a sleep cabin to rest from the journey or a late night out on the town. Shreeve spent a long time looking for the right chef – Duncan Impey, previously head chef at High Road Brasserie and Racine – and a full bar with eat-while-you-work food is available all day anywhere in the club. There is a computer room for hot-desking, a small meeting room as well as two large boardrooms with all the latest technological features. The problem is you do need to book the rooms as well as pay an extra fee to ensure that members don't occupy them all day. But in contrast to conference rooms in London hotels, it comes at a comparatively reasonable price.
The rock stars who backed the project together with founder Shreeve are so convinced that the concept will be a success they are already planning a second site within the next year, and five more Europe-wide by 2012. The annual membership is £1,500, setting the tone for the type of member. As much as I think I fit perfectly into this environment, for some reason my directors didn't feel the amount was appropriate to substitute my routine London meetings at Starbucks for a swish labour lounge.