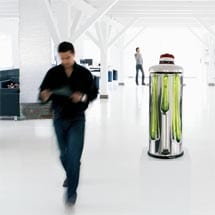 Words by Michael Willoughby
Michael Willoughby visited the new Vipp headquarters in Copenhagen, a shrine to clean, minimalist, Danish design
There are some whose creative genius lies in seeking out and nurturing beauty that is hidden or obscured – perhaps possessed by people who get a good feeling from helping something or someone to reach their potential.
Jette Egelund, a former social worker and now CEO of Vipp, has this quality. She has taken her father's company, which produced a line of very large, very stylish bins for dentists and GP's surgeries, and turned it into one of Europe's hottest design outfits, producing not just gorgeous trash cans of various sizes, but also wastepaper baskets, soap dispensers, tableware and towels. It is now Denmark's fastest growing design company.
Situated in Islands Brygge, a port built on reclaimed land in Copenhagen, Vipp HQ is housed in a former trade printers. But now, instead of Pirelli calendars and cracked tea mugs, the interior is insanely, divinely white, clean and clear. It's a fitting environment for a woman both so driven and so honest.
Why did she take the risk in the first place? Was she inspired by brand remakes such as Dualit, Cole & Sons and Dior? "No," Egelund replies, quietly. She just believed in the product and in her father, a former metal spinner, and his love of quality and of initiative.
"You could say to him, 'I would like a lamp or a table,' and a week or two later, there it was." The bin itself was first produced for her mother's hairdressing salon. And the design – the rubber base, the steel body with enamel blast – has remained virtually the same since 1939. The only thing that has changed is the lip-domed chrome lid, now parabolic and steel. It used to be a design classic without a fan club.
And now? Let the numbers speak for themselves. When Egelund took over the Vipp outfit in 1996, it was turning out 1,200 units per year. Now the figure is closer to 200,000. The turnover was £280,000; now it's £4.13m and expected, she tells me somewhat coyly, to approach £5.5m this year. After her father's death, there was just one man working at Vipp. Now, not much later, the firm employs 150. Designers such as Christian Lacroix, Philippe Starck, Ron Arad and Karim Rashid have all "pimped" bins for the company in their own inimitable styles – see our back page for some examples – and word about the brand would appear to be at some kind of tipping point.
This is even more impressive when you consider that Egelund was a single mother with two children, no design, marketing or business experience and no family base (her first partner had just left her after 25 years) when she took on and transformed the enterprise. She worked as a substitute singer in church choirs to earn extra money and got her business loan of £35,000 from the local bank.
The current powerhouse of the Vipp brand was a hidden gem when Egelund happened upon it, buried beneath layers of light industrial grime. "It was a good building from the start," Egelund tells me over coffee by candlelight. "Through the century, people had turned it into something more terrible. I remember, we were so excited to take the roof down to see how many beams were underneath. The roof was very low so we removed the ceiling and got up very high."
But Egelund saw the potential of not just the building but also the area. Islands Brygge was a down-at-heel timber port when artists and photographers found it and pitched it to her. "It was a very bad area before people saw that there were so many good things about being close to the harbour," she says. She spent the year and a half it took to build the new HQ running to and from the site every day, seeing it being stripped back to basics. "With your own ideas you can turn things back. That's a wonderful process!" she says.
It is a wonderful process, with a marvellous result. Working with Danish architect Frank Maali, a specialist in sensitive restoration of period properties, Egelund set about transforming an East German-style interior – with prints and planks and posters, stacks of print material and canteen furniture – into a palace of Danish design. The whole place was assembled without blueprints, on an ad hoc basis, based on Maali's sketches.
What black is to French fashion – a way of highlighting the hang and the silhouette – white is, arguably, to Danish minimalist design. Stripping back the additions, exposing and painting the beams and installing a green, smoked-glass-clad catwalk has created a temple of white and the effects that light can have on it. The candlelight, the sensitive up lighting, the ambient light and most of all the blue chill of the Scandinavian daylight are the stars of the show. So open to the sky are the windows and so blank the canvas that we are all aware of the moment when the sun goes behind a cloud.
The building was originally created to be a flat for Egelund – now she lives in the pencil factory across the road. But Vipp HQ's residential roots remain, even to the point of it housing a vast, brick-built bath. The suggestion that someone might actually use it is a running joke in the firm. I'm told it takes two hours to fill. The bather's modesty would be only partially rescued by the smoked-glass wall which divides it from the rest of the office.
Egelund originally lived upstairs in the apex of the building, in what is now a cosy nook for meeting spaces. Just in front of the previous living area is another niche for reading; and a slightly chaotic but growing library of samples and books.
Central to the space – as is absolutely clear to those within it – is the self-supporting staircase that emerged only after a long thought process by Maali. "I found a lot of stairs in a catalogue and I said, 'I like these and I like these,'" says Egelund, "and every time he looked and didn't say anything. Then one day he said, 'I know I have found the stairs now!' And he got a piece of paper and he drew – and I thought, 'What is it!?' And he said, 'The only thing you can't do with the stairs is go down in high heels. But it will become a sculpture.'" Carved from one trunk of wood, lightly painted, the means of reaching the upper levels is a precious, almost Brancusi-like object.
The residential origins of the studio help the company's product development. Vipp's extremely high-end output is intended for just such a beautiful setting. Egelund even goes so far as to say that it is possible that the sumptuous bathing arrangements might have provided the inspiration for the line of towels and soap dispensers.
But do light and beauty have a workplace function? "Certainly," chief product designer Morten Bo Jensen tells me. "They are in the middle of the room. We look at them all the time and work around them. Most design firms want to get a better grip on their product. We can look at it under various types of light."
As we speak, the Vipp family is clustered around a new prototype – a lap tray intended to unfold at the flick of the wrists, which will house the tableware design. They can't leave the tray alone. "It's like a new baby has arrived," says marketing executive Allan Sørenson. The tray is key not only to the functioning of the product, but also to its DNA. It has the metal and the rubber without which a collection of jugs and cups would not be Vipp enough.
The building and the products are the essence of good design: nothing unnecessary and everything that is necessary made beautiful. Is there anything wrong with the space? In my 7am-flight state, I manage to bump my head on a kitchen cabinet and trip over the bottom of the doorframe. Anything else? "In the summer it gets a bit hot in here," Jensen tells me. "There's no AC. It's ok with open doors and windows – I would rather have a few really warm days and brilliant light. Even during the winter the light is really nice. It means a lot. It's quite calm up here."
But he particularly appreciates the lofty aspect of the common areas. "People come in here and are able to go through the office and look down on it rather than being diverted to some meeting room somewhere," he adds. A charming nod to the industrial heritage of this building comes in the form of the old elevator housing, which has been converted into a flower-strewn balcony in a neglected, Boho style.
A building over the courtyard, the former stables, has been converted by Maali into a concert hall and meeting venue with an equally striking if completely different staircase. Egelund's partner Mogens Dahl is a conductor and the pair met when she took a singing holiday under his baton. Children assembled by one of her husband's pupils sang at the firm's first collection of worldwide vendors. Some of the country's top ensembles have performed in the same space.
And Vipp is expanding beyond the three existing buildings to create a design studio next door. A model for the new build lies on the floor. "It's Vipp town around here," Egelund confirms. She has unselfishly spent two hours with me. "She's like that," Allan tells me. "She forgets she's the CEO. She probably even chose these," and he points at the lilies on the reception desk. I wouldn't be surprised. Egelund is an aesthete – but more than that she is a businesswoman with great design sense; an artistic patron at the hub of her own enterprise. And with facilities like these, the only way is up. Roll on Vipp city.