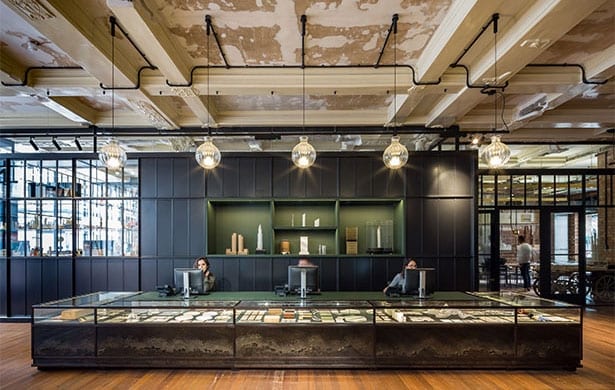 |||
From a middle-class London suburb in the 19th century, including the first street to have electricity, to a model of modern British multicultural society thanks to the influx of a West Indian community post second world war, Brixton has always been at the centre of innovation and community-driven reinvention.
Now the completion of the Department Store, a workplace for and by architect Squire and Partners, sets the tone for another exciting new era. As you exit the Victoria Line's southernmost Tube stop and hang a right, you can just about glimpse the crafted glass dome (replacing a dilapidated cupola) that signals the location of this five-storey scheme. It comprises workspace plus shops and eateries and, despite only finishing in the summer, has embedded itself well within the local community.
Cut back to late 2015 and it's hard hats, hi-vis vests and builders' boots at the ready as Tim Gledstone, the Squire and Partners architect who headed up this scheme, takes us round what is at this point a rather rundown building. "There was decay hidden under the ceilings – it had almost an apocalptic look," he says. As we stand and use our imaginations, he emphatically describes how voids will be cut through the building to give a sense of connection between the floors.
Designer touches include a Mies van der Rohe Barcelona daybed
Then he promises a place where architects can make their models and which will be at the front of the building, providing a shop window on Squire and Partners' work. On his architectural agenda is a roof garden, a hidden courtyard and – crucially – the aim that this would be a truly creative workspace, like Shoreditch's Tea Building. The reception would be like a piece of art; downstairs in the basement would be an events space. It would rejuvenate the buildings adjacent too – for example, "bring back that idea of the village post office" – and the complex would have local retail outlets and somewhere to get great coffee. In 2017 it is clear that Gledstone and the team have pretty much been true to their design vision.
The building's own history is as fascinating as the area of London it is located in. The Bon Marché department store, one of three in the area during its heyday, was built in homage to the opulence of the Parisian original. It was financed by local businessman James Smith when he won £80,000 after a flutter on a racehorse named Roseberry came good on a double.
Designer touches include a Mies van der Rohe Barcelona daybed
As the shop prospered, in 1906 a new annexe was added in Ferndale Road, just round the corner from the original Brixton Road store, giving an extra two floors of retail plus staff accommodation above. After serving briefly as a WW2 bomb shelter, this building became offices in the 1950s as Brixton's retail draw diminished. Eventually, after a variety of occupants, it was largely squatted after 2012, which is where Squire and Partners came in – buying the building and a family of others along Ferndale Road.
The Department Store is emblematic of the ebb and flow of Brixton's fortunes and the architect has cleverly documented each of these eras, whether that's sourcing some vintage pieces of furniture that discerning Edwardians might have wanted to buy when Brixton was a retail mecca, or retaining some of the street artwork created when it was home to squatters…
Subscribe to OnOffice for the full feature
In a building that's seen everything from 1900s grandeur to squatters, Squire and Partners' new workspace means the area's latest incarnation
is being served