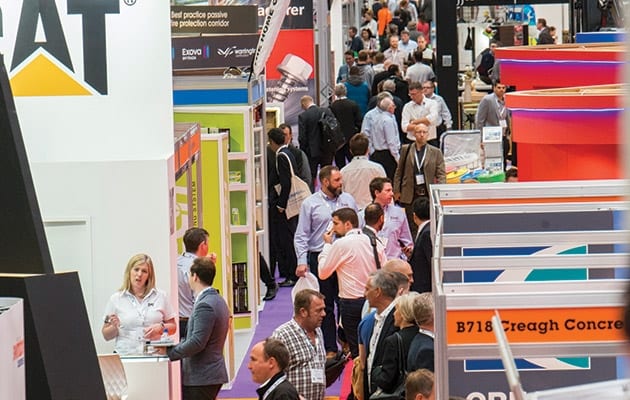 |||
Held at the NEC in Birmingham on 9-11 October, this year's UKCW is fast approaching. Alongside new arrivals and programmes to discover, OnOffice picks the highlights to look out for from the event's line-up of nine dedicated trade shows.
Timber Expo
As an event exclusively devoted to timber – and the only UK event to do so – expect three days full of products, innovations and developments across the sector and, unsurprisingly, new designs all made from the wooden material. From timber frame through to CLT and plywood, the event will be a place to showcase new designs, where architects can connect, share their knowledge and discuss latest products with the largest collection of timber brands.
Included in this year's roster is STEICO, who will present I-joist wall studs that offer a high load-bearing capacity with a quick and easy installation, and Hanson Plywood who will exhibit specialist panels that can suit all weathered purposes – including dry, humid and exterior use. Alongside this, Rothoblaas will provide systems, fixings and equipment required for timber-based projects, and TRADA will shed light on independent guidance and connections, offering an insight into the industry.
The Build Show
As one of the largest UKCW shows, The Build Show returns again this year to offer insight into trends, forward-looking predictions and knowledge into the industry that every construction professional needs.
Event highlights, and new to 2018, are four additional sections: Offsite, which will showcase more than 100 exclusive product launches; Doors, Windows and Glass; Roofing, Cladding and Insulation; and Tools, Health and Safety. Plus, the Regeneration Hub will host a seminar, chaired by property expert Kunle Barker, which will discuss the affordability of housing, using London as an example. Confirmed exhibitors for The Build Show so far include Aggregate Industries, British Gypsom, Combilift, Concrete Centre, Easy Trim Roofing and Construction and various others.
Building Tech Live
Formerly known as Smart Buildings, the show returns as newly titled Building Tech Live – an evolution of the event that is set to showcase the latest technological advancements in IoT, lighting, automation, security, communication, technology and more. Aimed at those within the integrated technology community, expect this to be the vital destination for anyone interested in electrotechnical engineering services, design, installation, inspection, testing, maintenance and monitoring.
The Gooee Internet of Things (IoT) Arena is new to the show, and will present Gooee's award-winning IoT ecosystem with its partnered companies, including Aurora Lighting. Gooee is a company focused on providing enterprise IoT solutions to the lighting industry, which coincides with Building Tech Live's aim to provide educational content, debate and the latest technological advancements throughout the entire event.
With this year's UKCW drawing closer on 9-11 October, OnOffice picks out the highlights from the event's nine dedicated trade shows