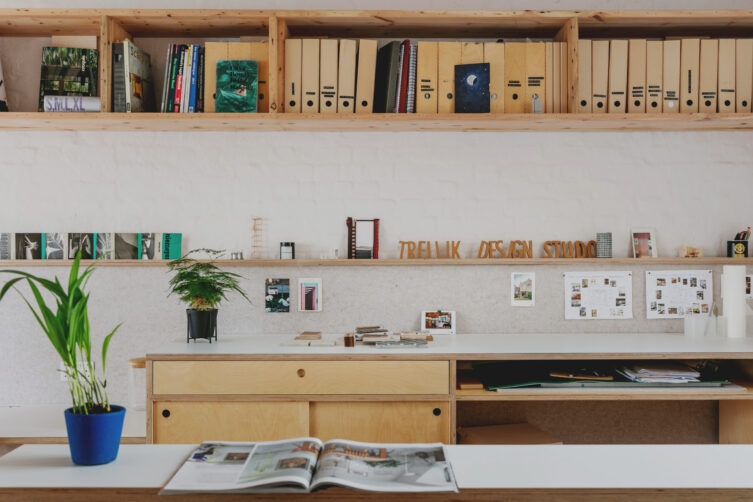 London-based architectural studio Trellik's latest project sees a former photography office retrofitted and converted into a space which provides East London's creative community with a co-working studio, maker's workshop, and café.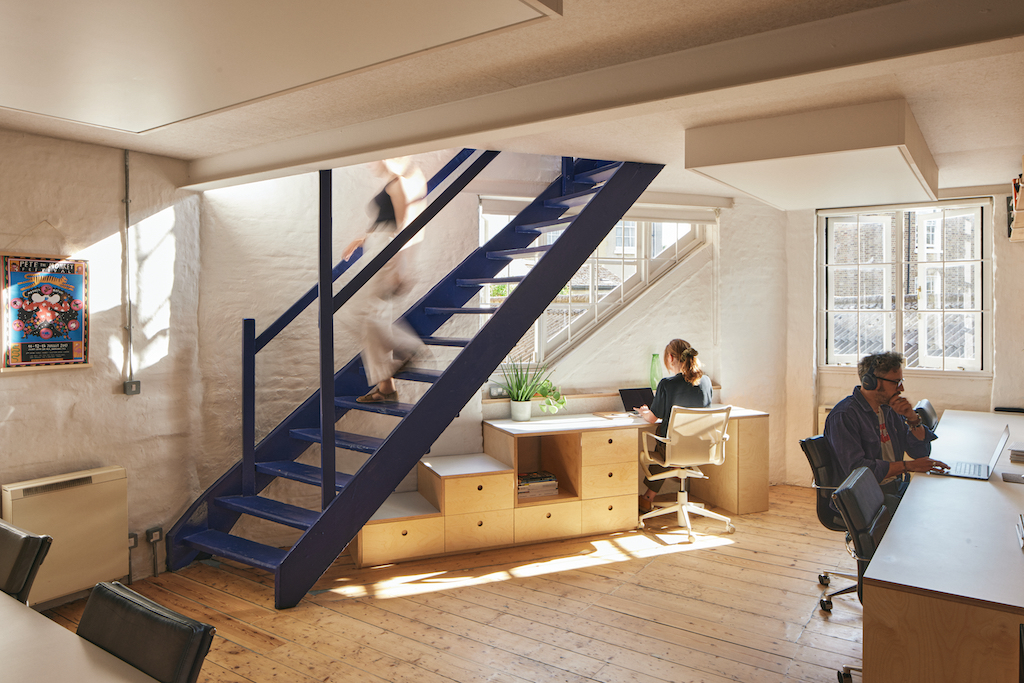 Located in De Beauvoir, One And A Half is the new multi-purpose venue which is now open to local residents after an extensive retrofit has given the building a new lease of life thanks to Hackney architects, Trellik Design Studio. After purchasing the building in 2019, which dates back to the Victorian era where it was used as a foundry making nuts and bolts, Trellik's founder Jean Dumas set out to create a space which has the local community at its heart. And, in creating a space which merges practicality with community, while encouraging cross-disciplinary collaboration, it is a great example of how architects and designers can leave a positive impression upon local neighbourhoods through the spaces and buildings they create.
Celebrating the building's original Victorian features, the property has been restored sensitively exposing its timber rafters while installing a new roof, skylights, and insulation to make the most of natural light and increase the building's efficiency without invasively disrupting its interior. Bringing in playful touches of colour, the studio has also paid detailed attention to its environmental impact by incorporating recycled materials and utilising pre-existing resources where possible. ReFelt recycled PET acoustic felt panels line the ceiling and walls to dampen sound across the open plan layout as well as doubling up as pin-up walls for tenants. The original timber flooring has been preserved while joists have been repurposed to create shelving and left-over light boxes from the previous occupants were salvaged and restored with up-to-date LED fittings. Where new fixtures were required, the team sourced as locally and sustainably as possible. Desks have been handcrafted by local joiners, Our Department and a kitchen worktop made from London Plane timber has been supplied by Foresso. Other features include an algae pendant lamp by Ty Syml and recycled glass pendants by Potter's Thumb.
This considered approach to materials has also been placed on the internal layout too. Set over three floors and a mezzanine level on the ground floor, each zone has a flexible offering of meeting areas, studios, and desk space. Upon entering the building, you find yourself within the café which includes an events space and steps down towards a maker's workshop. Cobalt blue painted stairs lead up to the mezzanine which serves as a library and breakout area while also providing an exhibition space to support local not-for-profit organisations.
With its diversity of use mirroring the multiplicity of creatives which currently inhabit the space, it is an exciting hub for local creatives in the De Beauvoir area. From photographers to architects, a PR studio and a natural fabric dye atelier, its dynamism pays testament to Trellik's vision. "We have intentionally kept the space intimate to reflect the typology that offers a vibrant, home away from home workplace," states Dumas. "Post-pandemic working culture means that no one day is the same here in One and A Half Studios. We want the place to flourish, with occupants using the spaces to host and launch events and to celebrate big or small achievements." Thanks to this mindful approach, Dumas' vision has resulted in a hub which truly does serve its local community, allowing creatives to flourish and find an inclusive, collaborative space in which they belong.
Photography courtesy of Ed Dabney/Mariell Lind Hansen