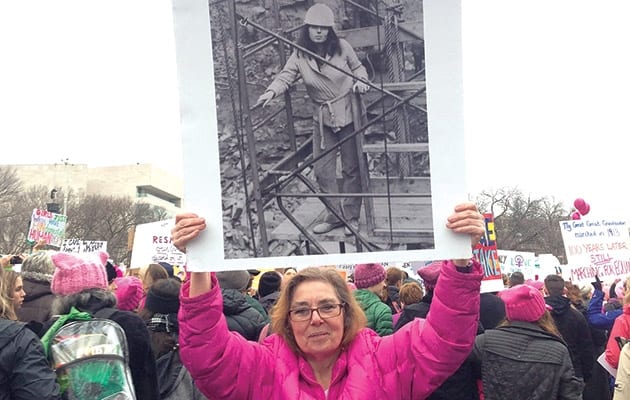 |||
In 1978, it would have been hard to imagine a woman taking charge of a major skyscraper in New York, let alone heading up the construction of the notorious Trump Tower. For back then, sexual discrimination, harassment, and intimidation was paramount within the industry, and it was deemed an unworthy position to have a female at the top – particularly (and presumably) from the viewpoint of the now American president.
Barbara Res, a New Jersey-based engineer and lawyer – and, most significantly, the manager of construction on the Trump Tower and executive vice president of the Trump Organisation for 20 years – plans to speak to UK Construction Week (UKCW) about her experiences with sexual harassment as a female engineer, and the successes and challenges of working alongside Donald Trump. Taking place on 10 October at the UKCW Stage, the keynote discussion will be held with journalist and broadcaster Steph McGovern as it aims to examine the role of women in the construction industry.
The main focus point of the talk will delve deep into the experiences of the woman behind the Trump Tower, while questioning why women in the U.S. are turning their backs on construction. Which leaves us with a major question: what exactly needs to be done in the industry to change this alarming trend? Ahead of the event, Res put together an exclusive blog post for the UKCW website, which gives an insight into these topics. She begins: "According to the Bureau of Labor Statistics, compared to men, women in the United States earn about 80 cents on the dollar. But in engineering, this percentage increased to 93%, and in construction trades, 97%. Women are finally getting into these lucrative fields and experiencing almost parity. So why do so many leave?"
Res then explains how just 20% of engineering graduates are women, and in 1970 that figure stood at a mere 1%. "That percentage rose over time with the number of women in the workforce growing dramatically, with more women working in non-traditional professions e.g. lawyers and doctors," she says. The 'women's movement' had an impact on this figure, meaning that participation increased and in the year 2000 it raised to 20% – now with 13% of women employed as engineers in the workplace. "This reflects alarming trends of women turning their backs on the industry, and not going into the profession once they graduate
as engineers."
With discrimination and sexual harassment in the workplace being a major cause of attrition for women, there are various and unsurprising conclusions as to why it's not surprising that the figures are stagnant. "[Women] want to be valued and respected, and to make a contribution, they want to be encouraged in their efforts, they want to be treated equally and be given the same pay and the same opportunities as their male peers, they want to be able to work without being sexually harassed, they want to work in a non-hostile environment, they do not want to be made to feel they are 'less of a woman' for doing 'men's work'," says Res. "That is not what they are getting and that's why they leave."
At the talk, as well as opening up a dialogue surrounding her personal experiences, Res will advise on what needs to be done – which includes punishment for sexual harassment, promoting more women and an outreach to girls. It couldn't be a more necessary topic of discussion.
Barbara Res, the woman behind the Trump Tower, discusses the female role in construction ahead of her talk at this year's UKCW event