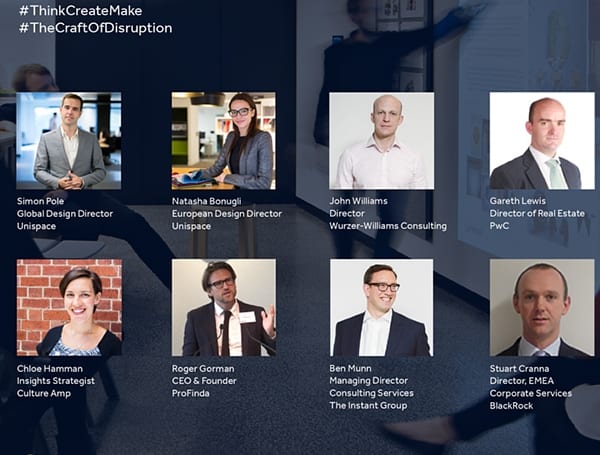 |||
{Vimeo}179443001{/Vimeo}
On August 9, Simon Pole, formerly of Gensler and Woods Bagot and current Global Design Director at Unispace, was joined by experts from PWC, CultureAMP, ProFinda and The Instant Group to discuss disruption in the workspace.
The event took place at the Shangri-La Hotel where industry members were invited to explore co-working's rapid growth and the increase in Proptech companies, two themes that have been driving the property sector and disrupting the office market.
Following a welcome from John Williams of Wurzer-Williams, Benn Munn of The Instant Group presented the latest in workplace market statistics and his predictions for the future of the market.
A significantly growing market in London and the rest of the world, Munn explained that consumer demands for their workspaces have shifted dramatically.
Changing workplace needs were presented by Munn; Simon Pole and Natasha Bonugli of Unispace responded to the market overview with their Design Keynote – 'Crafting the workplace: Where and why are we hitting crossroads?' They provided insight from Unispace, exploring what's in store for workplace design, presenting their ideas with big data and international case studies.
The two discussed changing types of workers and work styles such as the 'Gig Economy', whereby growing numbers of workers are no longer fixed to a single employer or space, instead moving between several side projects and locations.
They also presented the ways in which developers are creating co-working opportunities within their developments, no longer depending on co-working brands such as WeWork and Regus.
The office plan was deconstructed; Pole and Bonugli arguing that attention must be placed on creating focus rooms and private zones as well as collaborative spaces (it is focus work that currently makes up 60% of our working days).
The event concluded with a thought-provoking discussion from an Ideas Exchange Panel of John Williams, Wurzer-Williams; Simon Pole, Unispace; Natasha Bonugli, Unispace; Gareth Lewis, PwC; Stuart Cranna, BlackRock; Chloé Hamman, Culture Amp and Roger Gorman, ProFinda.
The panel of thought leaders discussed how these disruptions within commercial real estate industries are impacting the human aspect of work. The experts proposed the use of data to tailor workplace wellbeing to company culture and dieferent types of staff. Others proposed that the industry might not yet be prepared for new flexible demands. But company driven promotion of and improvements to workplace wellbeing could well be the trigger that's moves the industry into a new phase of flexible office use and workplace design.