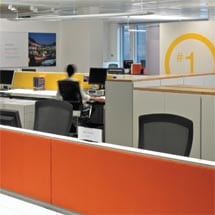 Words by Helen Parton
London-based practice GMW Architects has overseen a consolidation of three locations into one for British American Tobacco, with a controversial move from cellular to open plan.
I had a rather romantic image of smoke-filled rooms with people puffing insouciantly on Lucky Strikes, but of course post-smoking ban, that was never going to be the case. I doubt it was before to be honest – British American Tobacco's offices don't seem to be that kind of environment, certainly judging by the persuasion it took to let me in there in the first place. "It's quite hierarchical and still is to a certain degree," admits Tim Hardingham, partner with GMW Architects. The practice has been working with BAT for over seven years and garnered a British Council for Offices award for its work on BAT's offices in Cannon St in 2001. The practice began developing concepts for this current project – at Globe House in Temple Place, just off London's Embankment – in 2006. Entitled Project SEA, it was to be a test bed for design ideas to be rolled out across the rest of Globe House.
Senior staff had been relocated from three different buildings to consolidate BAT's European-wide operation into a single location, and as a result they have had to make the switch from cellular office space to a far more open-plan option. I get the impression this wasn't easy in terms of physical reorganisation or employees' prevailing attitudes towards having their own individual offices. "The brief was to get everybody together and reflect the values of growth and responsibility," says Hardingham. He goes on to explain how GMW came up with the idea of "grown up open plan" to make the senior managers more accessible, while still acknowledging their status and encouraging interaction between the company's various European functions (which previously hadn't been the case). The solution GMW came up with consisted of making a serene atmosphere as opposed to a buzzy one, with plenty of informal meeting space and not skimping in terms of quality furniture – if those senior staff were going to give up their individual offices, they had to be compensated for that somehow, the thinking went.
As we walk around the floor to compare the new elements with another part of the office, which hasn't undergone the makeover, the lack of colour and comfy informal space of this "before" area are all too apparent. In the "after" part, primary shades have been used on the workstation partitioning to give the space a more playful feel. Bench style seating positioned in a staggered layout has also been introduced to maximise the opportunities for people from different teams to interact. The standout part of this project though is the break-out areas, with their collection of suspension lights from Artemide plus easy chairs, bar stools and sofas from Vitra and Ergonom – they are light, bright and contrast well with the rest of the office. Apart from the long, white, gondola-shaped solid surface material featuring striped upholstery, which may be a radical design step too far for the employees here, the rest of this more informal space seems to be well used. Indeed it may be a victim of its own success. I'm visiting this project at quite an interesting time, as the results of a feedback questionnaire are just in. While there has been demonstrably better communication and socialisation with the introduction of open plan, and staff have praised the break-out space, those for whom these areas were originally provided are now territorial over other departments using them. It seems you can physically remove the idea of cellular office space, but the idea of who is supposed to be sitting where is not shed so easily.
GMW has also introduced a series of circular meeting pods, located in the middle of the floor for more impromptu meetings and, judging by the scribbles on the walls, they have proved a fruitful place for BAT staff to gather for brainstorming. Again there has been a positive response to the pods from those surveyed, particularly from senior staff. But in terms of developing the design, they will, in the future, be treated acoustically to prevent the floor from becoming too noisy. Other new elements developed for this interior in the long-standing relationship between BAT and GMW include phone booths and talk rooms, designed to deal with the perceived problem of a lack of privacy.