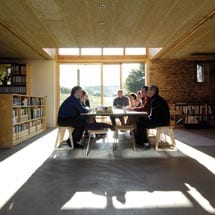 Words by Kerstin Zumstein
British architecture practice Architype has designed its own workplace by reviving a derelict barn near Hereford into a modern, bona fide eco-barn. Kerstin Zumstein discovers it is not only the greenest office in the country but part of a larger scheme to promote workplaces in rural locations
Did you know that the Duchy of Cornwall has launched a rural regeneration programme to encourage companies to move their offices into Herefordshire's countryside? The idea behind it is to resuscitate rural areas by creating more jobs, whilst taking pressure off the urban metropolises to spread the locations of employment and gaining investments to authentically restore the traditional barns. Technology makes it possible to work from anywhere nowadays, so why not from a shed out on a hill? We have seen an increasing number of employees striving towards a greater work-life balance and keen to escape the mad pace of the cities, but often it's tricky for people in skilled professions to find good jobs near the places they'd like to live. So when I heard that Architype had been commissioned by the Duchy to redesign a barn and adjacent cowshed out in the country – and has now negotiated a lease to work in the barn itself – I decided to take a look.
When the car turned off an already pretty narrow road into a muddy path leading up onto a hill, it did strike me as an unusual commute to work. It would mean dumping my pencil skirt for wellies, but it's a treat – or retreat I should say – in comparison to the sweaty armpits in my face on the claustrophobic Piccadilly line. With bunny rabbits jumping across the green open fields, the black mountains of Wales on the horizon and thick woodland as a backdrop, the refurbished barn that houses Architype appears camouflaged at first sight. The barn's centrepiece, once the original threshing space, is kept open by large glass windows stretching from floor to ceiling. On approaching the office this allows a breathtaking view through the building out to the landscape that lies behind. As you enter the office the windows strike a new but equally stunning cord through the incredible presence of daylight. "There are various slots in the walls so that the office is always filled with natural light without glare onto computer screens," explains Jonathan Hines, director at Architype, "and together with the timber construction and the natural ventilation we managed to organically link the inside with the outside."
Architype has done more than that. The practice has created a space that doesn't just claim to be green – it has the figures to prove it. On an ongoing basis energy and water usage is monitored to measure the effectiveness of design, technology and materials used in the building. Associate Leah Dempsey says: "To maximise energy efficiency, exact measurements are crucial. It also makes you very aware of your own usage and we all get a kick out of keeping the levels down." In addition to energy and water, it also monitors the change of external temperature and humidity in various different spaces to gauge how the building moderates the outside climate. Hines adds: "The results serve not just for our own awareness but also as an example for our clients as we apply the same eco-friendly objectives to all our projects. We believe that it's more important to get the basic fundamentals right rather than add on supposedly green features as an afterthought."
I'm glad to report that these ecological aspirations have not been applied to the detriment of the aesthetics. In basic terms, Architype has built a new timber box onto the original stone walls of a barn that is several hundred years old. This marriage of old and new fits beautifully into the surrounding landscape and feels like a natural progression. The methods as well as the materials are sustainable. Many ideas stem from Sweden or go back to original ways of building, such as using lime mortar for the stone rather then toxic inflexible cement. Of course there are also cutting-edge examples of green techniques, such as the toilet, which is the first integrated airflush to be installed. The airflush system of the urinals was developed by Nick Grant of Elemental Solutions and eliminates smells through immediate extraction when the light goes off. With that even in winter no heat is lost, because windows don't need to be opened.
Another progressive element is the wood chip boiler (manufactured by KWB and designed and installed by Midlands Wood Fuel Ltd). Popular in Austria and Sweden, Britain has yet to catch up with this eco-friendly boiler solution that runs without burning oil. Architype is pioneering the system, but many have already shown interest in it and hopes are high that this method will spread. It's cost effective, with a kilowatt-hour of biomass energy estimated at 2.1p in comparison with 4.2p for oil and 5.1p for LPG, not to mention the benefits for the environment. And wood chip, of course, is sourced from the waste timber of local sawmills and woodlands. Admittedly there is some fossil fuel used to process and deliver the wood chip fuel but other than that it is carbon neutral.
Architype is known for its pioneering "breathing constructions" throughout the UK. Its designs enable each layer of construction to breathe. At the eco-barn, the walls are filled with Warmcell, which is made from recycled newspapers and acts are insulation. Warmcell is also blown between the roof elements. Here Hines gets very technical on me, and evidently very enthusiastic. He helps out with a clear simile: "Let's say instead of dressing the body in a plastic vest, the building is wrapped in 100% cotton cloths." And that is where Hines sees most office builds go wrong. "In the office build sector there is an innate obsession with synthetic materials. It's architecture's worst sector when it comes to the use of toxic and chemical fibres. You have plastics on desks, synthetics in carpets, air-con as a must for good office builds, even though most people don't even like air-conditioning and it's unhealthy too."
Now I often get to hear this criticism but then fail to receive proposed alternatives. At the eco-barn and cowshed, all walls and ceilings are finished with natural, Keim-mineral-based paints, and the ceiling is made from HeraklithBM wood wool boards, adding a raw finish to the traditional barn area. The carpet in the entrance area is made from old recycled car tyres, the stonework is re-pointed with lime mortar and the under-floor heating pipes together with the solar warmth from the windows get absorbed and stored so that further heating isn't necessary. All the electricity is supplied by Green Energy UK, where 50 per cent of the profits are reinvested in developing renewable energy technologies. In summer the window slots are simply opened to create a natural breeze and to let in fresh air … mixed with the occasional whiff of cow dung.
Hines says: "In the near future, we also plan to refurbish a property for our London office just to show that this ecological standard can also be done in an urban context." His favourite quote from the practice's urbanite colleagues in the capital is describing the eco-barn as a " space to think".
It just goes to show what is possible. And it's not as if this genuinely green office is an isolated project. The involvement of local firms and products is consistent throughout the venture. For instance, the chestnut flooring is taken from the Duchy's woodland on Aconbury, which can be seen from the office. You can't get more local than that. "When we had our opening party," Demsey remembers, "we had the glass doors open and had local foods and wine, everyone loved it."
I guess the only downside of having a rural office is that when you're out there, you are stuck there. There is nowhere to go for lunch so you need to bring food in. At Architype, the team have lunch together everyday. They sit at the big table in the centrepiece of the office and everyone contributes some food, homemade salads, bread and cheese. They also have institutionalised coffee breaks at 11am and 4pm. I join them for a luscious lunch at the big family table, which has a natural linoleum surface custom-made by Tandem. In complete ignorance I commit the office faux pas: I leave my mobile on. It turns out Architype staff all have their phones on silent, so forgetting to do so means you have to bring in a cake. I offer to submit a German cheesecake when I return one day, but then also get done for my dodgy ringtone – that's an extra penalty! Well, these people are clearly spoilt for tranquillity and fresh air, and freed from any form of noise pollution. "When we first started out here we felt like we were on holiday," Hines remembers. You may be stuck there with them when you're out there, but why would you want to leave?