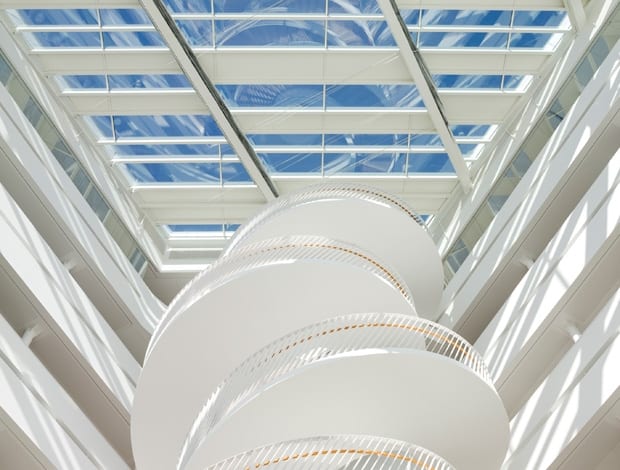 The top-lit central atrium and its quirky offset spiral staircase|Swedbank's concertina-shaped HQ in the suburb of Sundyberg|The atrium's second spiral staircase, different in design to its neighbour|A lively mix of meeting spaces, each distinctive in its own way|The bustling main atrium sits at the heart of the triple-V-shaped building|A 3XN speciality, staircases are intended to increase staff interaction|Oak-clad meeting areas express Scandinavian design simplicity|The ground-level 'street' has a semi-public function, and includes a cafe||
Staircases, says Kim Herforth Nielsen of Danish architect 3XN, are the practice's statement pieces, and the dramatic spiral examples – there are two – in its new Stockholm offices for Swedish bank Swedbank don't disappoint. Coiling spectacularly up through the building, these highly sculptural structures embody the principles of openness, simplicity and care that the architects have sought to convey throughout the 45,000sq m building.
"I like to make staircases a signature piece in all our buildings. As well as their practical use they can be beautiful too," says Nielsen, who is principal and creative director of the practice. Having previously completed a masterplan for the area in the suburb of Sundbyberg, 3XN won a competition for the project held by developer Humlegården Fastigheter. The brief was to create a new headquarters for Swedbank, which was relocating from central Stockholm.
3XN's design accommodates workspace for the bank's 2,500 employees in a space 25% smaller than the bank's previous building, while fulfilling a requirement for a welcoming environment that is more conducive to knowledge-sharing. With its clear internal views and emphasis on circulation and interaction, Swedbank's new home introduces a new open-plan culture in considerable contrast to the more traditional space of its previous offices.
"We just did it in a different way to what they had before," says Nielsen. The old building didn't work properly for how they now want to function as an organisation." 3XN has conceived of the offices as an 'indoor cityscape' with a range of spaces, small and large, in which to work, and easy navigation throughout the whole complex.
After experimenting with many forms, 3XN opted for a single, steel-framed building arranged in a distinctive triple-V zigzag. It is as if, says Nielsen, a long building had been pushed together like a concertina. This creates five atriums, one at each apex, and ensures that all employees enjoy natural light from two directions. The main entrance sits below a canopy at the centre of the building.
The result is that the structure doesn't feel like just one block, but instead there is far greater diversity of space contributing to good internal communication, visual contact and knowledge-sharing between departments. "If you had just one big hall it would be horrible. This way, there are lots of small islands of workspace for 25-30 people," says Neilsen. "It's a deep building, but because of the way the atriums cut in, there's a lot of daylight, which is very important in Scandinavia where there are long nights and short days."
The building rises from five to nine storeys high and is clad in aluminium, with windows set on a diagonal to connect better with the V-shaped outer columns and help successfully navigate the change in height. The high degree of transparency helps convey an attitude of openness to the surrounding world – something of a worldwide trend among banking headquarters – and draws attention to the semi-public functions on lower levels. Here, a double-height space houses an auditorium, restaurant, meeting spaces, and the all-important internal street. This runs down the length of the building with no less than 33 coffee and cake stations along the way where staff congregate in the morning to be briefed and to interact before heading off to their workstations. The reception also houses the two spiral staircases, which slightly differ in design. They're intended to encourage human interaction; presumably the thinking is that the more staircases there are, the more opportunities there will be for that ubiquitous 'chance encounter'.
This being a bank, a double-height trading floor for 250-300 traders is accommodated where the building is tallest and deepest, at the south eastern end directly above the public areas.
Internally, 3XN aimed to maximise the natural light through extensive use of white-painted surfaces, with pockets of vibrant colours in the downstairs cafe areas and as highlights used throughout. There is also extensive use of oak (neatly, an oak tree graces the bank's logo), used for flooring on the internal street and the walls of some meeting rooms. There is a noticeable lack of corridors: "I hate endless corridors," says Neilsen. "It's a waste of space just to use them for walking. Here, everything is designed for interaction."
Staff moved in over the summer after a three-year construction period. And, proving that it is more than just a light, dynamic place to work, the building has received Gold certification from Miljöbyggnad, the Sweden Green Building Council.