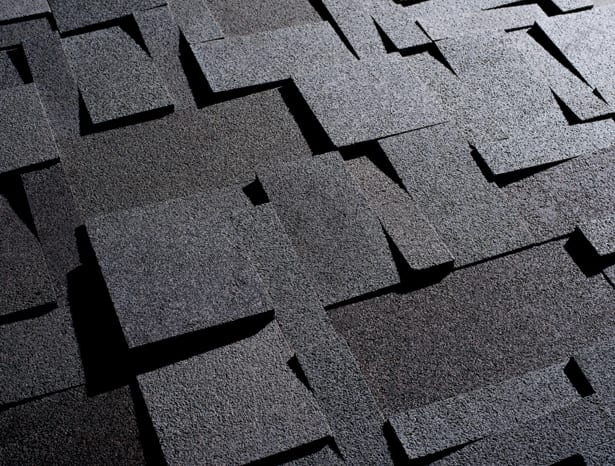 |||
Surface and Materials Show returns once again, as part of UK Construction Week where visitors can take advantage of nine different shows, all at Birmingham's NEC. It will feature a mix of established and emerging brands showcasing products from external cladding to internal flooring, wall treatments and sound insulation. At the heart of the show, Material Lab will curate a selection of products while other features include the Wiki House, an open-sourced residential concept.
SilicaStone by Alusid (above)
With a strong emphasis on sustainability, SilicaStone by Alusid is made of glass recycled from old TV screens and waste from the ceramic and stone industries. SilicaStone uses no cement, resin or synthetic binders within the manufacturing process and neither the colour or texture of the product will deteriorate with age. SilicaStone is intended as a more environmentally friendly alternative to natural stone products.
Agate by Omek
Slabs of Agate by Omek are formed of microcrystalline quartz, which has a real variety of uses, from feature walls, cladding and worktops to flooring and bespoke applications. The patterns in each slab of this decorative yet versatile material are completely unique. The slabs come in three sizes with customisable thicknesses and can also be backlit for a different, more dramatic effect.
AlphaW Design
AlphaW Design acoustic panels can control sound in environments such as workplaces, as well as being attractive art pieces in their own right. They consist of a sound absorbing layer, covered in a digitally printed fabric made from 100% recycled plastic bottles. Framed in lightweight aluminium, they can be specified to a maximum size of 10m x 3m for a single print, with the textile graphic also being easily removed and replaced.
SoundSpace Solutions
Acoustics are an integral consideration for workspace these days and SoundSpace Solutions has a range of sustainable options. Cube is a lightweight, semi-rigid, coloured panel that comes in 12mm or 24mm and can be mounted with any fabric. Meanwhile, the advantages of QuietSpace 3D tiles are that they are easy to install and provide both decorative and functional acoustic surfaces. Sister product the QuietSpace Lattice is a suspended acoustic baffle designed to reduce reverberated and background noise.
An essential part of any trade show is the talks programme and this event is no exception with a range of experts in their field
Designer Daniel Heath talks bespoke
As well as new products, there will also be the opportunity to listen to the latest industry insight at the Surface and Materials Show. OnOffice editor Helen Parton will be opening up proceedings on the Wednesday at 10.15am, chairing a talk entitled 'From theory to practice – cultivating meaningful spaces in the workplace' which will feature a panel of experts, among them Dan Pilling, head of workplace design, BIFM Workplace SIG and Maber. Pilling brings a wealth of experience in creating high-performance workspaces, engaging with a range of stakeholders such as facility and estate managers and end users, as well as project teams for schemes in both the public and private sector.
Ewan Jones, partner at Grimshaw
Elaine Toogood talks facade solutions
Elsewhere on the bill, OnOffice columnist Peter Murray chairs a session on the role of BIM in driving successful collaboration on the Thursday at 10.30am, where the speakers include Martin Simpson, associate director at Arup and Paul Oakley, associate director of BIM at BRE. On the Tuesday, Jim Biddulph, projects and materials manager at Material Lab gives the opening address, followed by Laura Perryman co-founder of Colour of Saying who will be speaking about how to keep up with future consumer lifestyles. Designer Daniel Heath heads up the discussion on understanding bespoke in surfaces and materials while a panel on the modernisation of architectural education for future generations has speakers including Ewan Jones, partner at Grimshaw, with both of these sessions taking place on Tuesday.
Jim Biddulph will open proceedings
Downcycling, upcycling and recycling is the subject of a session on Wednesday at 11.15am with speakers including Kristian Steele, senior consultant, advanced technology and research, Arup. Later that day, at 12.15pm Elaine Toogood, senior architect at The Concrete Centre discusses the latest in the facade solutions world, while Ian Hunter, director Materials Council and Dr Robert Quarshie, head of materials and nanotechnology, Knowledge Transfer Network (KTN) discuss smart materials for buildings at 1.15pm.
Surface and Materials show, UK Construction Week, Birmingham, 18-20 October 2016
Laura Perryman of Colour of Saying