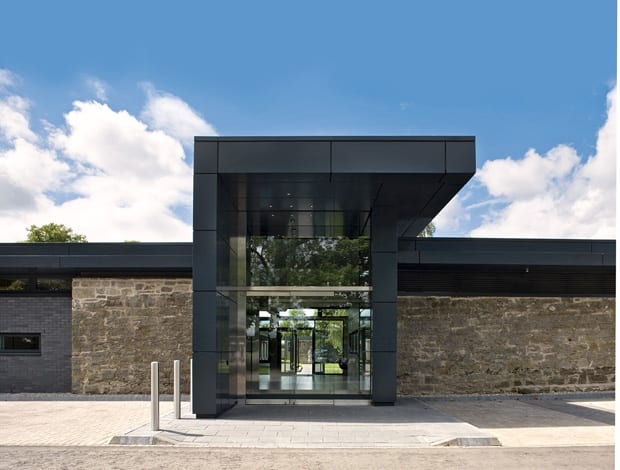 A new, more authoritative formal entrance links the old and new parts of Arup's Edinburgh HQ, Scotstoun House|Open-plan spaces, light, fresh air and flexible working brings the building in line with its occupants' own ideals|New glass louvers draw in light and air to the original building|Swedese's Happy chairs line the breakout areas, and long sight-lines make everything feel more spacious|The old building's pine ceiling was restored, and emulated in the extension|Retaining its low profile and green spaces, Scotstoun House still fits the description of a 'pavilion in a park'|Modest materials such as concrete, and a subtle modular form, don't compete with the original building||
Imagined more as a 'pavilion in a park' than a 'machine for living', Scotstoun House certainly seems to embody more than a little poetry compared to most common-or-garden, single-storey, square-plan modernist offices. This probably has a lot to do with its verdant South Queensferry setting, nestled as it is into one side of the wall of an early-19th-century kitchen garden, which once enveloped the previous Scotstoun Estate country house. As for the modernist workplace itself, designed in 1962 by Peter Foggo of Arup Associates as the firm's Scottish headquarters, this also has its charms, particularly in the elegantly understated combination of concrete, glass and steel that has since become something of a cherished heritage for Arup. Indeed, so cherished, that it received B-listed status in 2005.
Fast-forward 50 years, and with a growing workforce and changing work practices, a dark, cramped and inflexible building was no longer meeting the noughties needs of the company. The situation demanded a rethink, which led subsequently to an analysis of the company's current business needs – and ultimately, to a major upgrade and reinvention with 'holistic sustainability' at its heart.
"When it was built in the 1960s it was a very forward-thinking, aspirational building," explains project architect Gillian Lockyer of Glasgow-based haa design, the firm charged with changing the fortunes of this "modernist icon" into a modern flexible workplace. "It's also unusual in that the company that built it still own the building and the surrounding land," continues Lockyer, "but 50 years down the line the situation has changed entirely. It predates Building Standards, and working in a modernist building has its challenges – they're baking in summer and freezing in winter, not to mention the fact that you could heat half of the country with your bills. There was single glazing, little insulation, not an awful lot of cabling, and inflexible workspaces, which meant that it couldn't adequately reflect or accommodate a forward-thinking, international, high-profile firm."
The B-listed status of the building precipitated a series of discussions with Historic Scotland as well as planners, which eventually led to the acceptance of an extension containing support functions, in addition to a scheme that would maximise the effectiveness of the original building.
"It is very much a sustainable refurbishment and extension," continues Lockyer. "Many of the natural qualities of the original building have been reactivated. We replaced the single glazing with double-glazed units and solar-controlled glazing, and also installed solatubes, so there is a lot of natural daylight entering the building now. Natural windcatchers (a passive form of ventilation) and passive cooling systems are also used throughout the building. The project received a BREEAM Excellent, which is quite a feat considering that, as a B-listed building, we couldn't change its external appearance."
Externally the original building's simple modularity, with its 'garden wall' choice of materials, has been carefully restored, while internally its built-in elements, which were an integral part of its listing, have been retained, such as the pitch pine ceiling which has been rebuilt to match the original. "We enclosed the central courtyard and took out all the partitions in the existing building, then put in little pods – open-plan arrangements only work when you have adjacent break-out spaces," continues Lockyer. "Glass louvers have also been installed around the internal courtyard to draw in light and air for ventilation, creating a very light airy space."
The new extension echoes the existing building in its similar palette of concrete, timber and reclaimed stone, "but we've used the materials in a different format and in different ways so that there is a conversation going on between the old and new buildings without actually aping the original," says Lockyer. "The design of the new extension is very understated, as we didn't want to dominate the existing building. The base build needs to be subtle, not singing and shouting." Set against this appropriately simple, neutral backdrop, a collection of furniture, light-boxes and feature walls now provide a shot of bright colour as well as texture and movement.
A new, prominently positioned formal entrance has been created at the nexus between the original Scotstoun House and the new extension. This not only provides a seamless transitional space between the old and new accommodation, but is also a far more prescient point of entry directly from the car park. "Very few people used the previous formal entrance, as the parking was located off to one side, hidden behind a wall," says Lockyer. "We felt that something of height and presence was needed to draw you into the new entrance of building. This connecting link was a delicate balance, and we had to knock down part of the existing wall to create it. But we've since rebuilt this internally." Lockyer admits that the whole project had a fair few challenges, not least because there were so many interested parties involved. However, following a lengthy process of "constant dialogue and discussions" with Arup as well as Historic Scotland and planners, these proved to be surmountable. Having a largely shared vision was key: "We all came from the same place and so managed to find solutions to difficult problems. It was a joint effort to make the building work," she explains.
"This isn't tokenistic sustainability. It's truly sustainable in terms of its construction, running costs and the experience of working in it. Ultimately, this building proves that existing buildings can be reused. It's an example of holistic sustainability that includes keeping the building on its current site and reusing existing building stock. But above all, it's now a great place to work – giving the Arup staff a quality environment by adding to the buildings' diversity. It's a fantastic exemplar in terms of reusing an existing building, and a listed one at that."