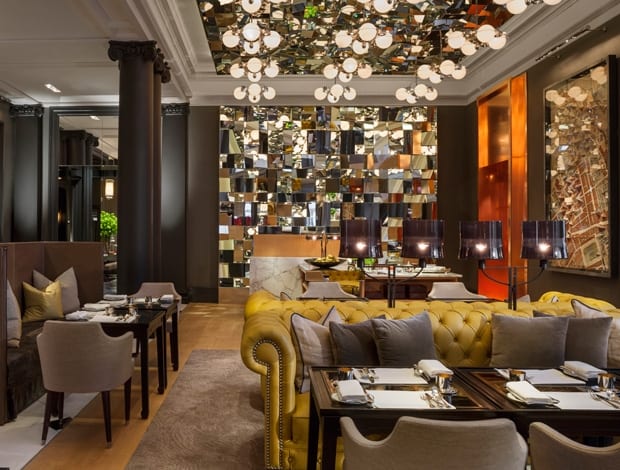 The Mirror Room at Rosewood London|The Scarfes Bar by MBDS|The Scarfes Bar is designed to feel like a gentleman's bar or drawing room|The Holborn Dining Room and adjacent delicatessen|The Rosewood mantra is to 'create a sense of space'|Black and white stripes for maximum impact in the reception|One of the guest rooms|The Manor Suite covers 587sq m|Marble and black lacquer are used recurrently throughout the suites|Rosewood London represents the chain's first foray into the European market|The exterior by H Percy Monckton, completed in 1914|A spectacular gallery made from rose bronze|The marble staircase was restored by EPR|A playful nod to English country homes in one of the meetings salons|The hotel includes 11 event spaces, several dining rooms, a bar, lobby lounge and spa|The hotel is located on High Holborn in central London|The listed belle époque facade||
For years, luxury residential design has been inspired by hotels; now, in a bid to foster a sense of place, hotels want to look like Belgravia apartments. Rosewood London is a prime example
Rosewood London, which opened in October last year following a £130m upgrade, marks the Rosewood Hotel Group's first foray into the European market. It forms part of the Hong Kong-based business' global expansion strategy, which will see its portfolio of 49 hotels in 17 countries plumped up by the 30 projects it has in development.
Comprising 262 guest rooms, 44 suites, 11 event spaces, several dining areas, a bar, lobby lounge and spa, the project has already won multiple awards, including Ultratravel's Best New Hotel in the World. It's also been shortlisted for no less than four gongs at November's European Hotel Design Awards.
Rosewood London's trump card is arguably the building itself, a listed belle époque beauty with a grand carriageway entrance designed by H Percy Monckton and completed in 1914. EPR Architects, which carried out the restoration work, stripped back any subsequent additions to regain the character of Monckton's vision and present the original facade, carriageway, central courtyard and marble staircase in all their glory.
Rosewood Group's mantra is to forgo overt branding in favour of creating a sense of place, allowing each of its hotels to develop a unique identity based on its particular location. Tonychi and Associates, the lead interior design firm for the project, took inspiration both from English country manors and the sumptuous, modern residences of Belgravia and Knightsbridge.
Tony Chi, founder of the practice, explains how these disparate elements were brought together to form a coherent scheme. The quiet courtyard, replete with containers of evergreen planting, recalls the classic stately homes of rural England, according to Chi. It leads to the newly created Rose Bronze Gallery, made up of 8,000 pieces of rose bronze in reference to the hotel's name, which sets the tone for the luxury within. Accessed directly off the courtyard, it "gives a sense of opulence and grandeur, creating a dramatic effect [on] your arrival," says Chi.
The gallery opens on to the lobby, where reception consoles sit beneath Monckton's flamboyant pavonazzo marble staircase, which reaches up the full height of the seven-storey building to the painstakingly restored 50m-wide cupola. "In landmark buildings, there is typically an isolation between spaces," says Chi. "We wanted to create spaces that interact with one another, while having their own identity."
The suites – referred to as 'houses' – represent the epitome of the luxury with a modern, residential feel. Each one features smoked oak and marble flooring and black lacquer panelling that took eight layers and two weeks to complete. Other details include hand-knotted rugs, horsehair upholstery, custom-made furniture and carefully curated artwork and books.
"The newly developed signature palette of the hotel [is] intended to embrace the history of the property by complementing the weathered stone facade and London's famous diffused daylight," says Chi. The most lavish of the suites, known as The Manor House, covers 587sq m and encompasses a living room, library, pantry, dining room and bathing area; it has its own private entrance – and even its own postcode. The penthouse Garden House, meanwhile, features a private terrace with views across London's skyline.
The Holborn Dining Room and adjoining delicatessen were designed by the Martin Brudnizki Design Studio (MBDS) as an "updated English brasserie". The dining room combines oak furnishings, booths upholstered in red leather and antique mirrors with statement pieces such as neo-gothic chandeliers, a copper-topped dining counter that flanks the room and a brass drinks display inspired by a Victorian hospital trolley.
Scarfes Bar, also by MBDS, is designed to feel like a traditional drawing room or gentleman's club. The fireplace, custom made from antique brass and bronze, is flanked by oak bookshelves that hold 1,000 leather- and cloth-bound books selected by a Portobello antiques dealer, and vintage furnishings include 1950s cocktail chairs, an Edwardian armchair and an 1870 Lollipop Rocking Chair. The bar is named after cartoonist Gerald Scarfe, and is lined with his work.
Luxury hotel groups are continuing to steer away from corporate branding in favour of creating a unique experience for guests that more accurately reflects location. Rosewood London creates this sense of place by cherry-picking features from England's rich design and architectural history, blending these with the comfort and contemporary detailing expected at the top end of the capital's buoyant residential market.