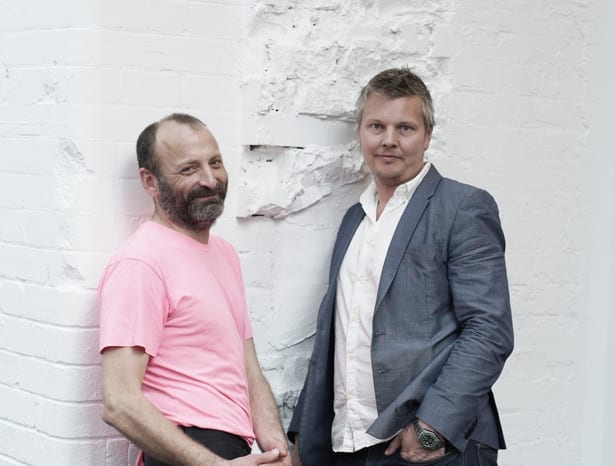 |||
As the great and the good of the industry gathered in U+I's offices for the opening party of the London Festival of Architecture, the space buzzed like a cool coworking space or east London pop up with exposed surfaces and sticks of neon lights. While no one climbed aboard the Moooi horse (shame!), it was definitely a lot more fun than one would imagine your average property developer's office to be. But then U+I don't really do average and that's why they enlisted the services of Phil Coffey and Ab Rogers, an odd couple when paired together in a photoshoot perhaps but in terms of architecture and design, provide just the right contrast of approaches. As that's why they are deserving of our July cover. The coverstory explores just what makes U+I different and how their public-facing workspace in London's Victoria helps them convey that message.
Also defying industry cliché is AstraZeneca's office in Cheshire, where designers SpaceInvader have avoided the white, clinical look for the pharmaceutical giant and instead has gone for a range of cosy flexible spaces, with some design nods to this part of the north's heritage as a centre for silk weaving in centuries gone by.
To coincide with the location of this summer's Olympics, we thought it might be apt to cover a scheme in Rio. The work of Triptyque, a Franco-Brazilian architects practice the RB12 building is a lesson in sustainable design with a live wall of plants on the exterior, a green roof and green balconies.
Another significant event coming soon is of course, the Brexit vote and this was one of the most hotly debated subjects at this year's British Council for Offices (BCO) event in Amsterdam, which took place in May. Whatever the result, at least the property market will be able to move from on from the limbo period it is experiencing now. The conference, which had its theme as 'Challenge Everything' took stock of the office design landscape in the present and looking ahead, with less 'let and forget' and more wellbeing and acoustic control in the workplace among the issues discussed.
As part of our OnTop section this month, Danish designers Space Copenhagen bring their brand of Scandi chic to the 11 Howard hotel in New York's SoHo.
We get future facing in our tech feature with things like augmented reality and office desks with built in motherboards in our round up.
Finally, we bring all the news from this year's Clerkenwell Design Week, which saw the A&D community bask in three glorious days of sunshine, schmoozing and events.