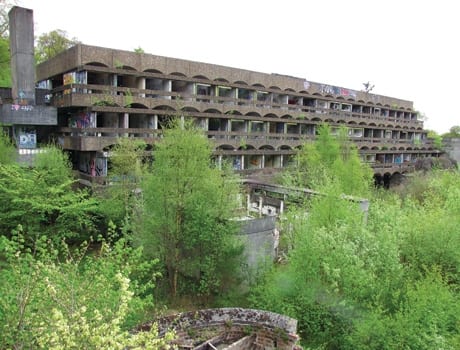 Poor detailing was blamed for the demise of Gillespie Kidd and Coia's 1960s St Peter's seminary near Glasgow||
Plenty of people still think it's OK for architects to fall down on the details, from leaky buildings to out-of-hand budgets. why do we accept it when they give the profession a bad name?
I'm a great fan of Rowan Moore's weekly architectural column in the Observer and generally enjoy reading his elegant prose over my Sunday breakfast. Of course I don't agree with all he says; like any good critic, he can be annoying as well as inspiring. A recent column in which he wrote about Gillespie Kidd and Coia's St Peter's seminary near Glasgow made me choke on my muesli.
Spectacular photography (there's even more on the Observer website) of this rotting concrete hulk brilliantly illustrated the power of the Corbusian architecture by the then-young partners of Gillespie Kidd and Coia, Andy MacMillan and Isi Metzstein.
But the story also talked about the building's failures: "The junctions of its ambitious geometries did not prove equal to the temperamental Atlantic weather, nor walls of single glazing to the cold. The specification of hard-to-replace lightbulbs from Denmark meant that students would take still-functioning bulbs to meals with them, for fear they would be un-Christianly pinched."
Fine. Lots of buildings have teething problems for a variety of reasons, but what stuck in my craw was MacMillan's response, reported by Moore, when asked why his buildings leaked: "I think it's because we had to build them outside"!
Such black Glaswegian humour might raise a laugh in Kelly's Bar but would not go down too well with clients who have had to suffer from some architects' casual attitude to detailing. Indeed it sneers at the very idea that we build in order to keep the outside out; and he's not the first to speak lightly of his failures.
Frank Lloyd Wright famously told clients to get a bucket when asked what to do about the myriad of leaks that occurred in his buildings (Fallingwater was a "seven bucket building" according to the client). I heard that Arthur Erickson made a similar response about leaks in one of his houses.
A few days after Rowan's piece, the saga of escalating costs at the V&A's forthcoming Dundee outpost broke in the press. Launched in 2010 with a budget of £45m, the museum's price tag has increased to £80.1m.
Not all architect Kengo Kuma's fault I'm sure, but not good for the profession's reputation; it reminds me of the year the RIBA really put its foot in it by giving the Stirling Prize to the Scottish Parliament Building, whose final costs came in at ten times the original estimate.
When I tweeted that Andy MacMillan's response to the seminary's shortcomings should have been "Sorry, I wasn't very good at detailing," Rowan referenced me to Charles Rennie Mackintosh going over budget on the Glasgow School of Art.
I accept that designing innovative architecture can lead to many technical challenges and cost overruns, and there comes a time when these tribulations are forgotten; but failures are no joking matter and give architects a bad name.
I just don't buy the idea that to be a creative architect you have to be technically incompetent. There was a time when it was accepted that great opera singers couldn't act; these days, better training means that they can do both – with inspiring results. Architects should be able to do the same.