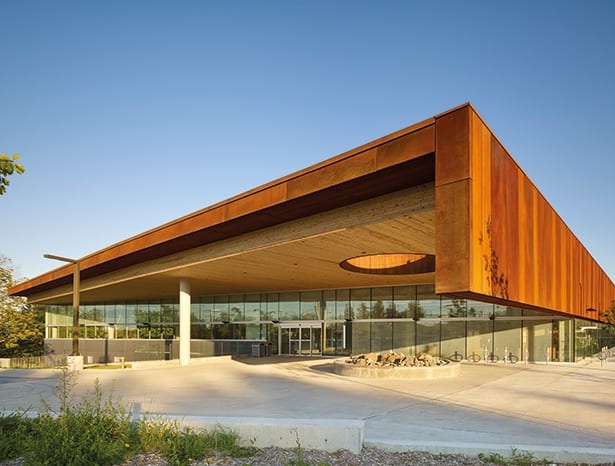 Eye-catching cedar cladding provides a welcoming natural feel|||
Architects don't always come away with statistics to show that how they designed a building effected real change, which is why the architects at Perkins + Will Canada enjoy talking about the Kawartha Trades + Technology Centre (KTTC) that the practice designed for Sir Sandford Fleming College's Sutherland Campus in Peterborough, Ontario.
Throughout the design process Perkins + Will has both leveraged campus and community interest in the skilled trades programmes at KTTC and helped address the gender imbalance of its student population.
Inclusive design is a very important value to the practice, but not one that can be singled out from its overall design principles, its higher education leader, Safdar Abidi, says. "Our starting principle is to make beautiful,attractive, well-lit spaces. You can give individual physical design cues to make people feel invited in a building, but essentially beautiful design is the magnet," he says.
Extensive glazing makes social space more open and inviting
With its combination of concrete, cedar, Corten steel and generous glazing giving a combination of rich natural tones and patinated surfaces, the KTTC is definitely an attractive building. Three key principles guided the design, and set it apart from the previous trade and technology centre building, explains Perkins + Will design principal Duff Balmer. And these were made possible because of the unusual scenario that the centre was new, and purpose built.
"Our research showed us that in many higher education settings, skilled trades are taught in repurposed industrial buildings, physically detached from the main campus, and therefore seemingly separate from other curriculum subjects," he explains.
One of the most radical moves the architect made was to propose bringing the trades and technology centre back onto the campus, and connecting it directly to the main social and academic buildings – a move that the college embraced. The state-of-the-art centre now sits in a prestigious location in the campus's main social hub.
Second, while trades and technology had been taught in silos in the previous building, with different trades in separate workshops, Balmer went in with the idea to make the space open, and much more collaborative and interdisciplinary.
Hand-in-hand with this was the third directive, to make the spaces much more transparent and inclusive, to encourage the cross-pollination of ideas – achieved by an innovative rethink of the layout, and a lot of glass. "We wanted the facility to emulate a real-world construction site, where so many different skills come into play," Balmer explains.
Exposed structural components show the construction principles
Of course, besides these principles, pragmatic considerations such as providing the technological tools needed for teaching each trade loomed large, along with health and safety. "With the prospect of forklift trucks driving around, and different health and safety guidelines for different trades, there was a lot to take into consideration," he explains.
Another aspiration was for the construction principles taught in the centre to be visibly exemplified in the fabric of the building, hence its exposed structural components and target Gold LEED certification.
Inside the 8,000sq m multi-level learning centre are a series of flexible, naturally lit open spaces, with a large 2,500sq m "Learning Factory" at the centre, allowing each trade to work collaboratively within one large, open-plan space.
Open, collaborative spaces encourage the crossover of ideas
Within this area is a four-storey teaching "cube", which provides a flexible framework for electrical and plumbing installations and a more direct simulation of actual site conditions. Serving this space are a series of dedicated workshops, smart classrooms and interactive office spaces, all of which overlook the students working in the active common area below.
"By making the space open, collaborative, transparent, inviting, dynamic, and by integrating the building into the main campus, you are helped to break down barriers to access," Balmer explains. Over the course of two full academic years in the new building there has been a 2-10% increase in enrolment, and a shift in the gender profile of applicant – from almost exclusively male towards a more even balance.
"Architecture is one part of the solution but the visual course material has to reinforce this; it has to depict women as central to the curriculum. The head of the school is female, and very alive to the issue of how to make trades and technology more inclusive to women, which is very powerful," he says.
"More generally, people are seeing there is a much wider toolkit to skilled trades, including soft skills such as collaborative problem-solving and the application of new technology," explains Balmer. "Vice versa, academics are seeing the value in stepping away from theory to making things. Different branches of learning are converging in very interesting ways, which makes architecture for higher education an exciting field."
The teaching cube in the Learning Factory simulates work on site
Architect's design for Sir Sandford Fleming College in Peterborough, Ontario, has helped to change the student demographic